Celebrate Black History Month With Us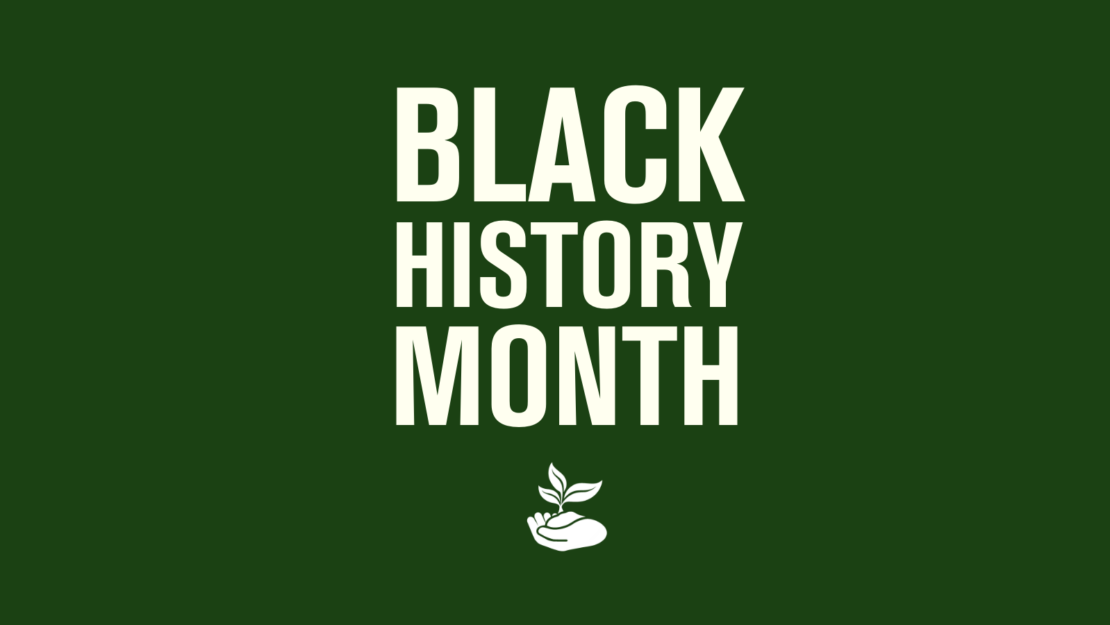 We invite you to celebrate Black History with us this month, and beyond.
Conservation Corps Minnesota & Iowa (CCMI) joins the rest of the nation in honoring the Black and African American communities whose contributions are woven into the fabric of America's culture and the outdoor community.
At CCMI, we embrace our vision, "a world where everyone has equitable access to nature, is equipped to succeed in career and life, and is empowered to make a difference in conserving natural resources."
We believe it is crucial to acknowledge that natural resources organizations, including CCMI, have a legacy of supporting and benefiting from systems that have restricted access to public lands and careers for marginalized groups. Read about our commitment to challenge the deep-rooted exclusion of marginalized groups, work towards our vision of equitable access, and promote the long-term success of our programs in our Justice, Equity, Diversity, and Inclusion statement.
To celebrate and honor Black History, we've compiled the following list of videos, articles, podcasts, events, and Instagram accounts that highlight Black voices, history, joy, and experiences related to the outdoors.
Watch
The Triple Crown of Hiking – Will "Akuna" Robinson: Will "Akuna" Robinson relives his first steps of the PCT and talks about completing the Triple Crown as a POC and what that means to him.
Naliah Blades Wylie & Color Outside: The first film of The Outbound Collective's #EveryoneOutside initiative, featuring Nailah Blades Wylie, the founder of Color Outside. Color Outside is a safe place for women of color to come together and create unapologetic, soul-stirring lives through outdoor adventures.
Slim Pickins: This is the story of Slim Pickins Outfitters, the nation's first Black-owned outdoor gear shop, and its owners Jahmicah and Heather Dawes. Get an inside look at the inspiration behind the store, the vital energy and spirit they bring to Stephenville, TX, and the positive impact they are creating within the outdoor industry.
Grassroots: An Ambassador Docu-series by HBCUs Outside. This film follows HBCUs Outside FAMU Ambassador Adrian Wilson leading an experience for Rattlers Outside with support from Black Diamond Equipment.
Read
Carolyn Finney: Landscapes of Exclusion: An interview with Carolyn Finney, the author of "Black Faces, White Spaces", discussing the legacy of people of color and nature in the US, the policing of black Americans in outdoor spaces, and wilderness as a site of the sublime.
Black Firefighters Blazing Trails: Outdoor Afro celebrates Chief Engineer Patrick H. Raymond and Abu Baker, an Outdoor Afro Leader and firefighter for 17 years in the Oakland Fire Department in California. Raymond was the first African American fire chief in the United States.
How Black Books Lit My Way Along The Appalachian Trail: Rahawa Haile recounts her journey on the Appalachian Trail and how the love of her books by Black authors motivated her.
How Shelton Johnson Became a Yosemite Legend: The longtime ranger has spent decades sharing stories of Buffalo Soldiers and advocating for diversity in the national parks.
Where to Learn About Black History AND Enjoy the Outdoors: Going through five different outdoor experiences and the Black history behind them.
Connecting with Black History Through Community and Nature: An interview with Rue Mapp, founder of Outdoor Afro, about the inspiration behind Outdoor Afro, how technology has shaped its growth, and what's next for the organization.
Support These Intersectional Environmental Organizations for Black History Month: A list of Black environmental organizations to donate and support this Black History Month.
Black Birding is About Hope: An interview with Corina Newsome, co-organizer of Black Birders week, about creating room in a predominately white space.
The African American Experience in the Civilian Conservation Corps: The history of African American's significant role in conservation efforts and development of our nation's public lands.
Harriet Tubman, the Unsung Naturalist: The history of Harriet's use of owl calls as a signal on the underground railroad to communicate, navigate, and survive.
Listen
Finding Black Joy in the Outdoors With Brittany Leavitt: Season 1, Episode 4: A conversation with Brittany Leavitt about finding joy in the outdoors, the different ways that people find joy in the outdoors, and the role the outdoors play in asserting her identity.
Who Is Birding For? Bring Birds Back: Episode 2: In the second installment of Bring Birds Back, host Tenijah Hamilton and Sheridan Alford, co-founder of Black Birders Week, talk about how to celebrate Black people who love birds.
Being 'Outdoorsy' When You're Black or Brown: A discussion with members of the POC community and what the outdoors means to them.
Outside Voices: A podcast celebrating and amplifying those who don't always seem themselves reflected in the "Great Outdoors" narrative.
Black History Lesson: James Smith of Outdoor Afro Charlotte shares the history of why connecting Black people to nature and the outdoors is so important.
Attend
2022 Black History Month online events: List of local events, mostly online, put together by the Minnesota Spokesman-Recorder.
Black History Month: Events That Celebrate Black Culture: Eventbrite is putting a spotlight on virtual events that will not only teach you about Black history, but will showcase Black excellence in its many forms: food, film, comedy, music, literature, and more.
Follow
@intersectionalenvironmentalist