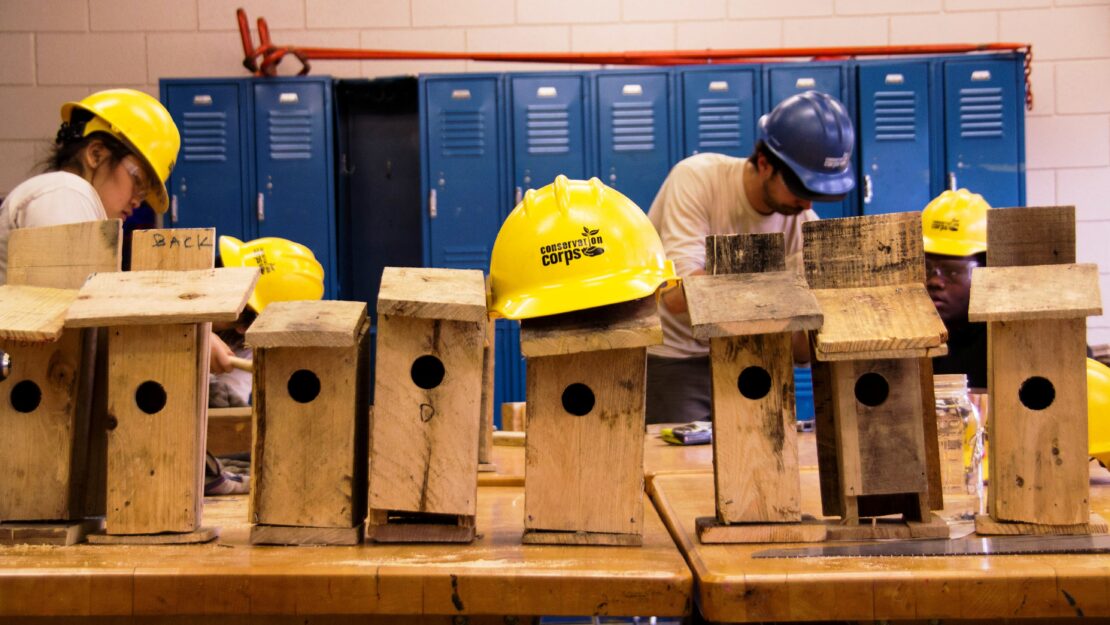 By: Jennifer Kaiser
The Eastern Bluebird, a species identifiable by its striking blue and orange color-scheme, was on the edge of extinction in the 1960s. Multiple environmental hazards, including widespread pesticide spraying, human destruction of nesting habitat and predatory invasive birds contributed to their decrease in numbers. Fortunately, due to tighter environmental restrictions and simple birdhouses assembled by citizens across the country, these bluebirds have made a strong recovery in recent years. The trajectory of the Eastern Bluebird's revival has spurred a new era in birding. Building birdhouses houses is no longer just a hobby – it has become an activist effort to change the status quo of yet another species in peril.[1]
"Birds are part of the community too." – Passion, Youth Outdoors crew member
After weeks of brainstorming and research, my Youth Outdoors crew discovered the story of the Eastern Bluebird and decided to construct houses for our end of term service project. We wanted a project that would satisfy our creativity while engaging the community and protecting the environment in North Minneapolis. Following a week of preparation, last Saturday, November 9th, we took over the arts and crafts room at Folwell Recreation Center and got to work. No one in our crew had ever made a birdhouse, and we were limited to manual handsaws, recycled pallet wood and Internet construction guides. Although we had prepared to the best of our abilities, including an exciting run to Home Depot for last-minute nails and paint, we were still unsure how the project would conclude.
"Through this experience we are making our parks more beautiful. We want to make people aware of their surroundings and attract more species to the community." – Gina, Youth Outdoors crew member
To our good fortune, Len Price, Executive Director of the Conservation Corps Minnesota & Iowa, stopped by early and gave us some invaluable construction advice – drill small holes in the wood before nailing the houses together. Apparently pallet wood is unforgiving and difficult to hammer through. By lunch break, friends, family and community members filled the arts and crafts room and we completed twelve birdhouses. Lunch was originally planned as a potluck, which turned into a Hmong feast, catered by two of our crew members' sisters. Obviously, they put my cornbread and potato salad to shame.
"We worked hard in the Conservation Corps. When was the last time you saw someone at McDonald's break a sweat?" – Cliff, Youth Outdoors crew member
We ended the day with my co-leader Chris shimmying up trees around the recreation center to hang the houses with wire. Our work will hopefully provide shelter for a few new birds come spring, however we've created something more meaningful across-species. We taught ourselves that birdhouse making is not an obscure craft. This construction is part of a progressive movement that we've added to our list of everyday choices in conservation – recycling, composting, biking, and now, birding. In just one day, at one recreation center in North Minneapolis, we took a stand for the native Eastern Bluebirds.
[1] For article source and additional information regarding eastern bluebirds, visit http://www.nps.gov/ever/naturescience/bluebird.htm