Conservation Corps Minnesota & Iowa collaborates with a variety of partners to complete high-priority natural resources projects throughout the Midwest. Our project partners include nonprofit organizations, educational institutions, and land management agencies at the federal, state, and local levels. More than a transactional business relationship, partnering with the Corps positively benefits the community, our members, and natural resources agencies as we work together to better the environment and improve access to the outdoors.
Prospective project partners are invited to submit a request form online. Upon submission of the form, you will receive an email copy of your request and Corps staff will be notified of your project.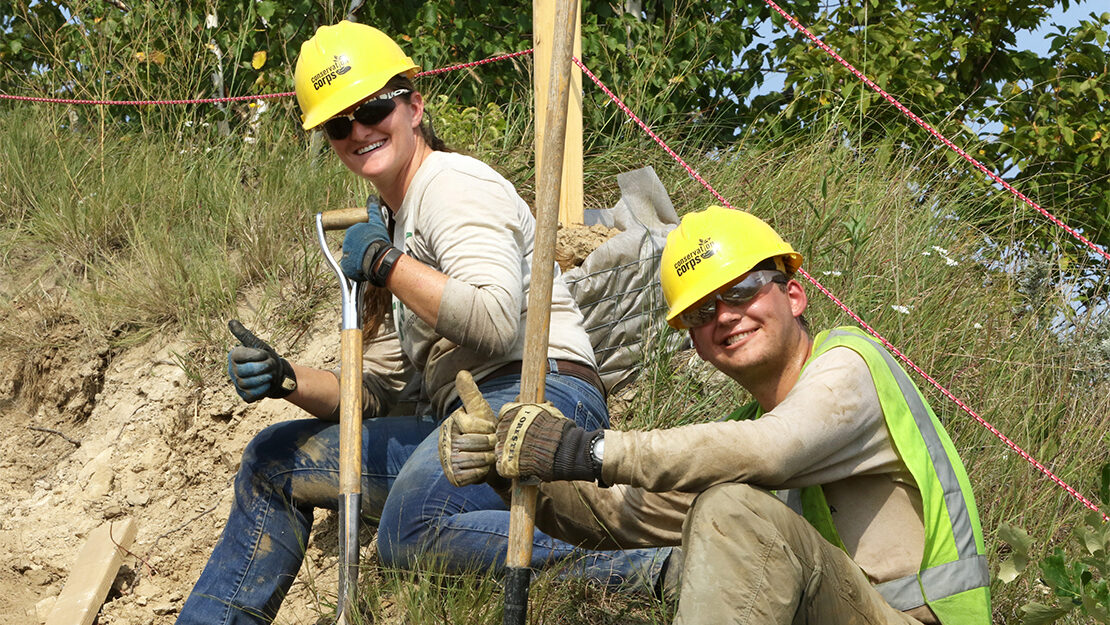 Why Partner
Conservation Corps Minnesota & Iowa members value hard work, community service, and environmental stewardship. Members are trained, equipped, and ready to complete natural resources and habitat restoration projects throughout the Midwest. By partnering with the Corps, your organization helps deepen passions for the outdoors and develop the next generation of natural resources professionals.
SAFETY – QUALITY – QUANTITY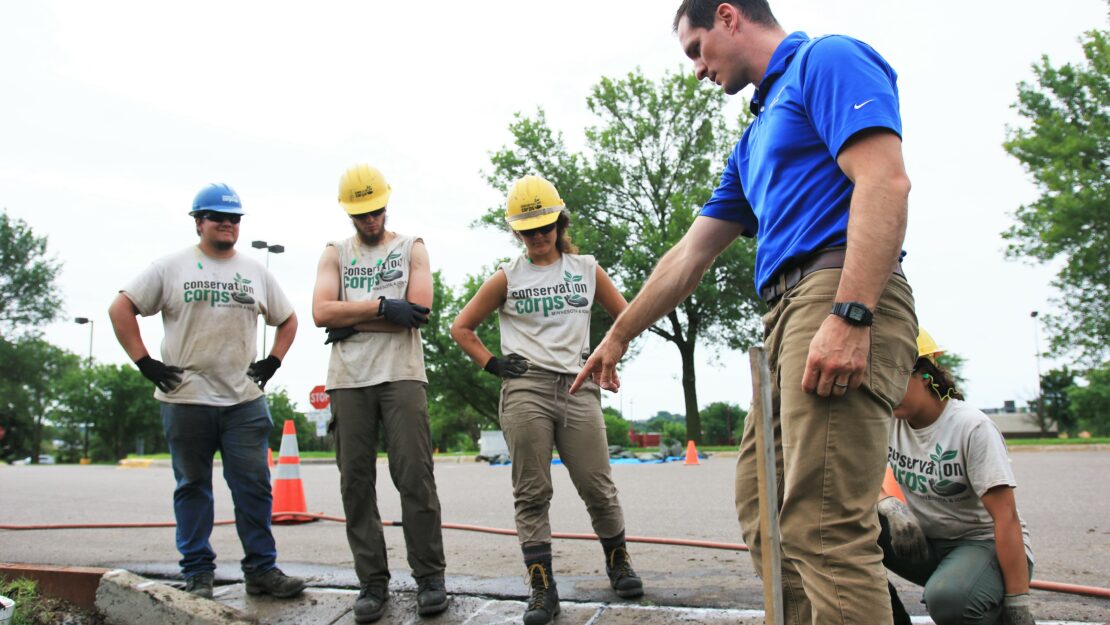 Expectations
Project partners are expected to communicate project details and tool/equipment needs prior to project start. When hosting crews, partners should meet the crew in the field on the first day for a site overview and task assignment, and they are expected to check in periodically to monitor progress and incorporate education into the project. When hosting an individual placement, partners are expected to review the site supervisor handbook, prepare a workspace for the member if serving in an office, draft an initial work plan for the position, and mentor the member throughout the term. Under no circumstances will Conservation Corps members be asked to perform any AmeriCorps prohibited service activities (CFR §2520.65 What activities are prohibited in AmeriCorps subtitle C programs?).
Program Partnership Options
Crews can complete projects such as:
Erosion control: Bio-engineering; slope stabilization; cedar tree revetments; coir blanket/roll installation
Vegetation management: invasive species removal; planting; nursery activities; seed collection; shoreline and stream bank restoration; rain garden installation; prescribed burning; fire suppression
Construction and carpentry: Step, retaining wall, boardwalk, or bridge construction; trail clearing and maintenance; basic carpentry; natural resource facility construction & maintenance
Survey and data collection: GIS/GPS mapping; water-quality sampling & monitoring; tree/plant surveys; fish/wildlife surveys; man-made feature/user surveys
Conservation Corps crews…
Serve in teams of 4-10 individuals, ages 18-35 or 15-25
Work 8-10-hour days, late-February to mid-December
Can camp near the project site for up to 12 consecutive days
Come fully equipped and trained in natural resource management techniques
Individual placements can complete projects such as:
Community outreach: developing management plans; social media and email marketing; education and training event implementation; interpretive programming; landowner outreach
Survey and data collection: GIS/GPS mapping; water-quality sampling & monitoring; tree/plant surveys; fish/wildlife surveys; man-made feature/user surveys
Natural resources management: invasive species removal; planting and seeding; shoreline and streambank restoration; rain garden installation; trail clearing and maintenance
Individual placements…
Serve individually for three- to eleven-month terms
Are ages 18-35
Work 8-10 hours days, mid-January to mid-December