Summer Youth Corps (SYC) is a residential summer work program for youth, ages 15-18, led by AmeriCorps members, ages 18-25.
Crew members receive environmental and job-skills training while working in crews with other high school youth and two AmeriCorps crew leaders. Crew members live, work, and play together in this residential program based at St. Croix State Park from early-July to mid-August while conserving natural spaces and improving parks throughout Minnesota and neighboring states.
Summer Youth Corps is dedicated to accessibility for the Deaf/Hard of Hearing community and runs an American Sign Language (ASL) crew. Since the late 1970s, Summer Youth Corps crews and all education/recreation activities have been inclusive, with ASL interpreters.
AmeriCorps crew leaders grow personally and professionally during their summer service term while gaining hands-on skills in conservation and youth development fields. Crew leaders train and supervise crew members on project work and also lead one hour of education activities Monday through Friday, along with engaging youth in recreational activities on the weekends. AmeriCorps Crew Leaders are responsible for encouraging the development of good work habits and basic skills such as work safety, environmental knowledge, and "leave no trace" principles.
Young adults, ages 18-25, who join our Summer Youth Corps program are committing to a full-time AmeriCorps experience for a 2.5-month term to serve their community through environmental stewardship and youth engagement.
AmeriCorps is a national service program that addresses challenges in our communities through the dedicated service of its members. AmeriCorps serve directly with nonprofit organizations (like Conservation Corps Minnesota & Iowa) to tackle our nation's most pressing challenges. Members join to give back to their communities while gaining a foundation of marketable skills for natural resource careers.
COVID-19 Notice
CCMI continues to diligently monitor the COVID-19 pandemic. As we learn more about what to expect regarding COVID-19 protocol for summer 2023, we will update this page and applicants and members with logistics for our residential summer youth program.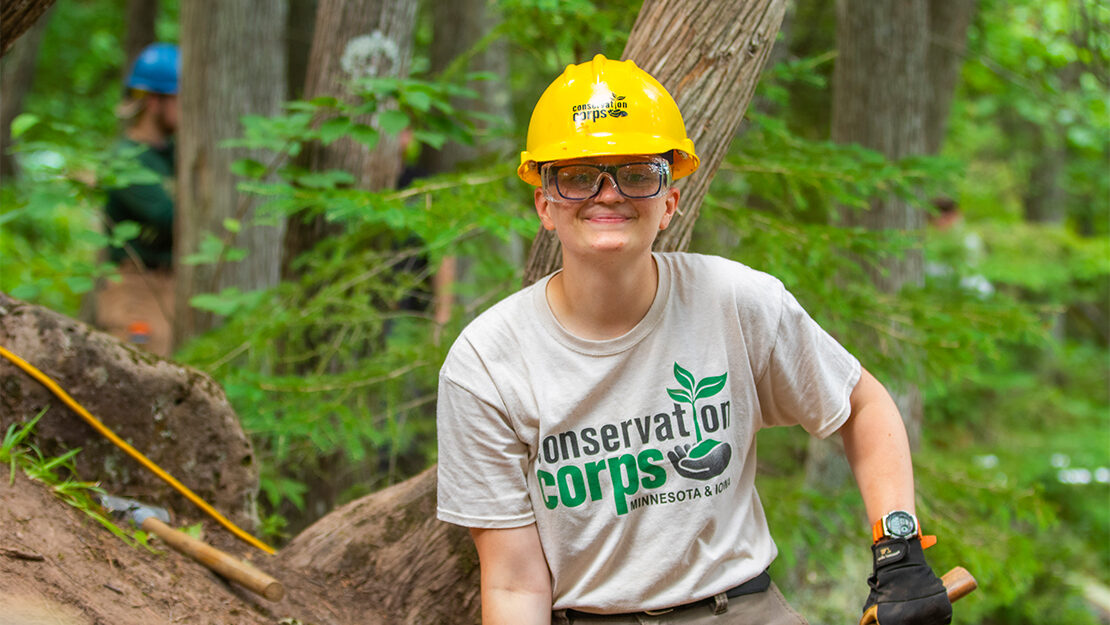 Benefits
AmeriCorps Members
AmeriCorps crew leaders value hard work, community service, and environmental stewardship and join the Corps to give back to the community while gaining life-long skills. Whether looking to jump-start a natural resources career, gain experience leading youth, or simply try something new, AmeriCorps members often have a transformational experience leaving them feeling more prepared for whatever comes next.
Training & Certifications
AmeriCorps crew leaders receive training in youth leadership, civic engagement, First Aid, CPR, natural resource management, and other professional and personal development skills.
Student Loan Forbearance
Qualified federal student loans may be put on forbearance during an AmeriCorps service term. Individuals should check with their loan-holder to determine if their loans are eligible.
AmeriCorps Education Award
After successfully completing an AmeriCorps service term, members are eligible to receive a Segal AmeriCorps Education Award that can be used to pay for college or technical school or to pay back qualified student loans.
Other AmeriCorps benefits include:
Monthly living allowance
Health insurance
Member assistance fund
Food, lodging, & transportation
Potential to fulfill internship requirements for school
Youth Participants
Youth receive a $367.50/week allowance for the duration of the program which also includes all food, transportation, and lodging.
In addition to earning a paycheck, youth gain job and career planning skills. Training and educational opportunities include local ecology, sustainability, water and land management, food production, American Sign Language, Minnesota natural history, and how to use tools to complete conservation projects.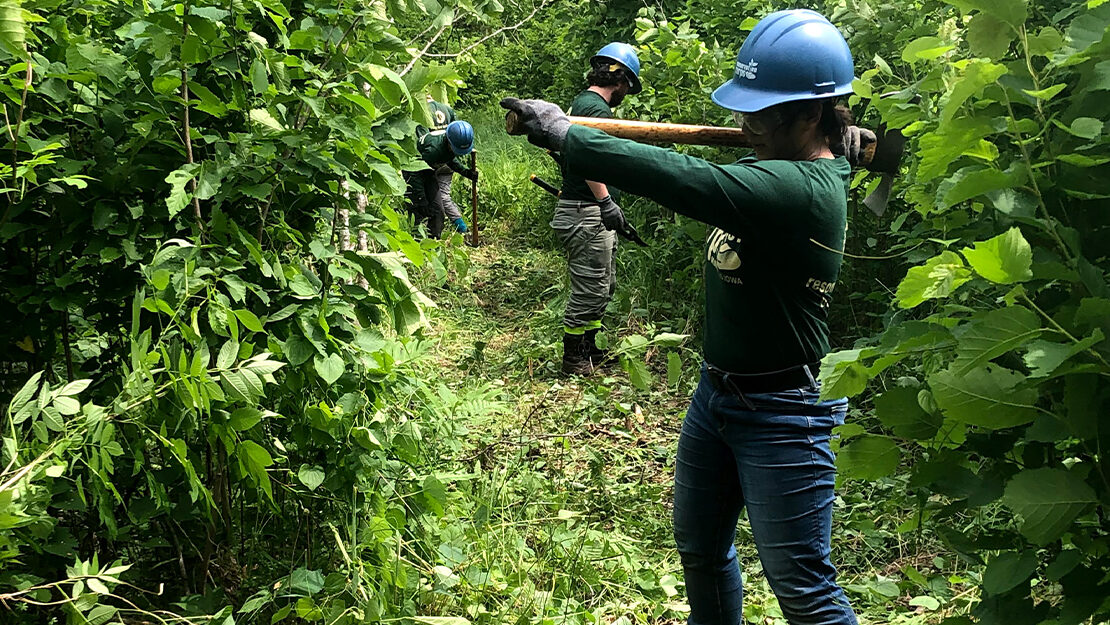 Life in the Field
Spend the summer living outdoors with food, transportation, and lodging provided! Summer Youth Corps crews typically work 7-hour days and engage in 1 hour of education activities, Monday through Friday. When not at basecamp at St. Croix State Park, crews travel to complete projects in natural areas across Minnesota and neighboring states while camping in tents and preparing their own meals.
Projects include trail construction and maintenance, foot bridge building, landscaping, campsite development, introduced species removal, and other projects that restore natural habitats and improve public access to outdoor recreation.
Weekends and evenings are filled with recreational activities such as canoeing, fishing, games, relaxing around the campfire, and visiting historic places.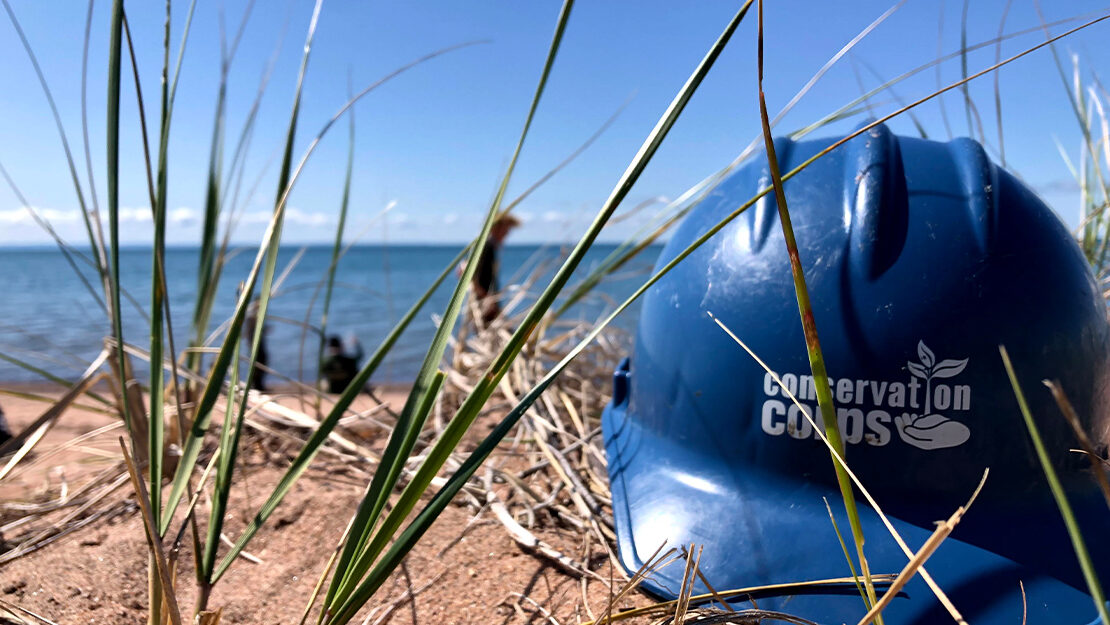 Questions? Contact Jillian Gellman, Summer Youth Corps Program Manager, at 651-242-1026.