A year later: Reflections on 2013 Alaska deployment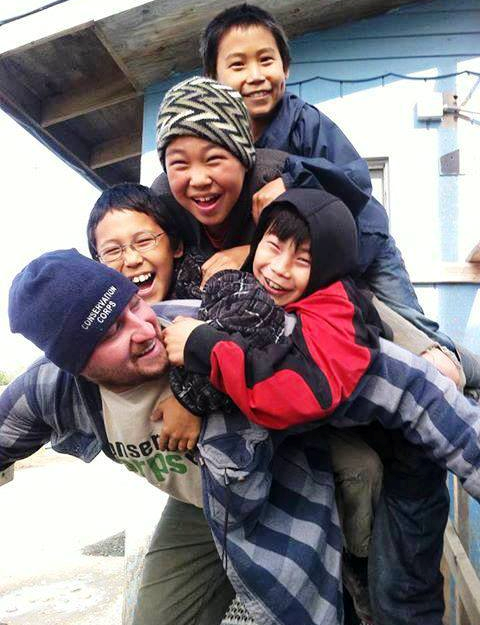 Remember when 23 of our corps members deployed to Alaska last year? No? Read all about it here!
By: Drew Wilwert 2013 Rochester Crew Leader
I have been thinking about my life and my experience in Alaska. The villages especially are always on my mind. It's been engraved in my brain as well as my heart and I'm sure the same can be said with you and many others that went there.
At times when I feel overwhelmed with not knowing where my career path is heading, or when I encounter other woes about student loan payments, wedding costs, broken cars, bills, etc. it dawns on me that those problems are not all that bad to have.
Seeing the villages and the conditions that the villagers live in makes my problems seem like luxuries. I have realized that is what they are. For the villagers, their problems are much greater. Not knowing where or when your next meal or even just a simple orange is going to come from. Not having your parents to guide and comfort you at such a young age because they are in jail or worse. Not being told that you have a chance to be something great in the world. Knowing that there is no need for education or drive to be all that you can be, because all you can be is a fisherman.
Sadly, they are not the traditional fishing or nomadic culture that the natives once were and are forced to stay in one spot in unlivable houses where mold and fungus are more common than mice infestations. Every day in the villages is a struggle for life. Throw in a major disaster that ruins the homes they built with their own hands with whatever materials they could find or purchase.
Feeling alone and desolated in the villages, knowing that there are people sitting in line for Big Macs in Hummers whining about tax season, brings a depressing feeling. But having the opportunity to show the villagers that they are not forgotten, brings a fulfilling feeling to my life. I remember seeing the children's eyes light up when I'd give them a clementine or some beef jerky. It brings hope to the village that there are a lot of people who do care and want to make the effort to help with a tragedy that stripped away most of their belongings.
I was so proud of my team to be a part of that hope. Even when things were dark and we were losing hope, the villagers demonstrated an unbelievable canny for survival, resourcefulness and drive to not give up. So I can only wish that I left as big as an impression of love, caring and hope as the villagers of Alakanuk, Emmonok and Galena have left with me. I will never forget the experience I had the summer of 2013.