Crews tackle Oriental bittersweet in southeast Minnesota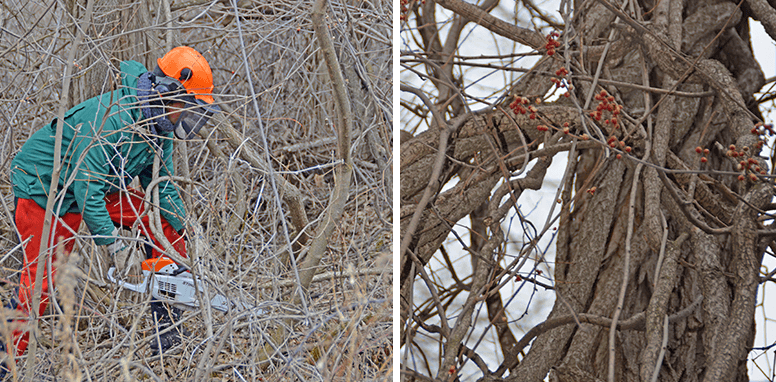 Despite the early spring chill, Corps crews have been firing up their chainsaws and climbing through snow-covered woods to remove invasive Oriental bittersweet in southeastern Minnesota. Several crews have collaborated with the Minnesota Department of Agriculture (MDA) to control the spread of this beautiful but noxious woody vine, which twines around trees and chokes them out, breaking off limbs and ultimately killing them. Large infestations of the vine have been found in Red Wing, Winona and Stillwater.
On April 26, 10 a.m. – 12 noon, the Corps, MDA and Audubon Minnesota will offer a related workshop: Managing for Wildlife – Invasive Species in the Red Wing Area, held at the Anderson Center in Red Wing. Dustin Looman, Conservation Corps Southern District assistant manager, will be presenting on removal of invasives and prescribed burning, followed by a demonstration by crew members on how to cut and treat buckthorn.
Read more about Oriental bittersweet.