Joining the Corps- The first month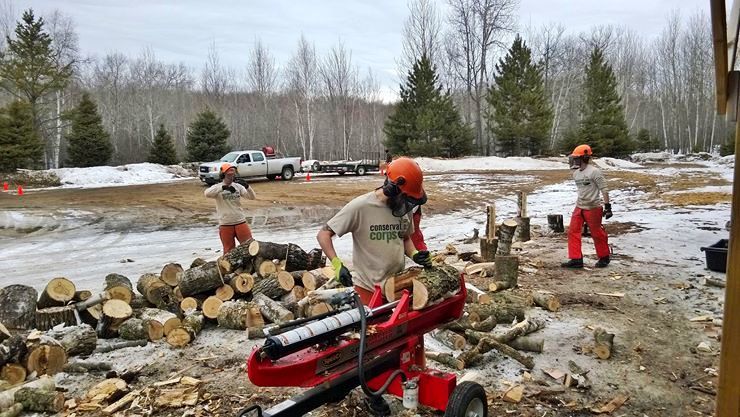 By: Sawyer Denning
Halfway through my drive from Green Bay, where I worked on an apple orchard, to Bemidji, where I would begin working for the Conservation Corps, I received a voicemail message from someone I contacted earlier through Craigslist—a woman who agreed to let me rent a room in her house in the country. I listened to the message as I pumped gas into my car. Her tone was plaintive: she explained that her landlord was not okay with me moving in. Although I would be staying in a bunk room at the Deep Portage Learning Center (Deep Portage hosted training for all 36 field crew members and leaders for the northwestern Minnesota district) for 8 nights, I needed to make new housing plans.
I hung up the phone and the gas pump nozzle. I got in the car and offered water in a gas station soda cup to my dog. My grandmother adopted her from a local shelter and named her Animush, the Ojibwe word for 'dog.' My grandmother died last spring, and I was too attached to have her surrendered to another shelter, so I took her. She lapped up most of the water, then sneezed. I started the car and began the rest of our drive to Bemidji, where Animush would be staying at a kennel and I would be staying at a hotel.
The next morning snow fell heavy and wet. I arrived half an hour late. After introductions, a tour of the tool cache, and an inspection of the Corps trucks and trailers, we left for Deep Portage.
Most memorable during the training was my hands-on learning. Knee deep in snow, standing next to a fallen tree in the woods outside Deep Portage, I pulled a chainsaw's recoil starter. The engine sputtered and died. I turned a switch to open the chainsaw's choke valve, and pulled again. The engine roared to life, loud for its size. Under supervision, others started theirs as well. Chainsaws sang through the forest, though the sound was dampened by the snow and my ear protection. New crew members practiced felling, limbing, and bucking trees.
The next week my crew ('North Woods') and the Bemidji crew dragged this wood in sleds to the road, and hauled it to a shed with a truck and trailer, where by hand and machine we split the logs in half, into quarters, sometimes eighths. Though the labor was monotonous, time passed quickly as I bonded with co-workers. One crew member had a similar housing problem as my own, and we agreed to find a place to move in together. We found someone willing to rent to us for a month through Craigslist.
Once we returned from Deep Portage, my co-worker/roommate and I bought food for the coming week. We drove to the house in the middle of the night—it was in a new development: a large, square clearing in the forest next to a county highway. I parked the car in the driveway. We gathered some of our belongings to move in. I turned to my co-worker and commented on how strange all of this was.
She replied, "Yeah, I mean, I think: Is this really my life right now? Is this really happening? But that's what I came here for. The new experiences and challenges."