Volunteers clean up historic St. Croix Boom Site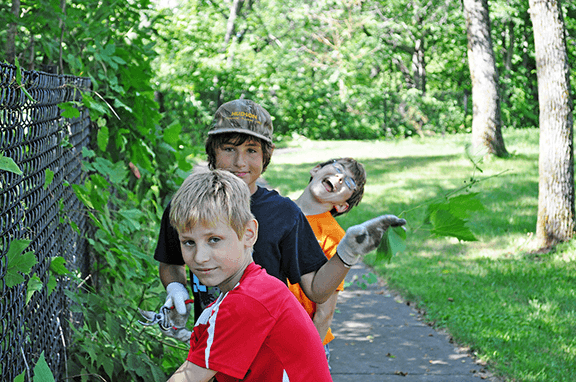 During a two-part cleanup effort at the St. Croix Boom Site near Stillwater, more than 90 volunteers helped beautify five areas of public access and historical significance along the St. Croix River. On July 24, Andersen Corporation employees cleaned up the Boom Site boat launch, picking up trash and clearing brush and invasive plants. Two days later, a large group of public volunteers tackled the Boom Site wayside rest, beach, scenic overlook and historic marker. Besides removing invasives and trash from the sites, volunteers cleared a sand-filled culvert, moved rocks away from the beach, scrubbed graffiti off limestone walls along the shore and in a cave, pulled weeds from historic structures and cleaned up stairways and parking lots.
Volunteers were directed by 14 Summer Youth Corps members, leaders and staff along with severalyoung adult field crew members who volunteered their Saturday. We thank everyone for their time and hard work to make the site more accessible and pleasant for visitors. This event was made possible by the Fred C. and Katherine B. Andersen Foundation and the Andersen Corporate Foundation. REI provided promotional support and t-shirts for all the volunteers.