Welcome to our second crew of bloggers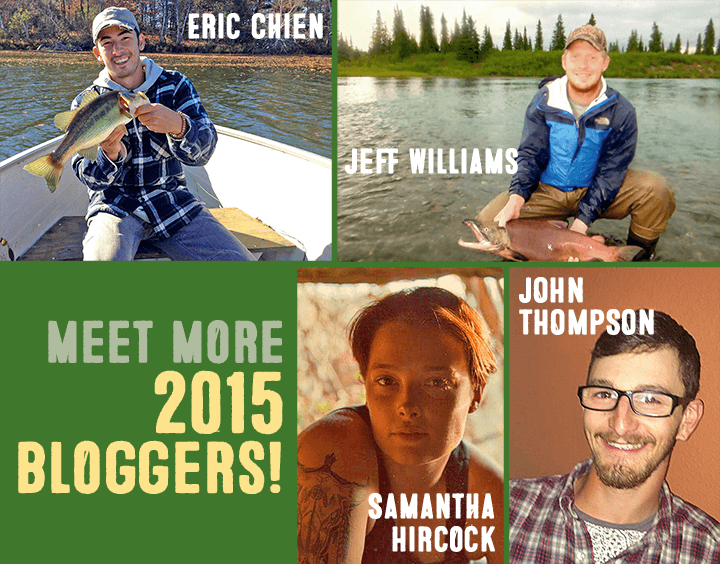 We are thrilled to have a large contingent of bloggers this year, sharing their experience while in the Corps. If you haven't seen the first month of posts from our inaugural group of five writers, scroll down and check them out! In the meantime, we welcome four more, three of them from our Iowa and Missouri crews. Read more about them here, and keep an eye out for their reports from the field several times a week.
Eric Chien
Crew: Crow Wing (Brainerd office)
Hometown: Golden Valley, Minnesota
College: Bowdoin College
Person who has most influenced his life: Steve Irwin
His story: I grew up in and around many of the places where I now work as a crew leader for Conservation Corps in the Northwest District. While I was born in Minneapolis and attended school at Breck in Golden Valley, I always spent quite a bit of time each year on Pelican Lake. Since 1922, the maternal side of my family has maintained a cabin on the southeast shore of the lake. It was there, and the larger central lakes region, where my current conservation values and love for our state's natural heritage was formed. I spent most of my childhood days fishing, roaming the woods and looking for bugs. Fast forward a few years and my days are often still occupied with those same pursuits. While my passion for conservation may have been Minnesota-made, it was certainly packaged and sealed during my time away from the state.
In 2010, after graduating high school, I shipped out to Maine to attend Bowdoin College. Below Maine's own towering white pines, in addition to earning degrees in biology and environmental studies, I also played on the school's tennis team, worked for the residential life and sustainability offices and conducted research in ecological recovery in Maine's river-estuarine-coastal system. My four years at Bowdoin were amongst my most rewarding and challenging to date, and ultimately they fostered a desire to return home to Minnesota.
I joined Conservation Corp at the end of the summer in 2014, as a late hire in the Northwest District. The Corps offered the perfect opportunity to gain hands-on experience in the conservation field and a way to immediately and tangibly give back to the places and community I credit with making me who I am today. After a great few months with the Corps, I was fortunate enough to be hired back on for the 2015 service term. I am looking forward to an exploration- and learning-filled year of service here in the heart of Minnesota.
Samantha Hircock
Crew: Timbers Crew, Ames Iowa
Hometown: Des Moines, Iowa
College: Des Moines Area Community College
Person or experience that has most influenced your life: It's very hard to decide on one experience or person most influential in my life; many impactful things have happened both good and bad that have shaped the person that I am and the person I want to be, and I've known quite a number of inspiring people. I genuinely feel that it would do an injustice to the totality of a few life stories, including my own, to choose just one person or event.
I will say, though, that I do things like this [Conservation Corps] for the opportunity to experience more even than I have and to know yet new inspiration in the faces of other lives. I thrive on the larger lesson and I fully expect it to last as long as I do.
Her story: My summary begins simply: I am a native Iowan (and proud to be). Skip ahead to the last few years, full of opportunities I'm eternally grateful for… I spent some time as a racehorse groom at Prairie Meadows R&C, which albeit the most arduous job I've had was also one of my most amazing experiences. After that, I lived for a time in Mississippi and other areas of the south during my term in AmeriCorps NCCC, where I earned a place on the wildland firefighting team and a sawyer position. I finished that term with a Silver President's Award (more than 175 volunteer hours outside NCCC) and received their Work Ethic Award. After NCCC I returned to Iowa to attend Des Moines Area Community College. I take some pride in being a Phi Theta Kappa Honor Society member during my time at DMACC. While attending college I had worked at Habitat for Humanity ReStore and later at Link Associates, where I helped incredible people with intellectual disabilities while they generally rocked at life (another amazing experience!). After graduating DMACC I joined Conservation Corps!
I'm a really eclectic person so an interests/hobbies list would just get too long… However, some of my future/bucket-list plans include: pursuing a degree in anthropology with an art concentration, winning my dad's best guitar by perfectly playing Voodoo-Child like Stevie Ray Vaughan, becoming a published writer, base-jumping in the Cave of Swallows, working in Africa with the Peace Corps or a similar organization and owning a Steinway piano because my whole being needs one (haha– it's true).
I am grateful for those opportunities and the chance to have those future dreams because, well, some people get the chance to put in their best effort and I'm one of those. So, I'm just shocked and grateful and glad to be here.
John Thompson
Crew: Loess Hills (Iowa)
Hometown: Bellevue, Nebraska
College: Metropolitan Community College.
Experience that has most influenced his life: Traveling out to Oregon has had a big role in my learning. Driving from the middle of the country to the west coast and back — the sights you see and the connections you make can't be found in front of the television or on a computer.
His story: I grew up in the Air Force town of Bellevue, a fairly tight-knit community when I was a kid. I was just your typical kid running my toy cars and Tonka trucks through piles of dirt and mud. I went to public schools for most of my life – all three of them no more than a mile apart, so my stomping grounds were within their radius.
The older I got and the longer my hair, the more friends and trouble I found. I naturally had my spell of "falling into the wrong crowd" as my mom called it, sneaking out after curfew, going to my friend's house and playing video games till the sun came up, having to sneak back home to get ready for school. I wasn't ever sure if I was the one who found the trouble or if the trouble found me. A few run-ins with the law and many groundings later I decided to part ways with some of the friends I had made and found my way into the theater and trapshooting lifestyle around the seventh grade. I remained there until I graduated high school and found myself traveling the country with my mom and my friend Nick, who is still a dear friend today.
After traveling, I found myself a steady job working at a diner in Omaha, not too far from home, and thanks to Nick. After a few years of the working life, I had saved enough money to rent a house with my sister and, of course, Nick. As free and comfortable I was, I felt there was something missing. I decided to part ways with the diner to start a tour of duty with the City of Omaha as an asphalt worker, driving plow trucks in the winter months. I did that for two years until I was laid off, and walked back into the diner with my head low asking to fill out an application.
At the same time, I found out Conservation Corps was looking for crew members. So I took my chances, submitted my resume and now here I am, living the good life working for the Loess Hills crew, happier than can be!
Jeff Williams
Crew: NPS Roving (Missouri)
Hometown: Clarinda, Iowa
College: Northwest Missouri State University
Person/experience that has most influenced his life: Hellbender Monitoring Project with State Herpetologist Jeff Briggler at the Missouri Department of Conservation (MDC).
His story: I was born and raised in southwest Iowa where I spent most of my time outside hunting, fishing, hiking and observing wildlife. I earned degrees in wildlife ecology and geography from Northwest Missouri State University. After graduation, I started working for the MDC, where I assisted on a research project for the endangered Ozark and Eastern Hellbenders (salamanders). I then moved down to West Plains, Miss. and joined the fisheries team for the MDC. I am currently the crew leader for the Conservation Corps NPS Roving crew, its first crew in Missouri!
My career has taken me to many strange and exciting places, including remote lakes in the Alaskan mountains, snorkeling in some of the most beautiful rivers in the Ozarks, electro-fishing heavily populated trout streams and many more to come with the Corps.