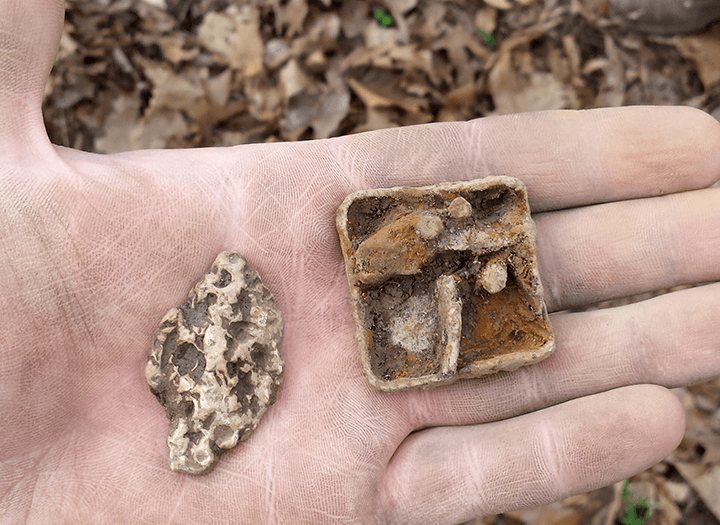 By Jeff Williams
I grew up in a small agricultural-based town in southwest Iowa surrounded by fields of corn, wheat, beans and the occasional patch of woodland. When people think of Missouri, they typically think of what I have just described, but the truth is Missouri is an extraordinary state that is home to unique geological features, historic battlefields and landmarks, diverse plants and animals and some of the most breathtaking scenic views throughout the Midwest.
The National Park Service Roving Crew is very pleased to be representing Conservation Corps Minnesota & Iowa in Missouri for the very first time! We have been involved in a wide variety of field work thus far including plant and wildlife surveys, exotic and native plant management, prescribed burns and archaeological digs, and have attended several natural resource conferences. Here are some the more exciting experiences so far.
Archaeological dig at Pea Ridge National Military Park
The NPS Roving crew spends a lot of its time down in Arkansas at Pea Ridge National Military Park. The park was home to a massive battle during the Civil War, which involved more than 26,000 soldiers and ultimately decided the fate of Missouri and the West. It is also the most intact Civil War battlefield in the U.S. The crew and I were on our way to work for another day of cutting cedars when we got the call to head down and help the Midwest Archaeological Center on a dig site near the park's entrance. It turns out that any time the park wants to make large scale alterations within the park they must first hire an archaeologist to survey the area for artifacts from the Civil War era. So, we all grabbed a shovel and metal detector and started surveying the project site. Unfortunately, we didn't find any significant artifacts from the battle but we did find many old hand fashioned nails, fence staples, horseshoes and several items yet to be identified!
Missouri Bladderpod
The crew has also spent significant time in the field at Wilson's Creek National Battlefield, where we are headquartered. Wilson's Creek is where the first major battle in the Civil War was fought west of the Mississippi River, and where the first Union general killed in combat, Nathaniel Lyon, was killed. Wilson's Creek is also home to one of the few populations of Missouri Bladderpod, a threatened plant that was recently taken off of the endangered species list. The crew has been working hard to set up plots and collect habitat data throughout a large glade in the middle of the battlefield. Little is known about this small and delicate mustard, which flowers for only a little more than a month. We have found many other surprises throughout the glades including speckled king snakes, black rat snakes, ring-necked snakes, ground snakes, five-lined skinks, Great Plains skinks as well as hundreds of ticks!