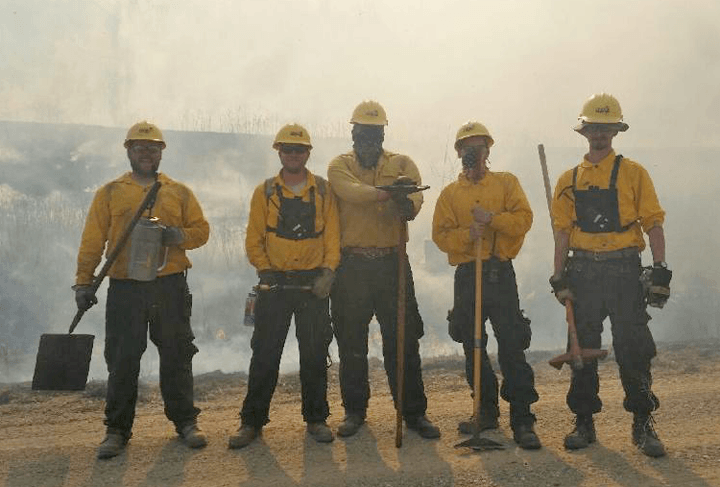 By John Thompson
What started as an awkward gaggle of young men, quiet, withdrawn and quirky, unsure of what lay ahead of them, quickly turned into a friendly yet hardened fire-fighting, saw-curd-chewing, dedicated force to be reckoned with.
Tyler Knight of Pella, Iowa; Jacob Summers of Jacksonville, Indiana; Richard Wehmeyer of Nickerson, Nebraska; Eric Lofgren of Oak Park, Illinois; Aaron Briedert of Rolling Prairie, Indiana and myself. This is the Loess Hills crew. Formed as an experimental crew, we have come a long way from day-one training in the cold of winter, hands and toes frozen, ice in our facial hair. The timid angst of the crew was visible, not yet functioning as a complete team, wondering, questioning wrong from right, whether to go right when instead you should have gone left. All under the watchful eyes of our crew leader and his superiors, which naturally added to the level of stress.
Thankfully, we made it through training with all fingers and toes still attached, sore from the cold. Saws and gear packed into the truck, heading home for our time off in between training and the start of our work is when we all really began to feel comfortable with each other and our surroundings, belting out Taylor Swift songs whenever they came on the radio, which was more times than we could count. The week off was spent like most, bumming around at home, traveling back to our parents' house and, of course, hanging out with friends.
Down the literal and metaphorical road, many cedars and miles later, the crew is firing on all cylinders. Clearing hillsides covered in trees that our project hosts wanted removed has become our specialty. Spiking for projects is an every week thing, so you can imagine just how comfortable we have all become with one another. Each crew member has strengths and weaknesses; some are as strong as Paul Bunyan himself and some are as witty as a fox in a chicken coup. Understanding the importance of each person's qualities helps on the work site – knowing when to ask for help, when to speak up in times of uncertainty and, most importantly, knowing when to step back, observe and learn.
Spiking so much has made us a close – and weird – band of brothers. We've created our own lingo; for example, if someone loses his train of thought you'll hear "shmall-tangum", translated as " I forgot". Coming from different backgrounds – college graduates, athletes, fish and wildlife interns, forestry technicians and Marine Corps hopefuls – all have unique input about how things should be done.
Thus far, our crew has become a brotherhood, a smack-talking, kind-hearted and fierce group of men. Laughing at the simplest things and becoming all-around good friends keeps us all going. The bad days we have are always trumped by the great, making the struggles of the occupation fade with the setting sun. One day this band of brothers will have to part ways. I dread that day because these men are having such an impact on my life, wherever it may take me. I hope that this is true not only my crew, but all Conservation Corps crews.