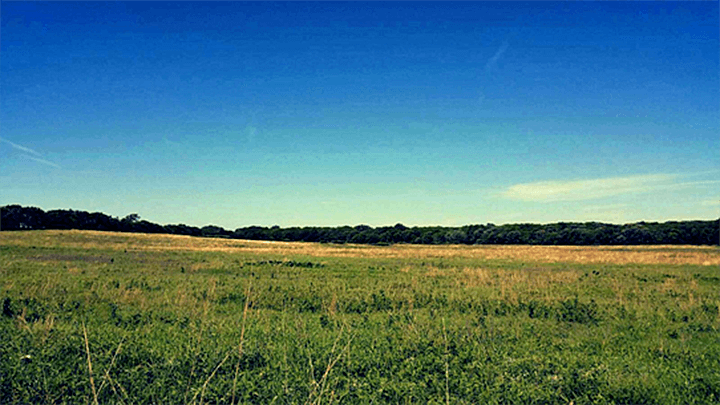 By Samantha Hircock
Take a moment to picture a scene… it's a sprawling prairie, part of the Midwestern landscape as it was a long time ago. Tall native grasses sing that song of swishing blades in the wind. In the distance, perhaps there are bison. Now imagine the people who would live there, and imagine yourself as one of them. Most likely you would see a homesteader, a man or woman who came to start anew in such a place. Oxen and covered wagons and children with quaint dolls and canvas bags of jacks – that's the image. But… I also picture the Otoe-Missouria, the Omaha, the Pawnee. I picture their beaded moccasins and quillwork dresses. I picture The People, who knew every plant and every bird as family. I see them still when I look out at what's left of what they knew. I don't put them on a pedestal in my mind but I see them.
At Homestead National Monument in Beatrice, Nebraska there's a piece of prairie and a building called the Heritage Center, which is shaped like a plow and dedicated to the memory of homesteaders. There are artifacts and even beautiful old recordings of stories by elderly people who had been homestead children. Our crew worked there and spent a few grueling days spraying the prairie to kill invasives like sumac and dogwood, continuing others' conservation efforts. Then we finished by working the children's event for the local Homestead Days celebration. We showed kids how to play with jacks and helped them plant their own prairie flowers in little cups. There were coffee-sack races, ring toss games and even a band called The String Beans making up funny songs for the kids to dance and jump to. My crewmate and I had a good time dressing up in the costumes provided to wear for photos at the old restored homestead house down the hill from the Heritage Center. Some of us even elected to become junior rangers, of course purely so that we could tell the kids what to expect. We sprayed and taught and laughed and played.
I had a great time and felt good about what we were doing there, and I admire the work of all the people who have dedicated themselves to that place. But I also felt sad that this parcel – some of the last prairie in the country – is a monument to the beginning of its end. A building in the likeness of a plow. I respect the ingenuity and the spirit of the homesteaders who are also part of my heritage but I can't forget what those ancestors – The People – lost for the gain of the pioneer. I respect that the educational video shown in the Homestead viewing room does not ignore the other side of the story, one that is not often shared. It was refreshing, but I think more needs to be done. There are people whose story is yet half told, half touched, half forgotten. I want their stories restored just like the prairie. I want children to learn native games, see native faces on monument walls in more places when they look out at our country, our home. I mean, why relish the native wild but not the native people when humanity is also part of nature's community? The land changes with us and sometimes, for the better, we change with it. We work to restore and protect it and so for ourselves and our children, we should also restore our history.
That is what I think.