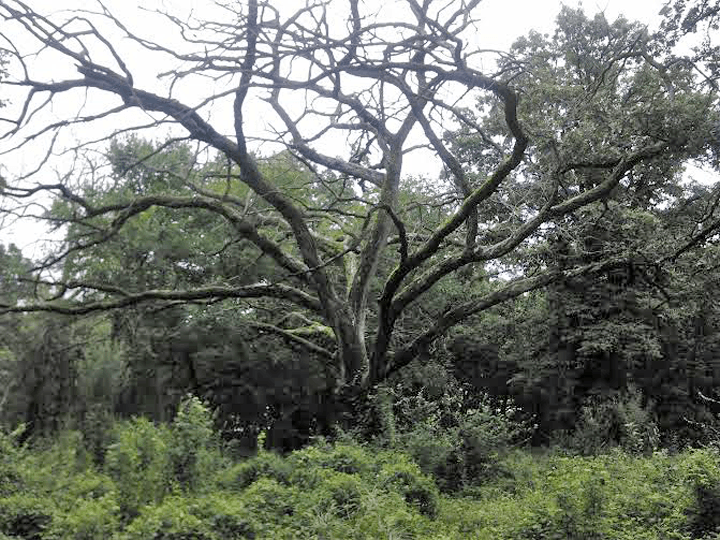 By Win Cowger
Ever wonder what an oak tree talking to another oak sounds like? I know… Oak-Oak-OAK.
An oak savanna — especially one that doesn't need management – is a rare ecosystem.
For an ecosystem to be a savanna it needs to be made up of trees and grasses. The area needs to be greater than 50% grasses when looked at from above. We cleared brush and undesirable woody species at Easter Lake Park so that we can burn this fall.
Oak savanna is a fire-dependent ecosystem. For the tree stand to be so thin, it requires regular fire events to kill saplings. Oaks have tree bark that is fire-resistant and leaves with chemicals that are extra flammable.
To determine if an oak savanna is suitable for restoration, the oaks must be open-grown with wide spreading branches, showing that the area was once an oak savanna. Oak trees don't grow wide when crowded. Oak savannas have both trees and prairie plants. Lots of plant diversity and even some plants that specialize in the ecosystem are common. One of the reasons oak savannahs are so rare is that they were the first thing settlers developed. To a settler, an oak savanna was a gold mine of everything one needed to start a home: grazing areas for animals, shade in the summer, arable land and timber.*
I am glad that even after so much development I have experienced an oak savanna. Here is my account:
While sharpening my chainsaw, I looked up at a notchy-barked tree. It seemed familiar. I saw its wide twisting branches and its deep green leaves. Oaks are not only the favored trees of naturalists, but are mine, too. I stood up and looked around for a tree to girdle. "Girdle everything but the oaks, cherries and walnuts," we were told. We must have started in a good place because all there was as far as my eye could see were oaks, spaced about 30 yards away from each other, and grass up to my waist. I tried to come up with the words to describe it in a poem, as I always do when I see a beautiful sight, but this time all I could say was "home."
I grew up in the Bay Area of California where our ecosystem was made up almost entirely of oak savanna. We had different types of oak trees than Iowa but the view was the same: rolling hills, blowing grass and wise trees. This is peace to me. When I tell people I live in Iowa and am from California they often ask me why. I think now I will respond that it wasn't the cheap schools, or the number of jobs, or even a girl, but maybe it was a call I didn't realize I was hearing, from the oak savanna.
*Factual information in this blog comes from oaksavannas.org.