Staff highlight: Zach Dieterman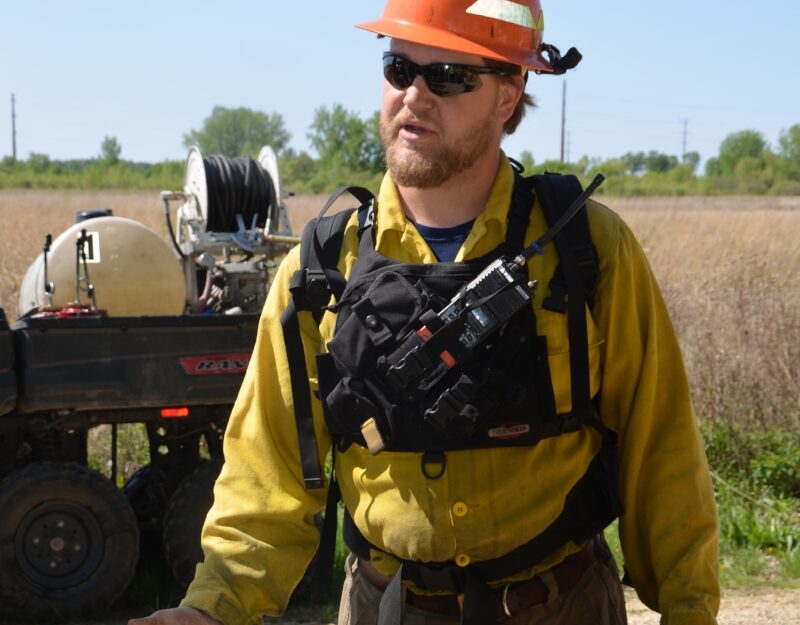 Zach, our Southern District Field Coordinator, is well on his way to becoming a certified burn boss. He is nearing the end of a several year process of classes, intensive week-long workshops and type 2 taskbook requirements. With this certification, the Corps will be able to take on more prescribed burn requests, while expanding and enhancing the Corpsmember experience.
Zach started with Conservation Corps as a crew leader and then field specialist in the southern district. Still based in the southern district, he is now the field coordinator responsible for project coordination and management, planning and executing prescribed burns, direct field work leadership and logistics, equipment repair and maintenance, and corpsmember hiring, training and management.
Inspired by Southern Assistant District Manager, Dustin Looman, Zach got going on the burn boss track early in his Corps career. Prescribed burning is his favorite part of the job. However, being deployed to New York City six days after Hurricane Sandy stands out as one of his most memorable Corps experiences so far. He spent 30 days helping with shelter operations in New York and set up a muck and gut operation in Atlantic City.
The Corps has also impacted Zach on a more personal level. In 2013, he met his future wife, Jennie LaRoche while they both worked in the Corps' southern district. They were married this October and recently took a trip to Lutsen for their honeymoon. Congratulations Zach and Jennie!
Zach feels that Conservation Corps is a truly rewarding organization to work for. He enjoys working with the staff and Corpsmembers every day. The Corps values Zach's hard work and can't wait to celebrate the completion of his burn boss certification!