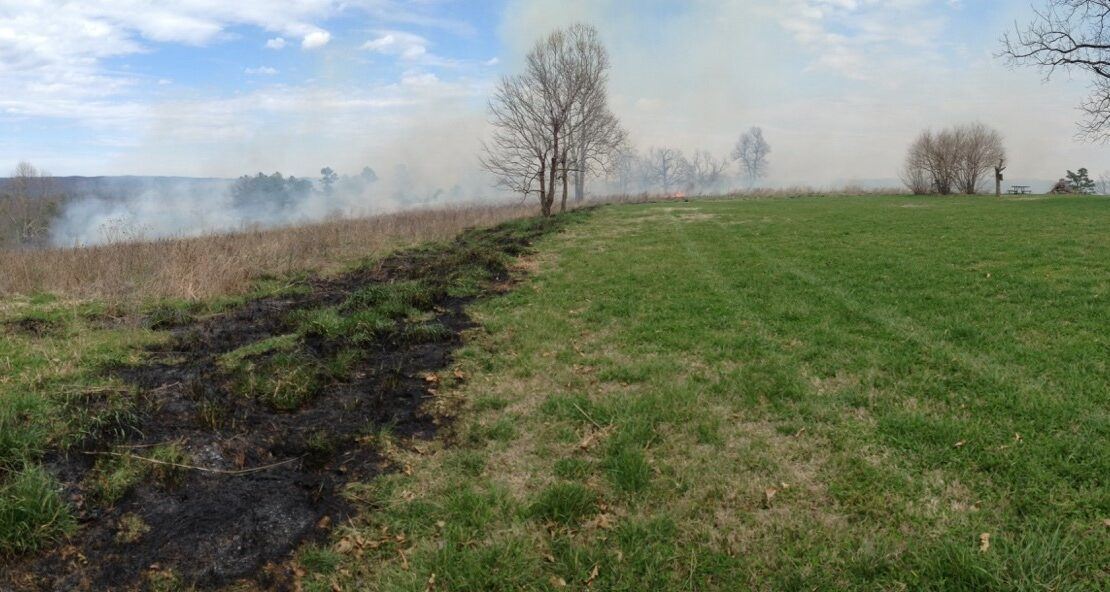 By: Kristina Beckham
Following a two-hour drive south of Springfield, MO is the Buffalo National River Park located in St. Joe, Arkansas. So far we have had the pleasure of cutting down Eastern Red Cedars (Juniperus virginians) and have helped with both prescribed and wild fires. At this park specifically, our crew has helped put out the largest fire in Conservation Corps history, reaching 5,000 acres.
The purpose of removing Eastern Red Cedars (J. Virginians) at this park was to prep the area for a future burn, such as our 5,000-acre burn. Being a part of the largest burn thus far has been an amazing experience. The Buffalo Fire Management Crew were some of the nicest people we have had the pleasure of working with so far. They made us feel completely safe and took us in as if we were part of their crew. Working on fires is one of the most dangerous things we could do with this job because at any point something could go wrong. We were all very lucky that the fire crew made sure we felt safe whether from direct attack (walking the fire line) to setting a water line down. I don't believe that there is enough good that could be said about that crew and all the help and confidence they gave us, so if we haven't said it enough- thank you (you know who you are)!
That's all I have for this month. Below, as usual, is the centennial events going on at Buffalo National River Park. Also starting this month is the introduction to each of my crew mates. Up first is my crew leader Hayley Noneman.
HAYLEY NONEMAN
Q What is your favorite part of working with the Conservation Corps?
A Favorite part of working for the corps is the camaraderie that comes from working with a group of 5 or 6 individuals offer the course of 10 months. Watching each person grow and evolve is an incredible thing to witness.
Q Why did you join the Conservation Corps for another year?
A I decided to join the Corps for a second year because I felt like I had more to learn. Being given the opportunity to be a crew leader and develop my leadership skills has been extremely rewarding. Watching my crew members grow is a beautiful thing.
Q Why do you enjoy prescribed fires so much?
A I love working with fire so much because in my opinion it's the most mentally and physically challenging thing we are a part of. Spending 14+ hours out on a fire each day is so rewarding. The way the Buffalo Fire Crew took us under their wing and made us feel like part of their team was incredible. They not only included us in huge prescribed burns, but also had us help on wildfires at the park.
When it comes to centennial events sadly enough I couldn't find very many going on but there are a few events happening. So for a complete listing of what is going on at Buffalo National River Park feel free to follow the link below: https://www.nps.gov/buff/planyourvisit/calendar.htm
Again since it is the centennial year for the national park service they have specific days with free entry days into the National Parks, the link below will show you the exact dates: https://www.nps.gov/planyourvisit/fee-free-parks.htm
Till next time,
-KB