Adopt-a-River: trash diving and a Tommie tradition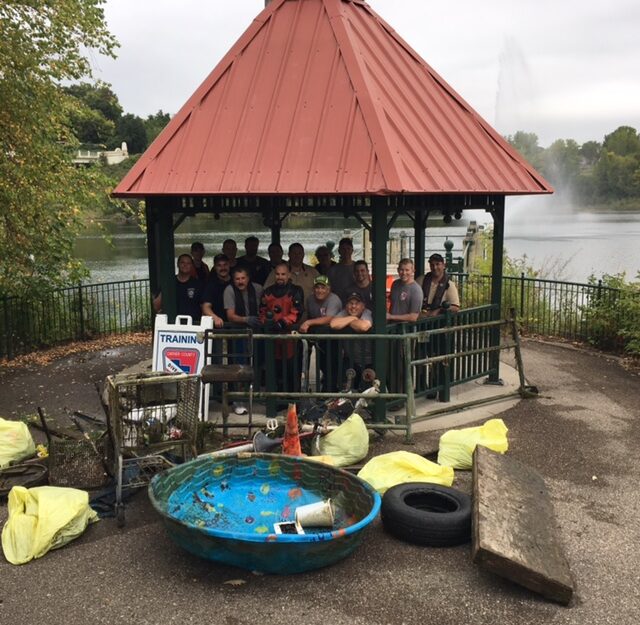 Adopt-a-River cleanups typically involve volunteers walking along a shoreline with bags and gloves, maybe using waders to reach trash away from the shore or even using canoes to venture deeper into waterways. Ben Beyer, with the Carver County Sherriff's Department went even further. He and his team donned their diving gear to clean up the murky waters of Sun Lake in downtown Chaska.
On September 16, Ben and his diving team practiced their underwater communication and search skills while also cleaning up a local lake. The dive team is responsible for responding to lakes, rivers and swamps in emergency and recover situations, as well as searching for evidence.
There have been many times that debris and garbage was found during training or when responding to incidents. This inspired the team members to combine their efforts into a community engagement event. While training, sixteen team members hauled garbage out of Sun Lake, including chairs, an exercise bike, a bicycle, a plastic children's pool, remote control boat, lots of shoes and a shopping cart.
"I thought it went really well," Beyer said. "There was a purpose or mission behind the training, and that inspired people. I know I was proud of everyone, because it's not an easy place to dive."
http://www.swnewsmedia.com/chaska_herald/news/public_safety/diving-in-history/article_6b5de124-1acc-5d71-a543-0e3441668a9d.html
Since 1993, the University of St. Thomas Green Team, has organized an Adopt-a-River cleanup along the university's section of the Mississippi River. It started as an Earth Week Initiative, and now happens at least twice a year.
The group is extremely dedicated. "You can't predict what the weather is. We have done the cleanup in the snow," said Bob Douglas, coordinator of Recycling and Central Receiving. They also find all sorts of interesting objects along the river including a motorcycle, a hooka, an old wooden piggy bank full of foreign coins, a full keg of beer, a bus seat and a giant stuffed bear.
The event has become a tradition. Volunteers meet at their usual spot- the World War 1 monument at the intersection of Summit Avenue and East Mississippi River Boulevard. The cleanup typically covers a 2.6 mile area and includes a variety of groups, clubs, students and members of the community.
Thank you University of St. Thomas for your continued clean water stewardship!
http://www.stthomas.edu/news/tommie-traditions-fall-mississippi-river-cleanup/