Youth Outdoors Crew Member Experience: Addie Bona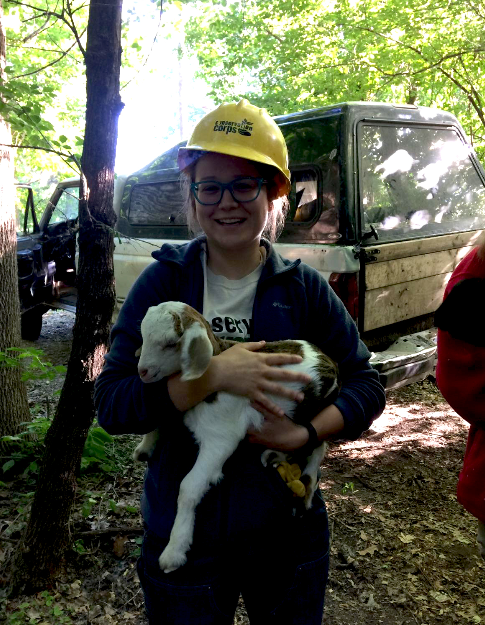 By: Megan Zeiher, Recruitment Coordinator
To share more about the Corps experience from a member's point of view, we caught up with Addie Bona. Addie recently finished her service term with us as a Youth Outdoors Crew Member in Minneapolis. Throughout her term she performed natural resource management projects in partnership with the Minneapolis Parks and Recreation Board, which involved a lot of invasive species management with both the adult and youth crews. She worked with buckthorn, oriental bittersweet, Canada thistle, cattail, tansy, teasel, garlic mustard and burdock.
Addie's favorite project involved a particularly unique way to manage invasive species in Minneapolis parks—with goats! She worked with goat contractors to prepare sites, set up fences, put signs up and do other goat maintenance in order for the goats to eat buckthorn and other invasive species.
"It was fun to get to know the goat contractors, but even more fun to be able to spend time in the goat fence with the goats. I have always loved goats, and I love the concept of using them as a biological control for invasive species—so it was incredible to be a part of that process."
Addie believes the Youth Outdoors program is unique in that it brings people from many different places and backgrounds together to share in the common goal of making a positive impact on the environment and in the lives of others. She also thinks it's unique that Crew Members can come in as beginners, but quickly learn many skills such as plant identification, power tool use, youth development skills and more—and then use these new skills immediately and successfully.
"We received a variety of trainings, had the opportunity to work in different parks all over the metro and even places in Northern Minnesota, and worked with incredible, inspirational and driven high school youth. I have learned and experienced more during my term than I think I have in the last few years!"
Addie and her crew received Youth Mental Health First Aid Training, CPR Certification, Pesticide Applicators License, Wildland Firefighting Training and Chainsaw Training during the service term. In addition to the trainings and certifications, she thinks the best benefits of being in the Corps are working outside, strengthening interpersonal skills and knowing she has made a difference.
"The work we do in the Corps has such an immediate and long lasting effect, and I am walking away from my term knowing I've made a positive impact in my community, the lives of others and my own life."
To start your own Conservation Corps journey, check out our apply page and explore open positions. To learn more about Youth Outdoors roles, visit this page or email questions to recruit@conservationcorps.org.