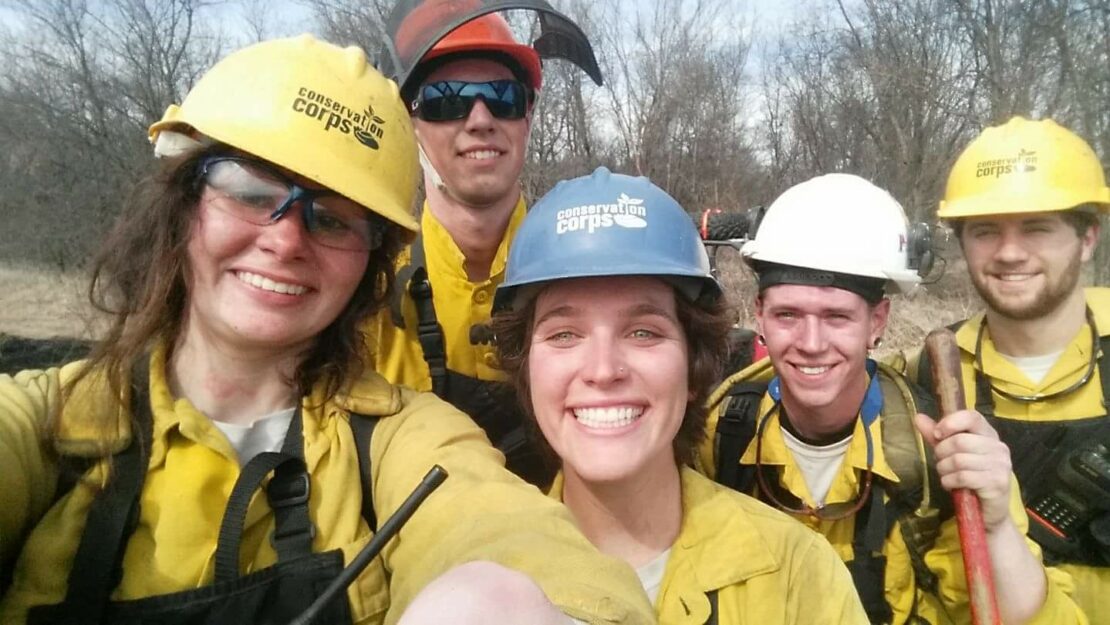 By: Kristina Luotto
Prior to my time with Conservation Corps Minnesota and Iowa, I found myself regularly overwhelmed by all the readily accessible information I was confronted with daily. Computer screens and cell phones were at every turn. Billboards and radio advertisements loudly announced what I was supposedly lacking. News cycles changed hourly. All of my questions could be readily answered by Google, just a few finger taps away.
I am grateful to be starting my second year of service with the Corps because it allows me to find balance in this fast-paced world. I have found that working outdoors provides a new perspective. Now, the friendly chatter of crew mates and the hum of chainsaws are at every turn. Flowers bloom and birds call, loudly announcing the return of spring. Prescribed fire runs across the prairie hourly. All of our hard work today will pay off over the course of years.
Spending my 40+ hour work weeks outdoors allows for me to strike a balance. By focusing on the task at hand, whether it be chain sawing, controlling prescribed fire, or planting trees, I am able to set the drama of news cycles and social media aside. With Conservation Corps, I am able to focus my energy into our projects, instead of feelings of worry and dread. Seeing projects in various phases this year and last, I am reminded that change is a process and takes lots of hard work and time.
My crew has been working on restoring old farm fields to prairie. We use chainsaws to remove invasive trees and shrubs and prescribed fire to promote native grasses. This work is important, yet will take many years to complete. The hard work of my crew today will contribute to the success of the project and focusing on our daily role helps make the project manageable. I am gratified instead of overwhelmed. Working on prairie restoration projects has also taught me that gratification is not always instant. While doing the same work several days in a row can become monotonous, I am reassured that my time and energy is spent for good reason and is all part of a process. I have become more aware and appreciative of the small changes, like rare prairie plants blooming after a prescribed burn.
I went in to the Corps thinking I would fight to save natural spaces, but natural spaces have also worked on me, shifting my perspective. I look forward to my daily dose of dirty boots and sweaty gloves. My hands are becoming calloused, my forearms tanned, and my muscles made strong by working on the land. The work is not always glamourous, but worthwhile and welcomed. I am grateful to see the work of my crew contribute to the slow transformation of the natural spaces around me.
Every day, when I see the sunrise through the dew, spring buds unfurling, and saw dust collecting at my feet, I continue my unlearning of all that is assumed in mainstream culture. Instead of feeling perpetually two steps behind, I can trust my two feet standing firmly beneath me, grounding me. I know I have the strength to tackle the challenges of the day, both big and small.