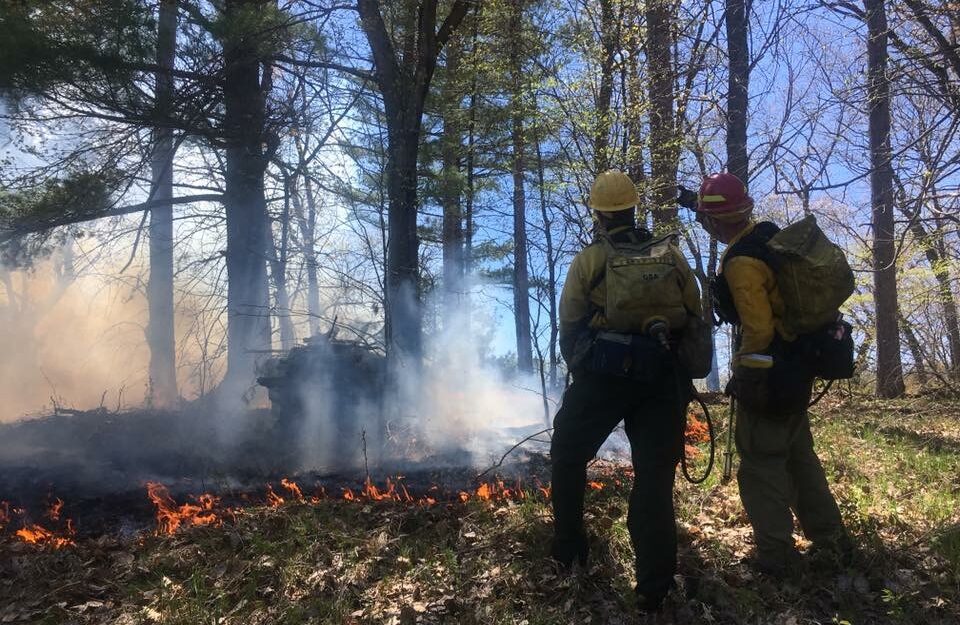 By: Kristina Luotto
My past few weeks with Conservation Corps have flown by. I've been BUSY. We've driven 3,000 miles, burned upwards of 1,500 acres, planted 10,000 trees, and seen all types of weather this spring. My crew, normally based out of Rochester, MN, has spent the last three weeks stationed three hours northwest in Paynesville, MN. Life here is straightforward. There's one grocery store to buy lunch supplies at, one gas station we stop at in the mornings on the way out of town, one our favorite dinner spot (of three options).
We've been staying in Paynesville to work with The Nature Conservancy to assist with their prescribed burn season. It is a blast working with them! Working with a new group of firefighters has been a great learning experience. New burning operations bring new equipment to learn and new ways of doing things. Small steps outside of my comfort zone, whether it be filling a new role on the fire line or working with a new piece of equipment, are both exciting and challenging.
Being further north than we are accustomed to, we also got to experience new landscapes. We saw prescribed fire in new fuel types, such as pine forests, which brought with it new sights and smells. All of the overnight travel has been challenging, yet refreshing. There are many more lakes than in Southeastern Minnesota and we all ended up jumping into a lake one night after work. We've practiced making food budgets stretch (salad bars are awesome!) and parking the large Corps truck in the tight hotel parking lots. We put in long days together as a crew and are better for it.
Spring has also bounced back and forth. We saw snow in May. Thunderstorms damped our prescribed burning operations some days. We gave our time to some rainy day projects, including some roadside trash pick-up in below freezing temps. There have also been sunny days which left the back of our necks a sunburnt, fiery red. We learned to come prepared for each day with winter coats and sunscreen.
It has been a long, full spring. These days of travel, prescribed fire, tree plantings, and seasonal transition have left me sore and tired, but also happy and accomplished. I'm glad to be developing close relationships with people in both the Conservation Corps and The Nature Conservancy. I'm looking forward to a great summer!