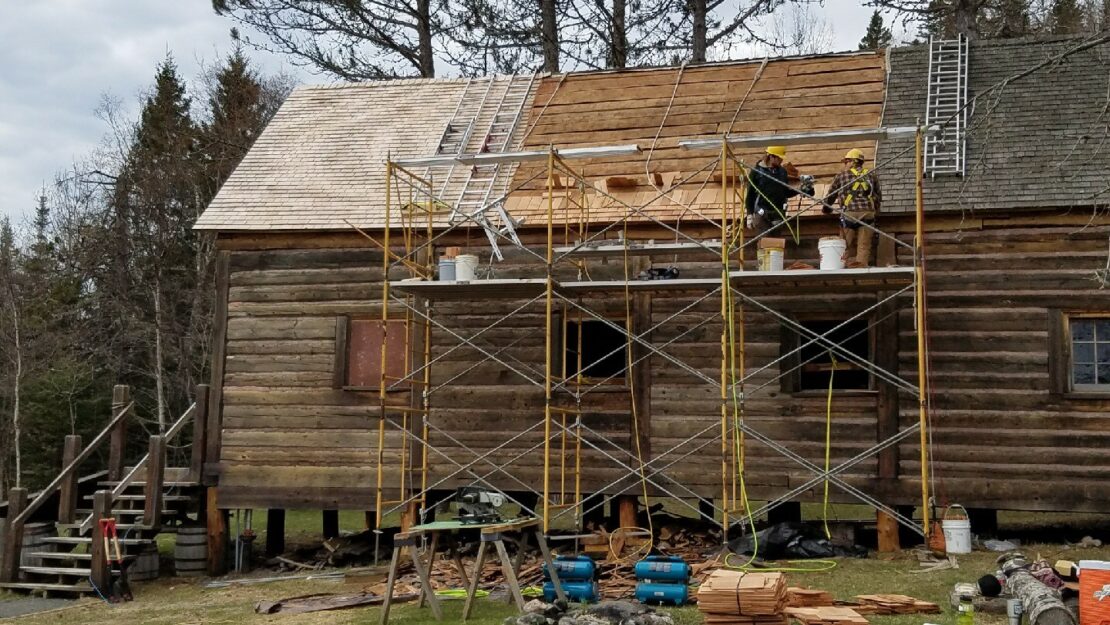 By: Erika Birnbaum
Up on the northern point of Minnesota is the Grand Portage Reservation. Within the reservation is a National Historic Monument, a reconstruction of the fur trading fort that once sat there in the late 1700s. The area gets its name from the long trek traders used to have to do to get their goods from Fort Charlotte to Lake Superior. This 8.5 mile Portage was done with 90lb packs to avoid the many rapids and waterfalls along Partridge River. The reconstruction consists of the wood fence made with tall logs sharpened to points. Inside the fence are two main buildings, one has the grand hall, and some small gardens and chicken coop.
Just outside of the fence is a canoe warehouse. This is the building the Duluth CCM crew was tasked with re-shingling. The canoe warehouse held the historic recreations of what Native Americans used, birch bark canoes. One spanned close to the whole length of the 56′ long building. Every year or so a new smaller birch bark canoe is added to their collection. Many tools from the active time period of the trading post are stored in the building. On the shore-side of the building are double wood doors leading to a boat ramp. The building is set up off the ground by big log posts every 10 feet or so.
The Duluth crew set up on scaffolding, ropes and harnesses so four of the five team members could be up on the roof. The fifth provided ground support for those working on the roof. After all safety precautions were met the crew got down to business. This involved removing the old cedar shingles put on in 1993 and nailing down the new ones. While a repetitive process, it took concentration and as they moved along scaffolding and harnesses needed to be moved as well. The cedar shingles vary in sizes so care had to be taken to make the assorted sizes fit together in each course and completely cover the gaps in the course below. Each shingle was about 15-16″ long and ranged from 12-13″ wide. The shingles were layered on top of one another to make the most impervious roof possible. Each course was four and a half inches above the other. The bottom course was doubled with an inch of overhang to give 100% protection. At the ridge of the roof the top course was shortened to fit under a metal ridge cap. Shingles all around 5-6″ in width were laid horizontally on either side to cap the roof. All said and done the crew was able to do approximately 90 square feet a day of tearing off and re-shingling. Seeing the finished project Monday morning, the Duluth crew was pretty proud of their accomplishment and new skills.