Maintaining a high standard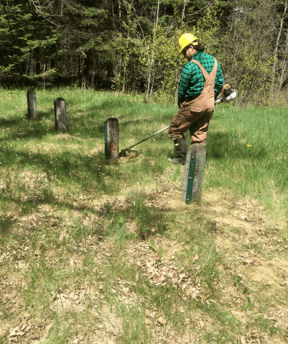 Impressions count – and they last. Minnesota has a well-earned reputation as a great place to enjoy the out-of-doors, and part of the mission of Conservation Corps Minnesota & Iowa (CCMI) is to help the state keep that lofty standing.
After a day on the Mississippi, hiking or enjoying other recreational activities, no one wants to encounter a campground that's been neglected, without expected amenities or otherwise in disrepair. Lynzi Daly, 23, leads a young adult field crew that recently did a three-day sweep of eight Mississippi River campgrounds in the Bemidji area. They loaded canoes with chain saws, lawn mowers, other landscaping equipment and assorted supplies. At each campground, they cut downed trees into firewood; cleaned fire pits, stocked amenities with supplies (toilet paper, for example) and otherwise made each a welcoming place. The job even included removing graffiti.
These campground facelifts might not be glamourous work, but Lynzi appreciates their importance.
"Camping – and the recreation that happens around it – is about the total experience," she says. "CCMI and other groups do great work restoring shorelines, building rain gardens, eradicating invasive species – the list goes on – but that's all compromised if the camper has a bad experience somewhere along the line."
Lynzi sees a bigger picture, too.
"The crew and I are learning new skills, having new experiences and gaining a real respect for the land and the environment," she continues. "We're also learning to work with others, and – most important – we're learning about ourselves."