Field Specialist Experience: Abby Cyr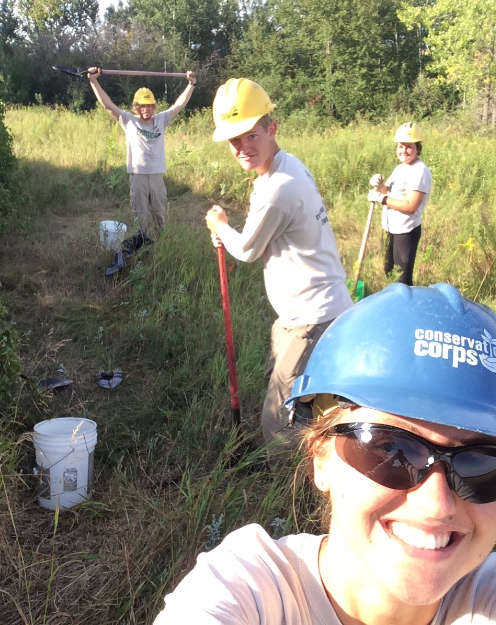 By: Megan Zeiher, Recruitment Coordinator
Fall is a time of transition, so it is only fitting this season has us looking ahead to the 2018 AmeriCorps term here at the Corps. We recently opened Field Specialist and Individual Placement positions and will be accepting applications until Friday, October 13. Field Crew and Youth Outdoors positions will open on Wednesday, October 18. These members serve January/February through December of 2018 and are eligible for the full $5,815 Segal AmeriCorps Education Award, among other benefits unique to the service year experience.
To learn more about the Corps experience through the eyes of a Field Specialist, we talked with Abby Cyr, who is currently serving in the Northwest District of Minnesota. Abby first heard about Conservation Corps Minnesota & Iowa through a career fair at her college, Hamline University. She saw an opportunity she couldn't pass up—the opportunity to work outdoors, serve the environment, and be employed right after graduating college.
Her initial experience with the Corps was a summer term in a Superior National Forest "Faces of Tomorrow" Crew. She then extended her service term through December with the Forest Service, before applying to be a Field Specialist to gain more experience.
Abby likes that the Field Specialist position requires independence and gives her the opportunity to develop her strengths and confront her weaknesses. She also likes the mix of time in the field with other members and work on her own.
"I coordinate logistics for crews, create equipment lists, organize safety protocols, develop emergency response plans, and help train crews in chainsaw, power and hand tools. I work with crews part of the week and work in the shop maintaining equipment and doing office work the rest of the week."
Abby credits her experience as a Field Specialist for helping her develop leadership abilities and has this advice for incoming members in her same role, "Keep papers and documents organized, have a list of tasks needing to be completed, and remember to let crew leaders be crew leaders—even when they ask for advice when you are the specialist."
She describes her biggest challenge in this role as, "balancing time in the field with what needs to be done in the shop and still being there for the crews with functioning equipment."
Through her experience with the Corps, Abby knows she wants her career to always involve working outdoors in roles that allow her to make a positive impact on the environment.
---
To start your own Conservation Corps journey, check out our apply page and explore open positions. To learn more about Field Specialist roles, visit this page or email questions to recruit@conservationcorps.org.