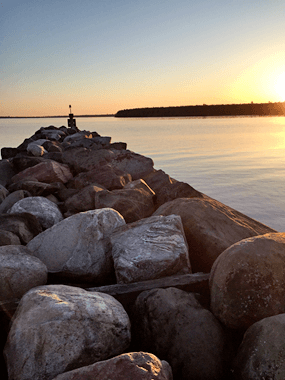 By Anna Machowicz
'Resources Restored, Lives Changed'. The first time I read those words, I was watching the sunset on a Lake Superior dock in Bayfield, Wisconsin. It was my first week working with WisCorps, a conservation corps based in LaCrosse. A crew from Conservation Corps Minnesota wandered onto the beach near us, wearing their corps shirts with the tagline emblazoned on the back. My crew and I scoffed at them, wondering what a bunch of weirdos from Minnesota were doing in Wisconsin.
We ran into the CCM crew again at a restaurant in town, where a local resident offered to pay for their entire meal as a thank you for all their hard work. I desperately showed the waitress my crew shirt, proving that we were a conservation corps too, and obnoxiously insisted we get some recognition. She rolled her eyes as she handed us our bill.
When I think back on this story, I can't help but laugh. Never had I imagined that a few months after encountering that CCM crew, I would decide to move to Minnesota. Shortly after, I would join Conservation Corps, working to restore resources and becoming an example of a life changed.
As the term winds down, we are all planning what comes next. For some it's another year in the Corps, a full time job, internships, grad school, traveling… the list goes on and on. As I listen to crew members discuss what they have planned, it gives me time and reason to reflect on what 'Resources Restored, Lives Changed' really means to me. No matter where I choose to go from here, I've gained skills and knowledge to take me there. I've made a difference in my community that I can actually see and share. I've made friends and gained new perspectives. The last eight months have taught me what the Corps promised they would and more.