Get your head in the game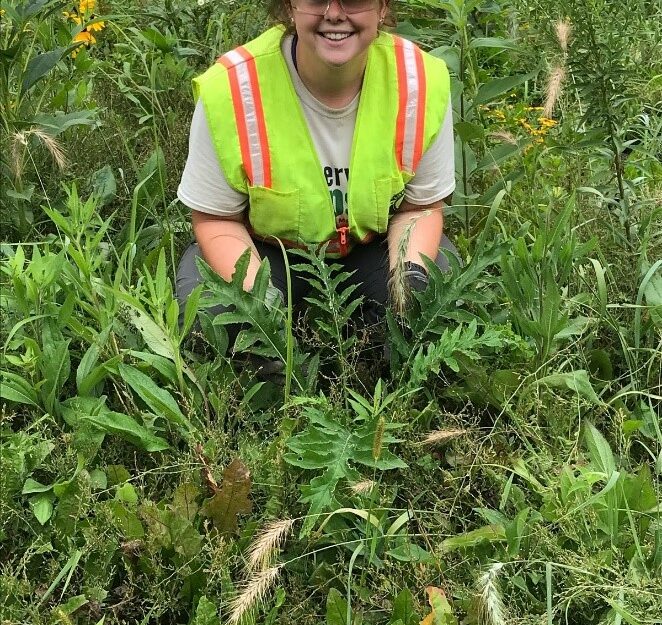 by Kira Pollack, Youth Outdoors AmeriCorps member
My crew talks and laughs a lot as we work side by side. We discuss what we look for in healthy relationships as we cut and treat phragmites on Pickerel Lake, point out cute dogs (all of them) as we weed rain gardens in Phalen Regional Park, and solve riddles as we stack Buckthorn at Lebanon Hills Regional Park. But we aren't always able to talk to each other. As I'm sure most of my colleagues can confirm, when you put in your earplugs or pull down your muffs (collectively referred to as "ear pro"), you're in your own head for the next couple of hours.
I usually have one thing on loop– a fragment of a song, a radio ad– or I'm composing a superb oration calling for justice (what, no one else?). As much as I love Old Town Road or whatever else I heard on the radio on the way to work, and no matter how catchy that Febreeze commercial is, I can only handle so many loops before I need a break.
This week I used my time chainsawing to work through ideas for a children's message I'm delivering about invasive species through the lens of relationships. I realized that I conceptualized buckthorn as a character in a larger story. In fact, I had started giving personality to different species depending on how I interacted with them. I asked my crew what their favorite and nemesis plants were and to imagine them interacting. What is the synopsis for that story?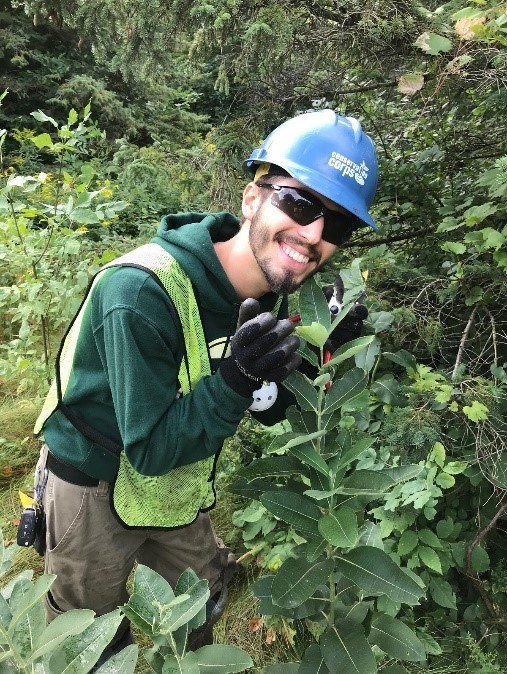 Jake imagined a comical, constant battle between a Dr. Doofenshmirtz-esque villain Giant Ragweed against the dependable hero Milkweed. Ragweed uses his Pollen-ator gun to cause stuffy noses until Milkweed comes to save the day.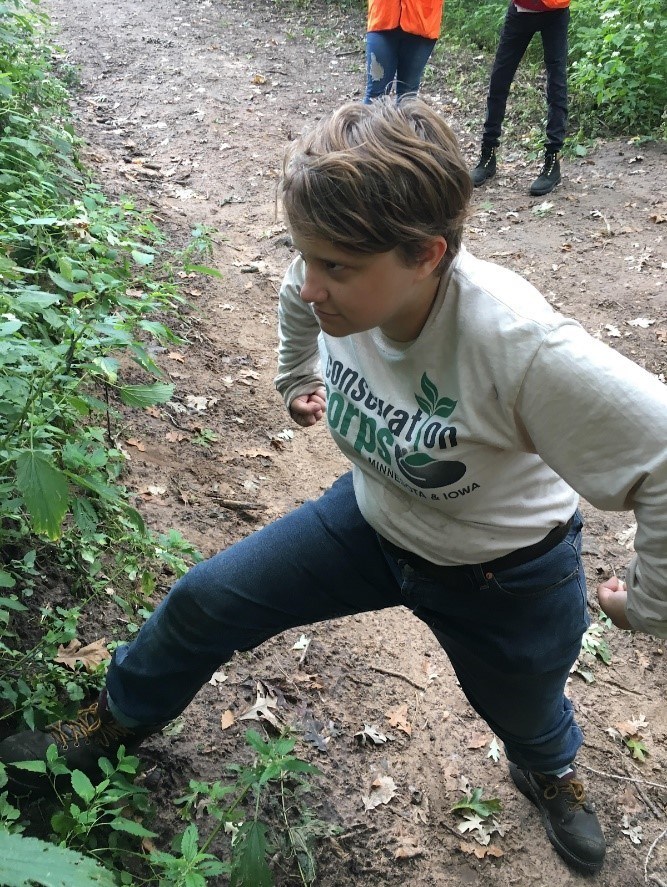 Katie painted a scene to rival any Western. From behind the bar at his root beer saloon, Katie sees his old friend Rattlesnake Master. As they catch up, a hush falls over the patrons as villain Stinging Nettle strolls in…
My own adventure envisioned an epic quest to defeat hair-hungry Burdock in order to recover the elusive Field Thistle, thus restoring order to the kingdom.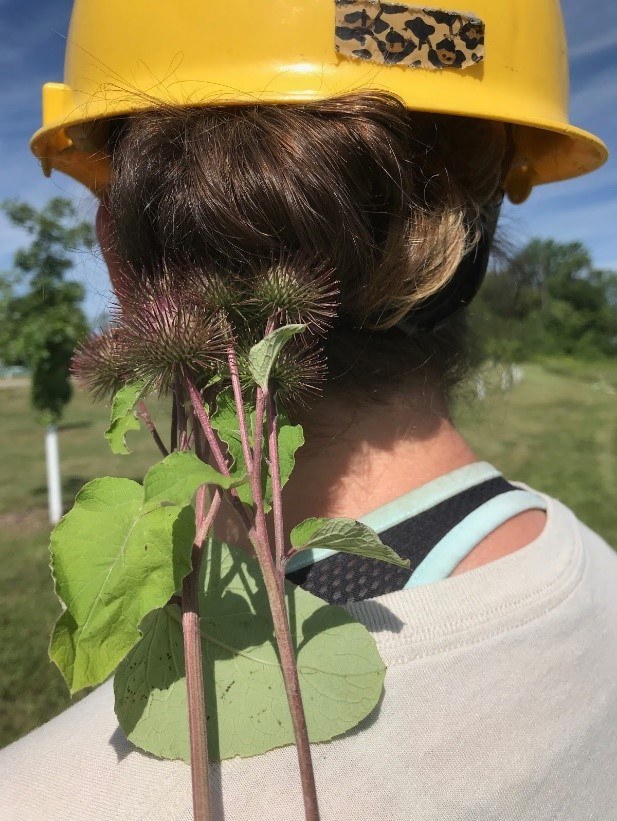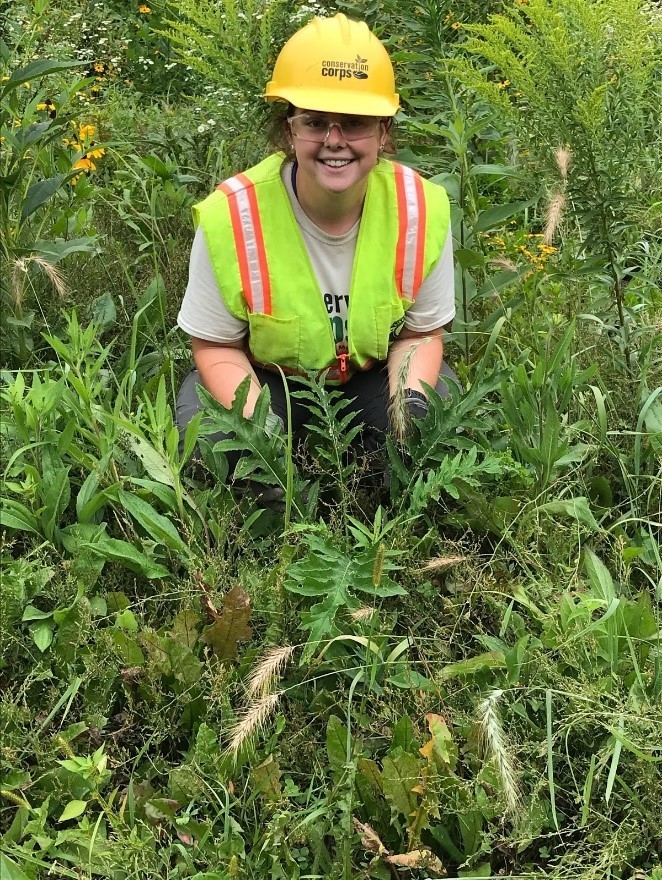 When I shared my message with the kids, I dressed up in my chainsaw chaps and helmet and asked why relationships are important. Though we took the conversation in a different direction, I can't help but reflect that each of us has an interesting way of looking at the work we do that is influenced by all our experiences. I am grateful to work with thoughtful and creative people whose active imaginations make the days pass faster and the results of our labor more rewarding.