Lessons from Tomatoes: Growing, Pruning, and Fruiting!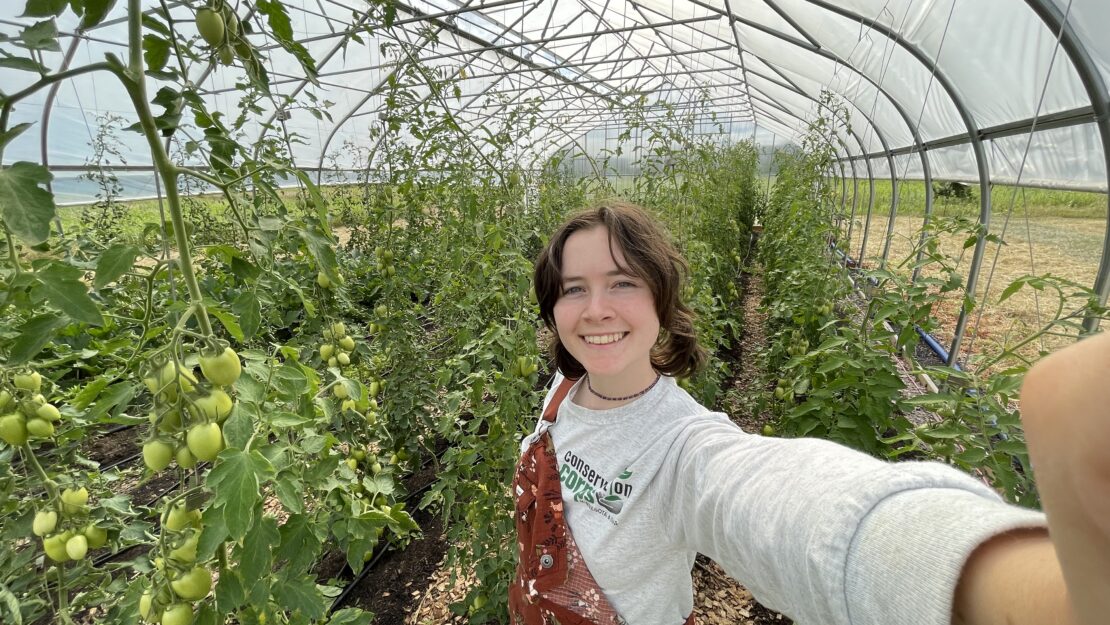 By Kaden Mettel, Communications Outreach Specialist Individual Placement / AmeriCorps Member placed at Osprey Wilds Environmental Learning Center
The farm season is in full swing at Trapp Farm. Harvest days used to only bring in bags of lettuce and spinach, but now we are seeing yellow and green zucchini, spiky cucumbers, radishes, carrots, snow peas, and, one of my favorite summertime fruits: tomatoes! Yes, tomatoes are technically a fruit, and they signal the height of the summer season.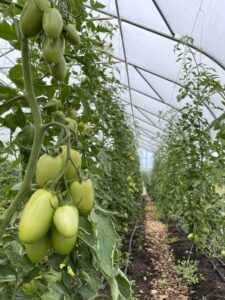 One of my weekly tasks that I look forward to most is trellising tomato plants. These little red fruits are grown in our greenhouse and are strung up using tomato clips and string connected to the ceiling. Indeterminate tomatoes, plants that continue to grow throughout the season, must be restrung as they climb higher and higher to support their growth. When I first came to the farm, each plant barely came up to my knees. A month and a half later, the cherry and roma tomatoes tower far beyond my reach! Being able to see how much each plant has grown over my time with Trapp Farm is especially rewarding, as I feel like I played a role in nurturing their climb to the sky.
Just like for the tomatoes, finding support is an important part of my own journey through life. As I grow and change, the people around me that I can lean on provide the structure I need to be the best version of myself. Without trellising, the tomato plants would fall to the ground and be stunted; without friends and family I would not be where I am today!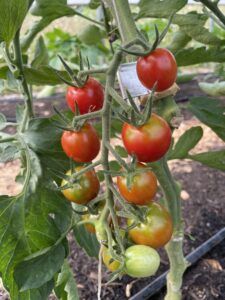 Another aspect of our weekly tomato care is pruning each plant. Pruning can be a tricky process, as I have to examine each plant to find errant growing ends and fresh suckers. These are bits of growth that happen beneath the growing tip (or top) of the tomato plant. Once found, these wandering ends are trimmed away to keep the plant from growing in areas it should not. Pruning works to focus the energy of the tomato plant into growing healthy fruit and to create gaps for airflow and sunlight which ward off bacteria or fungal growth.
As I prune the tomatoes, I am reminded of the importance of trimming away things in my own life that are taking energy away from more important goals. As someone who gets easily distracted, "suckers" can pop up in my life all the time. Spending time with the tomatoes helped me realize how important it is to focus my attention on the things that matter most and to let the sunlight in.
All of this work leads to a rewarding finish: the ripe, red tomato! Once each fruit turns from green to a blushing pink to a deep red, they are ready to be enjoyed. A ripe tomato fresh from the vine is a treat like none other will always taste like summer to me. My time spent with these plants has taught me many lessons, but most important of all is to enjoy the sweet fruits of hard labor.