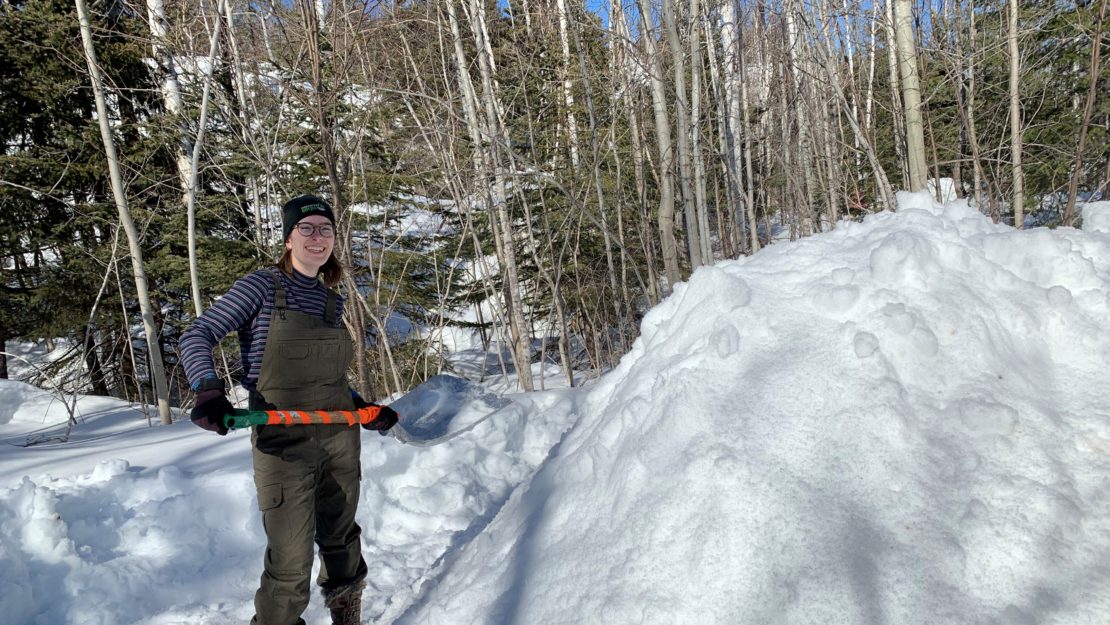 By Krystal Binversie and Kaci Warneke, Individual Placement Members placed that the Minnesota Department of Natural Resources
In February, we made our way to Tettegouche State Park for a winter camping workshop hosted by Eric, MN DNR Special Programs Coordinator, and Kurt, Interpretive Naturalist at Tettegouche. Though we consider ourselves avid campers, this was the first time either of us camped in winter. We were a little skeptical at first, but eager to try it out as winter does have its benefits such as fewer people and bugs! With support from our instructors and each other, we learned how to build a quinzhee, and what to pack and prepare.
A quinzhee is a snow shelter used in place of tent for winter camping. It is uncertain where this technique originated, but the word 'quinzhee' is Athabaskan in origin, Native Alaskan and Northern Canadian. The process of building one is time consuming. It took several hours to complete ours but the result is a warm, insulated, semi-permanent snow shelter. To begin this process, shovel snow into a pile about 12 feet long and 6 feet tall. Let that pile to rest for an hour to allow the snow to meld together. While you're waiting, gather sticks that are about a foot long and insert them in various places all over the pile. When the time is right, pick out the perfect spot for a door and start hollowing out the snow. To prevent making the walls too thin, dig out the inside until you reach the ends of the sticks. When that is completed you will have a cozy hole to sleep in.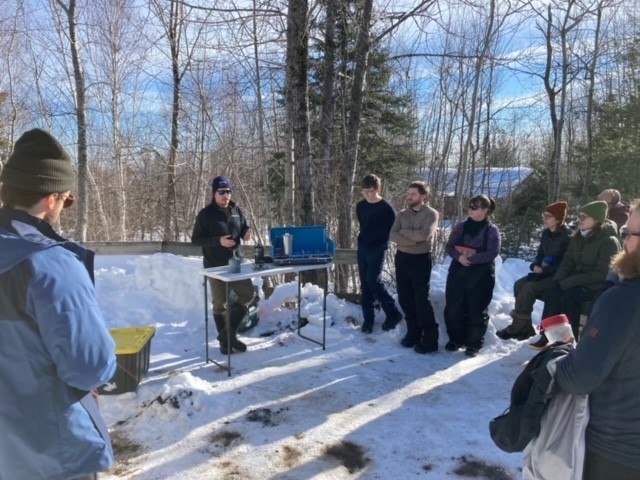 Preparation is key!
What is the weather forecast? What should I pack? Researching other people's winter camping experiences and looking at websites like REI is a great place to start.
A few tips…
Food!
Camp Stoves:

White gas camp stoves are the most reliable in cold temperatures.
 Propane can easily gel up below freezing.

Meals:

Prepare your meal in advance, place it into a freezer bag, and then heat up in a pot of boiling water at the site.
Cut up your food at home. We made bean burritos and were happy that we did not have to cut up our peppers in the cold and only had to wash one pot!

Calories:

Winter travel and camping requires between 3,600 and 6,000 calories.
Snack throughout the day to stay warm and energized!
Gear!
Clothing:

Pack many layers including gloves and socks.
Remove a layer when you get hot and definitely remove any wet clothing.
Look for materials such as wool and avoid moisture-absorbing cotton.
Wear one pair of socks. If you are wearing a couple pair of socks, you may be cutting off the circulation in your feet causing them to feel colder. Try toe warmers!

Sleep System:

Sleeping Bags: if you do not have a 0-degree sleeping bag, consider using two sleeping bags. Example: Two 30-degree sleeping bags, one inside the other.
Sleeping pads: this pad is usually made of foam or inflatable, and goes under your sleeping bag. It provides essential insulation for your body when camping year round. Check out the link above to learn more.
New gear and clothing can be expensive! Local universities and outfitters offer opportunities to rent equipment. You can also check out second-hand stores for extra layers.
Overall, our first jab at winter camping was a success! We built a structurally sound quinzhee that did not collapse, we stayed hydrated and well fed, as well as dry and warm. More knowledge we can add to our End-of-the-World survival skills list. On our way back down to St. Paul, we made a pit stop at Split Rock Lighthouse State Park (the second state park visited on this trip!) and spent some time on the rocky beach finding agates!