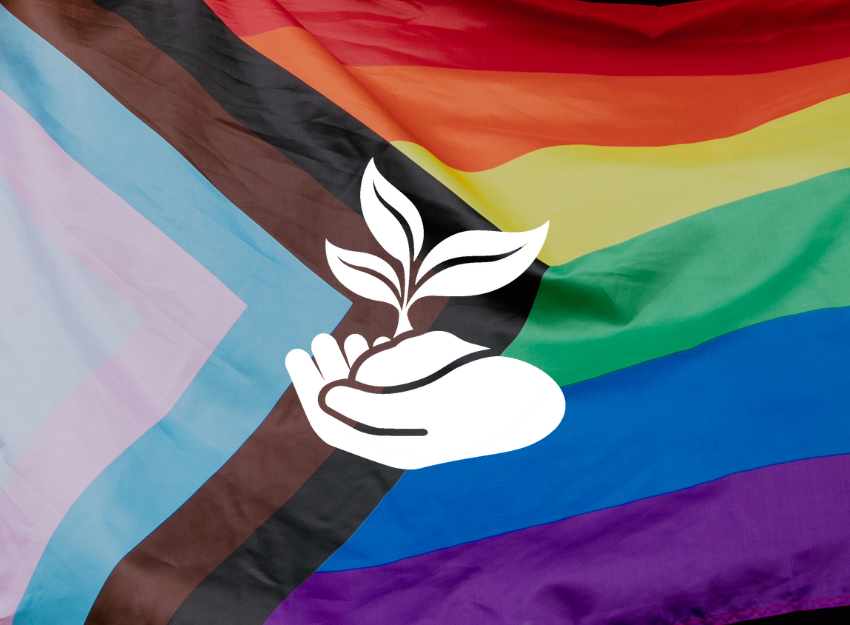 June is Pride Month, which recognizes the impact LGBTQIA+ individuals have had on history and offers a chance to raise awareness about LGBTQIA+ issues. It is important to stand with the LGBTQIA+ community now more than ever. With the increase of anti-transgender sentiment and action across the country, the Corps stands firm by our vision of "a world where everyone has equitable access to nature, is equipped to succeed in career and life, and is empowered to make a difference in conserving natural resources." Outdoor spaces are for everyone, and we are committed to creating safe and inclusive spaces in our programs, the places we serve, and beyond.
Celebrate Pride with us by following and sharing these LGBTQIA+ creators, leaders, and organizations, as well as their stories and resources:
Social Media Creators
Giiwedin is an Anishinaabe Two-spirit person who goes by @giiwedinindizhinikaaz on Instagram and TikTok. Check out this video from Giiwedin explaining what is means to be two-spirit.
Pattie Gonia is a drag queen, environmentalist, and community organizer who goes by @pattiegonia on Instagram and TikTok. They are the cofounder of The Outdoorist Oath, a nonprofit organization that advocates for a more inclusive outdoors and provides tools for individuals to work towards that goal.
Kween Werk is a Social justice advocate and outdoors enthusiast that goes by @kweenwerk on Instagram and TikTok. Watch this short video featuring Kween Werk talking about how nature can (and should) be found and appreciated everywhere you look!
Isaias Hernandez is an environmental educator who goes by @queerbrownvegan on Instagram and TikTok. They frequently post about climate activism, environmental sustainability, and plant based diets.
Articles and Stories
Minnesota Public Radio has been sharing stories highlighting Trans and nonbinary folks in Minnesota who are making an impact in their communities. Follow the stories here!
This National Geographic article featured and emphasized the importance of queer affinity trail crews and support from organizations in the conservation world.
PBS has an extensive collection of LGBTQIA+ stories and histories in their Pride Month collection.
Field Mag has an extensive list of 25+ organizations that support and celebrate LGBTQIA+ diversity in nature.
Read "Queer in Iowa: the good, the bad, the hopeful" by Ren Mattson, a queer non-binary person who does environmental work in Iowa.
Organizations
The Venture Out Project is an organization that advocates for a more inclusive outdoors by leading backpacking trips for transgender and queer folks, as well as by providing training workshops on transgender inclusion for outdoors professionals.
Queer Ecojustice Project focuses on community building by storying and offering resources that educate and tell stories at the intersection of ecological justice and queer liberation.
Unlikely Hikers is an online group that hosts events and hikes to make the outdoors a safer space and more accessible for people who may not feel welcomed in outdoors spaces.
Out There Adventures is a nonprofit organization that facilitates opportunities for queer young people to get outdoors and build community through adventuring in nature.
Wilderness Inquiry, an adventure organization based in Minneapolis, seeks to increase access to outdoor adventuring to everyone regardless of background, identity, or ability. As part of that mission, they run LGBTQ+ affinity group travel programs designed by and for LGBTQ+ folks.
Queer Trail Service is an Instagram account that shares queer resources and stories. They aim to dismantle the systemic barriers associated with trail work and working in the outdoors!
Queer Nature is a project focused on nature education and naturalist studies for LGBTQIA+, Two-spirit & Nonbinary people and allies.
OUT for Sustainability is an organization who's mission is create climate resilience and environmental justice by and for LGBTQIA+ communities.
QBNA (LGBTQ+ Birders of North America) is a informal Facebook group intended to connect and communicate with other LGBTQ+ birders and allies in North America and Hawaii.
Urban Bird Collective is an intersectional organization based in the Twin Cities that aims to create safe and welcoming spaces for all communities to explore the outdoors through birding.
Queers X Climate is a queer led organization that is dedicated to promoting climate activism among the LGBTQ+ community.
Events
The LGBTQ Outdoor Summit is a conference designed to gather, build community, and inspire the leaders in the outdoors industry to create a more inclusive outdoors and affirm access to the outdoors for the LGBTQ community.