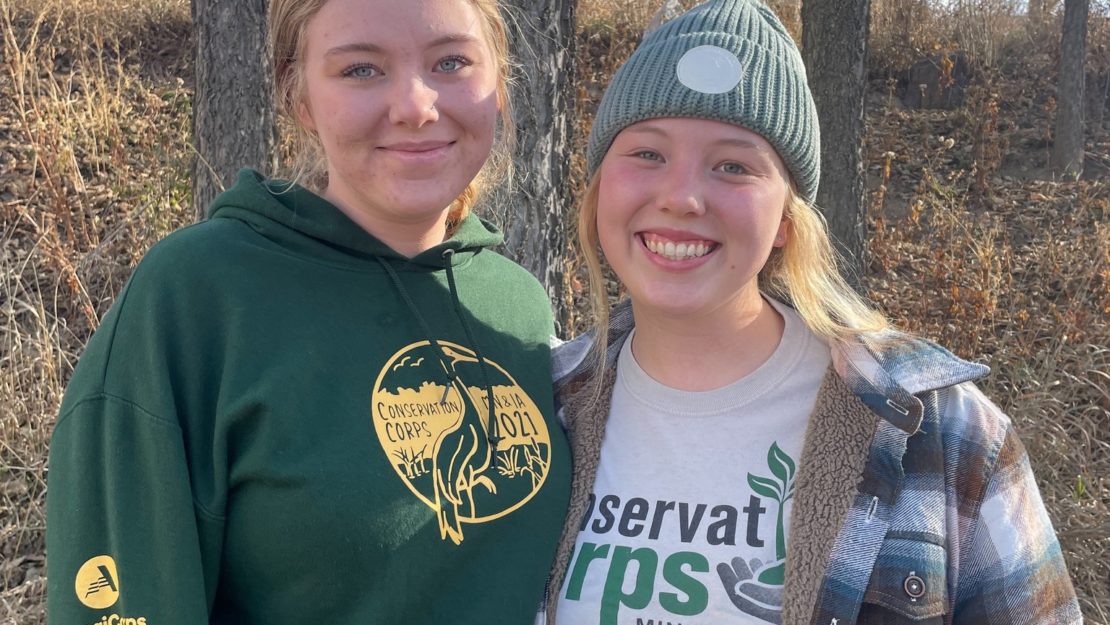 Jade and Hannah are sisters who fulfilled an AmeriCorps term-of-service in our program this year. Jade was on the Rivers crew in 2021 and served in an Individual Placement position in 2022. Hannah was on our Monarch crew this year. Learn about their time with us below!
---
What made you decide to join an Iowa field crew?
Jade: I joined an Iowa roving field crew to get my foot in the door of the natural resources field. I wanted to get hands on experience of what conservation work means in the field.
Hannah: I decided to join an Iowa field crew because I heard great things from my sister and her boyfriend about the Conservation Corps experience and wanted to explore field research.
---
What is the greatest accomplishment/satisfaction from your term?
Jade: During my crew's second project, we were in Nebraska cutting down huge cedar trees. One of those trees took nearly 3 full chainsaw tanks to fell, limb, and buck. It was so self-fulfilling to know that I could accomplish huge things!
Hannah: My greatest satisfaction from this term is simply knowing I was making a difference in the amount of available data for monarch butterflies. Since there are not many people taking this data voluntarily, it made me really happy to know I was making a difference in any way I could. When Monarch Joint Venture calculated how much we actually found during the summer term in terms of the monarch butterfly population, it pushed me to work harder and showed me that the work I was doing actually mattered.
---
How has your term of service helped you in your career?
Jade: After my term as the roving field crew member in 2021, I started a term as an Individual Placement member with the USFWS at Sherburne National Wildlife Refuge in 2022. I learned during both my terms with CCMI that I want to work in the public sector and work in visitor services. Learning this, along with the training that was provided to me, was crucial for my career development. If everything goes to plan, I will start a full-time USFWS position in spring of this upcoming year!
Hannah: My term made me realize how much I actually like field research. This was my first position that allowed me to conduct field research and I ended the term not wanting it to end – I definitely would like to continue in field research in my future endeavors!