Stop and Smell the (Wild)flower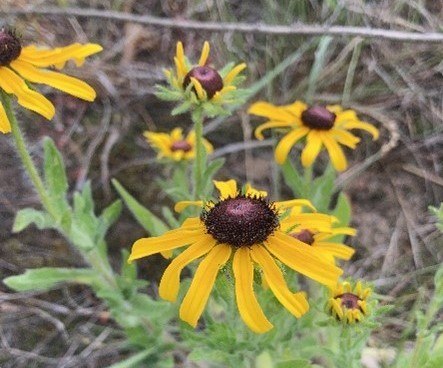 by Kayla Wagner, Central District Field Crew Leader/ AmeriCorps Member
My boyfriend told me once on a walk earlier this summer that he "sometimes just wants to enjoy the walk and not listen to me talk about invasive species." His comment hit home because as someone who works in natural resources; the majority of our work focuses on the control, removal, or eradication of invasive species. Before coming into this field, I never paid much attention to the environmental world beyond noticing a pretty flower or cool-looking tree. Now that I've been working in the field for the past two and a half years, it is harder to notice the neatness of nature and instead obsess over all the invasive species or getting hung up on the negative piece of natural resources.
As this is my second year in the Conservation Corps, my goal this year is to dedicate more time learning about the plant species around the Anoka County parks. Along with my crew, we learned about many different wildflowers in our parks. And with the back-to-school displays popping up in stores, I can feel the urgency to fit all the summer stuff we have not yet had a chance to do before the weather cools and our cooler seasons hit.
With the realization that I tend to see more invasive species at times than all the unique native species around me, I am calling myself and all of you reading this to stop and smell the wildflowers. It is easy to focus on the negative, whether that be a pesky plant or anything else in life; there are times when we need to remember all the beautiful parts of life. My goal for the rest of this month is to notice the beauty of nature instead of invasive species. I encourage all of you to do the same. And if you are unable to find anymore blooming wildflowers, notice the lush green trees and plants before the leaves begin changing colors. And remember, there's always next year to stop and smell the wildflowers. A fun app I love to use to help identify species is called Seek by Inaturalist.
Some of my favorite species I've spotted this year that may or may not still be blooming!