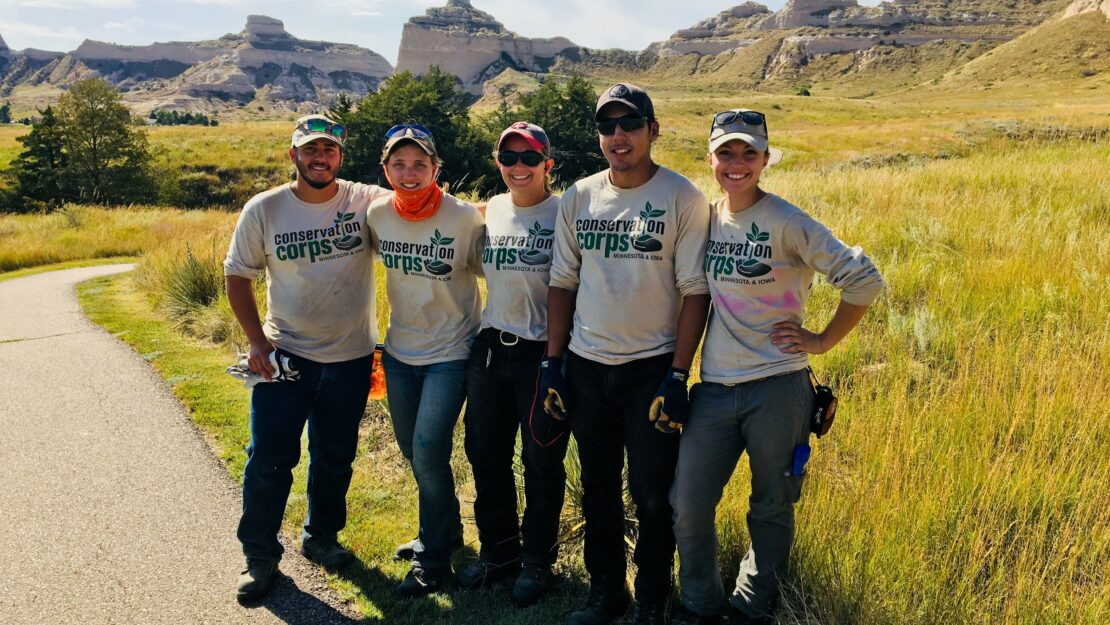 By Kelsey Brock, Southern District, Mankato Crew
It's hard to believe that our term is already coming to an end, but somehow it is. It has been a year full of amazing views, challenging but rewarding work, and some really good connections. There have been a lot of successes, along with some difficulties and tough days (where humor comes in handy). The number of positive things I can take away from the experience are too many to mention, but the thing I will take away most is the relationships I've built with other crew members. It's such a valuable skill to learn how to work as part of a team, and I got really lucky with my crew, who I've come to learn a lot about over the last ten months.
First, there's our crew leader, Micheal (first from left). Superpower: able to take (and give) a joke well. Weakness: prone to ripping his pants.
Next, Melissa (second from left). Superpower: tree climbing. Weakness: likes pineapple pizza.
Followed by Kayla (third from left). Superpower: making you laugh until you cry/getting you to see the humor in every situation. Weakness: she has none.
And last but not least, Gabe (fourth from left). Superpower: being the true muscle of our crew. Weakness: an unhealthy hot Cheetos obsession.
The crew is one of the biggest parts of the experience as a Corps member, I'm with these people more than I'm with family or friends and I've loved working with every one of them. You're all beautiful human beings and I hope you get all the opportunities you're seeking.
Lastly, I'd like to thank all the animals we've met during the year. We've had the unexpected surprise of meeting many private owner's pets, stray cats, and even the occasional sleeping fawn. You were my favorite part.