Watching the seasons change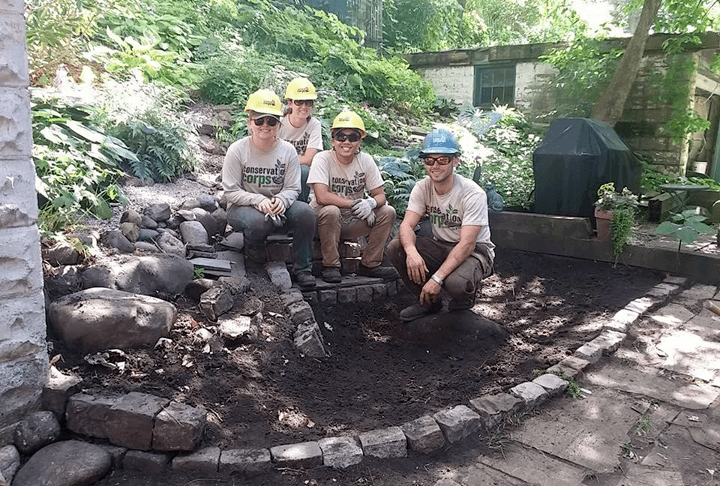 By Gaby Gerken
The year is quickly coming to an end – there are only 23 days left in the term! I think we can all agree that this has been a hard year, but it has been rewarding as we have had the chance to work outside and watch the seasons change.
Metro Roving crew is excited, and a little bit worried, about leaving the Corps and finding jobs in the real world. I thought I'd leave most of the talking to the crew as this is my final post, so here is a little about where we came from, what we learned and where we are headed.
Name: Carly DeVries
Hometown: Kalamazoo, Mich.
College: Michigan State University
Degree: Fisheries and Wildlife
Favorite Minnesota state park: Interstate State Park
Favorite Corps memory: Building rain gardens with Metro Blooms for homeowners in the Prospect Park neighborhood, and volunteering at the Surly event afterwards to plant them. Everyone was so appreciative of our work.
Biggest struggle: Learning how to use power tools, especially trying to start a chainsaw in the snow and below freezing temperatures. They tend to not cooperate in the cold!
Next job: I would like to work with wildlife, but it's difficult to find anything in this field. I'm pretty much open to anything at this point.
Name: Gaby Gerken
Hometown: Rochester, Minn.
College: University of Minnesota Duluth
Degree: Criminology and International Studies
Favorite Minnesota state park: Interstate State Park
Favorite Corps memory: The week and a half that we had the chance to work with Metro Blooms and build rain gardens. The people were amazing and it was a great way to be introduced to conservation work within an urban environment instead of a state park.
Biggest struggle: Motivation and hot weather. I am not a summer person, so working out in the heat made the season drag on for me.
Next job: That's up for discussion. I'll be moving to Kalamazoo, Mich. where my fiancée is working on his masters, and am searching for something related to community development.
Name: Stephen Jousma
Hometown: Bruce Crossing, Mich. (The Yoop)
College: Northern Michigan University
Degree: Environmental Conservation
Favorite Minnesota state park: Sherburne National Wildlife Refuge
Favorite Corps memory: Seeing a car driving semi-sideways down Minnehaha Avenue the first week of work.
Biggest struggle: Motivating the crew to do fire break maintenance when we worked at Sherburne.
Next job: I am currently applying for positions as a wildland firefighter, and have a seasonal job with UPS.
Name: Souyeng Thao
Hometown: Minneapolis, Minn.
College: St. Cloud State University
Degree: Environmental Science
Favorite Minnesota state park: Wild River State Park
Favorite Corps memory: Finally witnessing Steve, our crew leader, eating a live grasshopper after we had dared him to weeks before.
Biggest struggle: Being positive and staying motivated while doing rain garden maintenance for many weeks this summer.
Next job: I am hoping to get a position with Home Energy Squad, but have also been considering going to grad school.