We Didn't Start the Fire… Or Did We? Prescribed Fire vs Wildland Firefighting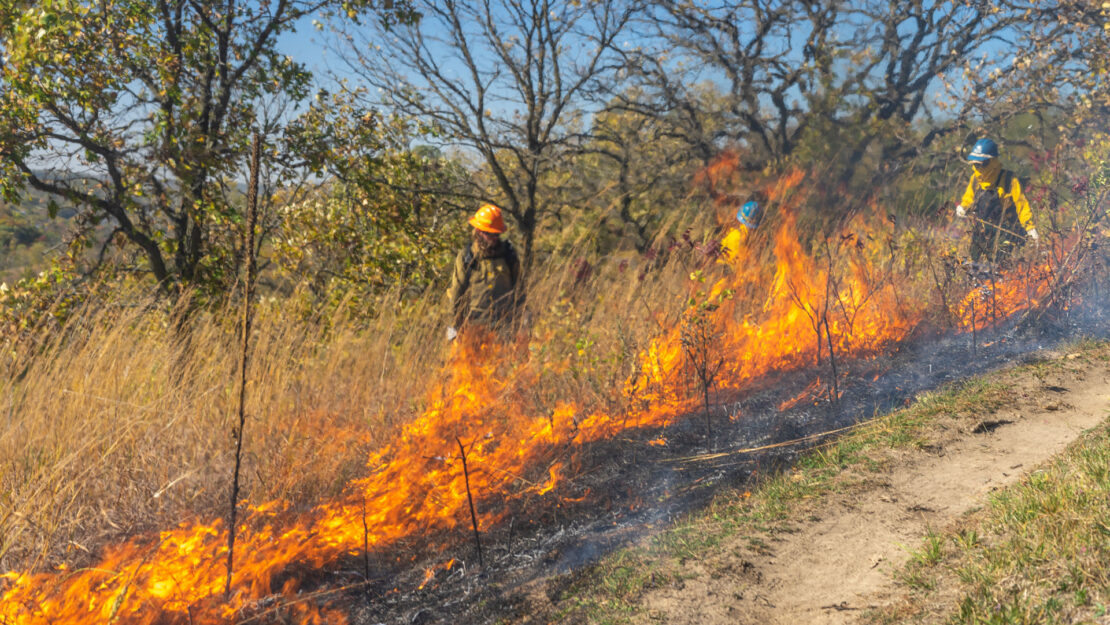 By Sommer Meyer, Central Field Specialist / AmeriCorps Member
Oftentimes, Corpsmembers in the Conservation Corps say that the work on fires we do is the most exciting thing of their service term. Corpsmembers in our field crews, Youth Outdoors, and Veterans Corps programs are all trained and certified to both assist with prescribed fire and to partake in wildfire suppression. But what are the key differences between prescribed fire and wildland firefighting, and why do we even do prescribed burns in the first place?
Prescribed fire is a tool of habitat management that has been used for thousands of years by Native Americans and the cultures indigenous to what is now the United States. Their uses of intentional fire ranged from practical, such as clearing space for campsites and pasturelands or for driving bison herds in a specific direction, to ecological, for making the next year's plants grow better, and even to cultural, as the practice of burning was very important to many tribes throughout the land.
Regular burning of land is essential to many of the ecosystems in Minnesota and Iowa, and even throughout most of the United States. Indeed, many of these ecosystems have evolved and developed to be dependent on fire. There are multiple ecological benefits of fire in prairies and forests, such as clearing out old vegetation (dead grasses, leaf litter, fallen branches, etc.) and recycling nutrients back into the soil, both of which promote the growth of new vegetation. Additionally, as many invasive species did not evolve to be fire-dependent, prescribed burning can be a huge help in clearing out invasives.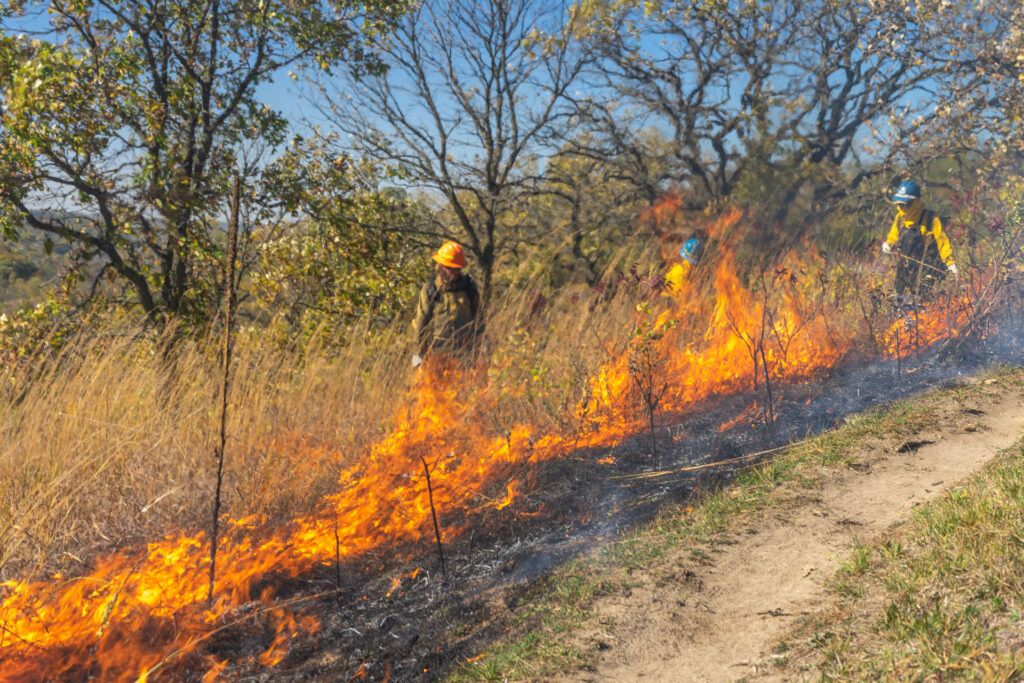 While the ecosystems around the country need fire to thrive, unfortunately wildfires can have disastrous effects on human communities. Regular prescribed burns help combat out-of-control wildfires by burning up flammable materials, leaving the prairies and forests with much less "fuel for fire" and decreasing the severity and frequency of wildfires. Prescribed burning is done with many safety measures and only in certain weather conditions, and is a much safer way to help the ecosystem while decreasing the risk of wildfires that could harm people or their homes.
Even with prescribed burning becoming a more integral part of wildlife management in the United States, however, we are still faced with dangerous wildfires. In 2022 alone, there were 17,780 wildfires that burned 5,475,833 acres; in 2021 the numbers were 34,941 fires that burned 2,509,231 acres. While some wildfires are started by lightning strikes and other natural causes, almost 85% of wildfires are started by humans, by actions such as leaving a campfire unattended, discarding cigarettes, the irresponsible use of fireworks, and even intentional arson.
When wildfires happen, trained wildland firefighters get called out to respond. This process will include a direct attack on the fire, either by laying out hoses for water or by creating firebreaks – a wide stretch around the fire's perimeter where anything flammable is removed all the way down to the soil, so when the fire arrives it will burn out on its own from lack of fuel. When the main fire has been extinguished, the process of mop-up begins, where firefighters will methodologically comb through the burnt area to make sure all spot fires and burning logs are fully put out and there is no longer any risk of the fire re-igniting. Fighting wildfires can be dangerous and tiring, but for many Corpsmembers who get deployed on a fire assignment, it's the highlight of their service term.