Celebrating Women in Conservation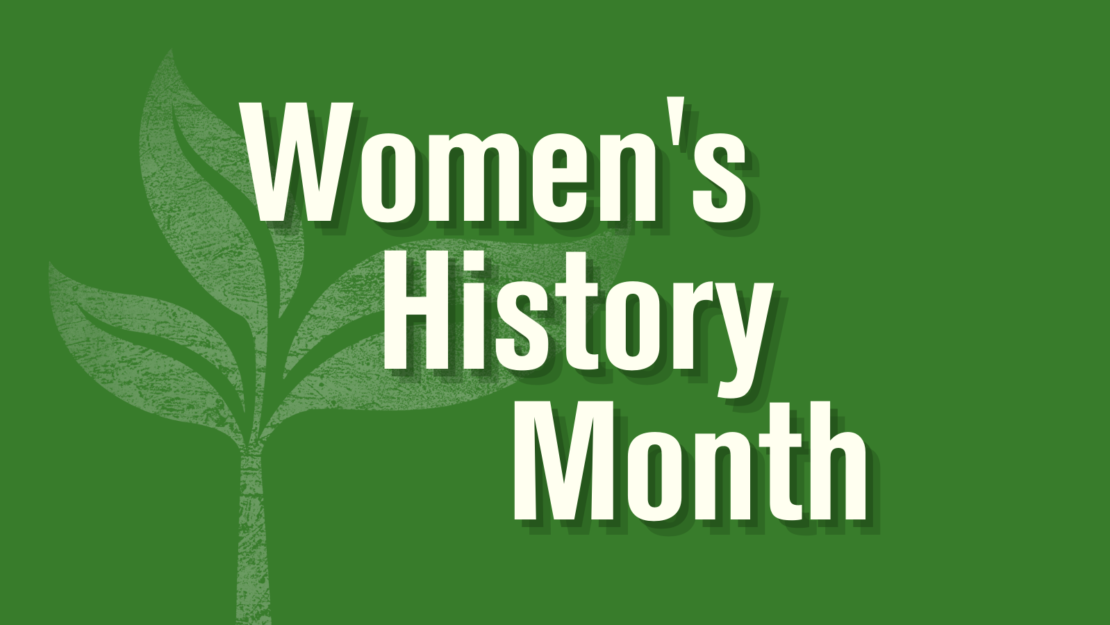 This March, we celebrated Women's History Month and the contributions of women in conservation and the outdoors! On social media, we shared stories from members and staff, reflecting on their experience as a woman in the outdoors, and why it is important to have women in this industry. Here are their stories.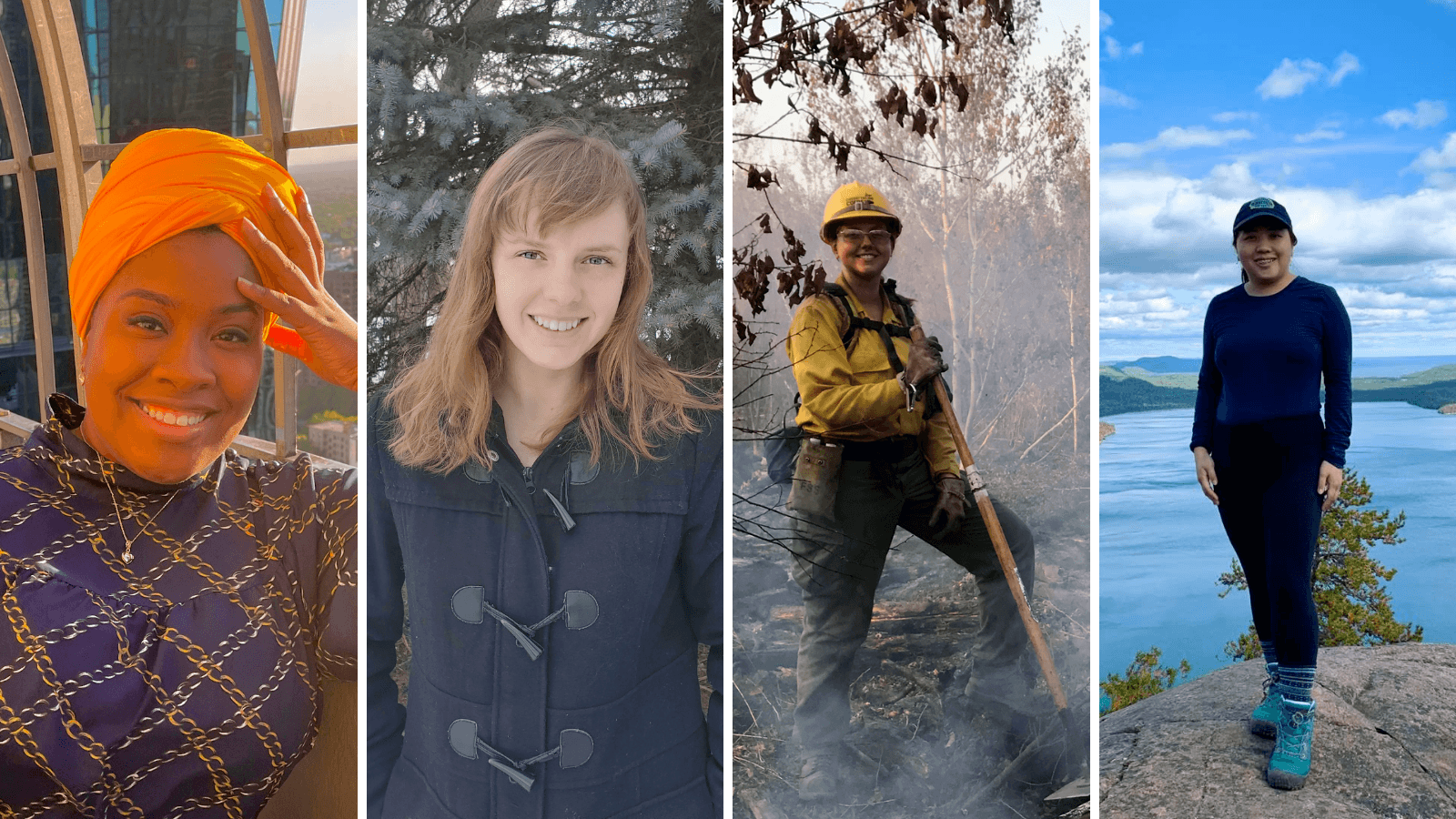 Alyssia Bell
Increasing Diversity in Environmental Careers Fellow
Growing up in Gary [Indiana] my experiences as a woman in conservation, natural resources, or the outdoors were very limited. The best I had was playing in the backyard with my siblings (which I did as often as I could). I always was fond of the outdoors but didn't have the means to explore. Coming to Minnesota and seeing all the natural resources that exist here, I had to get myself involved. My experience is limited to my hobbies as I work through my education to become an advocate for our natural world, but I've taken advantage of BIPOC outdoor exploration opportunities and discovered I love kayaking! Having women-identifying individuals in the outdoor industry is important because we all bring different perspectives. We all lead different lifestyles and lived experiences that can help us have a holistic view to preserve our natural world when put together.
Ashley Rezachek
Individual Placement at MN DNR / AmeriCorps Member
Initially entering the natural resources world as a woman was somewhat intimidating. I was a newcomer to the field, didn't have a lot of educational background in conservation, and lacked some confidence in the skills that I could bring to the job.
Fast forward to today and here I'm entering another term with the Conservation Corps in partnership with the DNR's Scientific and Natural Areas Program! My experience as a woman in the natural resource industry has been positive. I'm happy to see an increased push to get girls and women into the outdoors and into the conservation field.
I've been lucky enough to work with a great group of women who are fantastic leaders and are making important conservation decisions every day. They've acted as role models and inspired me throughout my Individual Placement.
Jenny Sherren
Rochester Oaks Field Crew Leader / AmeriCorps Member
Throughout my outdoor career I have been led by many amazing women. I believe seeing them in leadership positions and leading their own projects really encouraged me to keep pursuing this career path. Women in conservation work are so important because young women who see others succeeding in a male dominated industry may be inspired to pursue a similar career. I am so thankful for the women who have helped guide me to where I am today — feeling empowered and confident in my work.
May Yang-Lee
Career Pathways Program Manager / Staff
It is important to be authentic about my experiences in conservation, natural resources, and the outdoors as a person of color and queer woman who lives in Saint Paul the majority of my life. It is not all glitz and glamor. Some days I feel confident and other days, I experience Imposter Syndrome. Don't get me wrong, I am grateful for everything, but it can feel lonely or disoriented until people with similar identities share relatable stories. It is helpful to have allies too! My experiences inspire me to become supportive and speak up for historically underrepresented people in the environmental industry.
My dad inspired me to pursue a profession in the environmental field, but everything changed when I attended college in Duluth. In college, I was one out of the four women and only person of color in my upper division courses. I did not receive a similar support system or opportunities compared to my peers with the dominant identity and have access to resources. I am not disregarding their identity or experienced skills, but simply point out I worked four times as hard and felt lost numerous times. After graduation and two unpaid summer internships, I got rejected from an entry level position related to environmental work. I witnessed the rejection on their faces the moment I said I didn't know how to ride an ATV during the interview. Two months later, they contacted me right before I boarded onto an airplane to Austin, Texas. They asked me if I would accept the position since the person they selected left and I was their second choice. That was the moment I decided to never accept any offer as a second option and I kindly declined their offer at the spot. Depending on the context, I see rejection as a chance of growth or honor of my own worth. If an opportunity is not meant to be, then there are better opportunities for you!
The majority of women I encountered in my professional experiences in the environmental industry were supportive and allowed people to gain outdoor skills. They gave me the opportunity to reconnect my passion to help the community and challenge me to positively think outside the box. I witnessed women who shared their talents to people without any judgment and hesitation from portaging a canoe, taught outdoor recreation skills to youth or young adults, organized data collection or administration work, provided tips for nature photography, shared scientific information, created communication strategies, etc. I am also thankful for the women in my family who are deeply connected to nature in Laos and brought their traditions to the United States. It is empowering when women, allies, and people of color work together and make effective changes within the system and culture. Most importantly, the women in the outdoor industry and my family gave me a reason to believe in myself and the next generation.
---
As Women's History Month comes to an end, we invite you to continue learning about and celebrating women in conservation and the outdoors.
At Conservation Corps Minnesota & Iowa, we embrace our vision, "a world where everyone has equitable access to nature, is equipped to succeed in career and life, and is empowered to make a difference in conserving natural resources." Read about our commitment to Justice, Equity, Diversity, and Inclusion.