Corps members double time fighting wildfires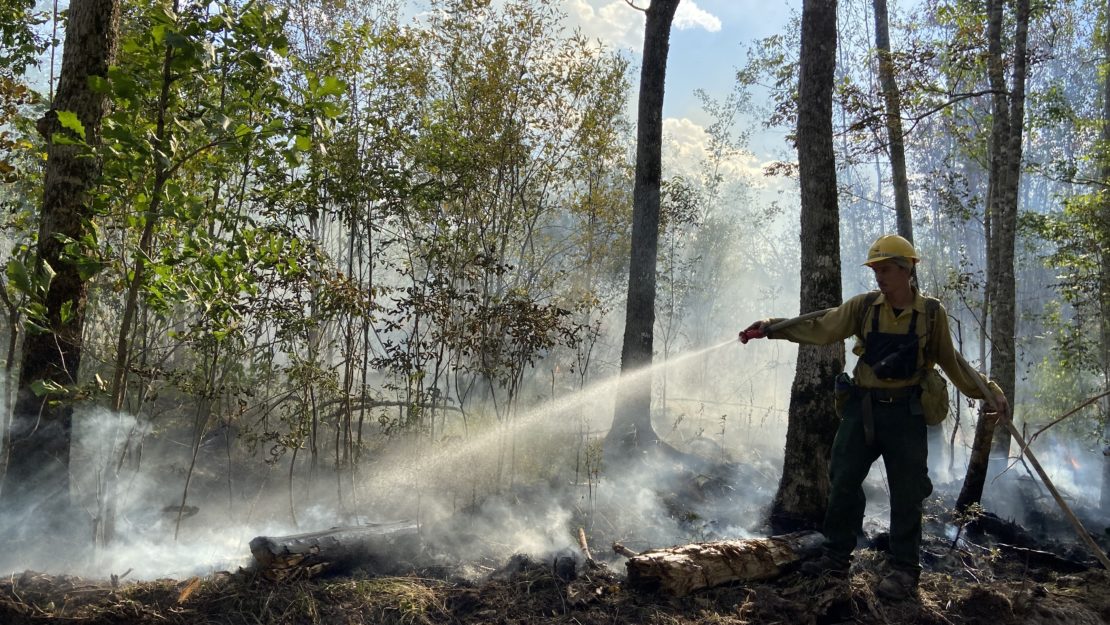 Featured photo of Crew member with hose by Blia Lor, field crew leader, St Paul field crew.
So far this year, Conservation Corps Minnesota & Iowa (CCMI) members have spent more than twice as much time responding to wildfires compared to previous years.
"It's the worst fire year in 30 years," said Brian Miller, program director – AmeriCorps field crews, "we've had crew members from every district on fire duty this year."
AmeriCorps members serving with Conservation Corps are usually called in for fire duty every year. In 2019 and 2018, less than 4,000 hours were spent by members on wildfire response (no hours were recorded in 2020 because COVID-19 prevented members from being certified for wildfire response). So far this year, members have spent nearly 10,000 hours on wildfire response. That is more than double the time spent on wildfire duty, and the year isn't over yet.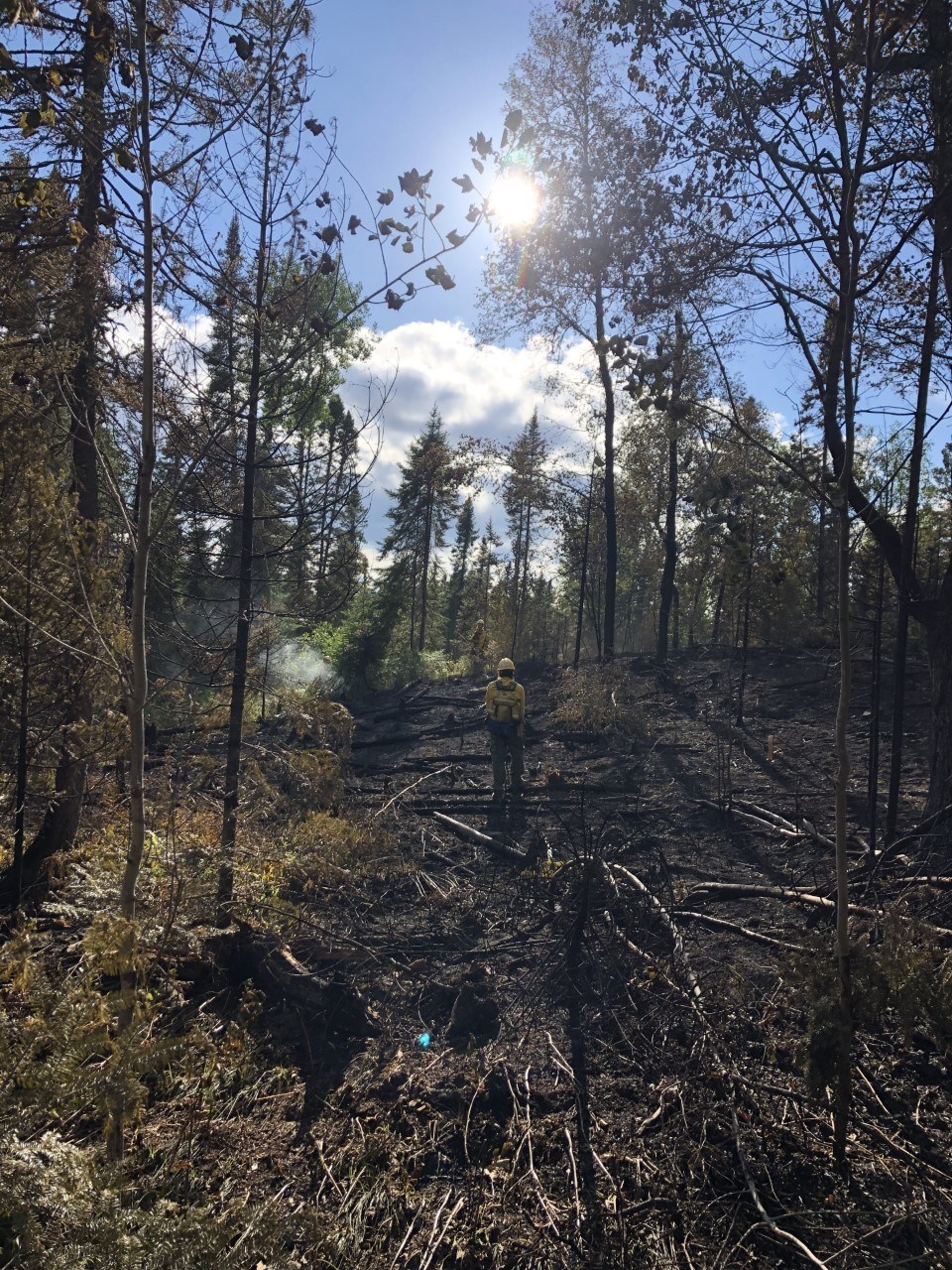 There have been other years that have had above average time spent on wildfire response, like 2016, with over 9,000 hours logged. "But memory tells me that was more related to crews being prepositioned on standby in case of fire, rather than active fire suppression like we are seeing this year," said Miller.
Time spent on wildfire response can range from crews being strategically placed on standby for quick response, to camp logistical duties, to active fire suppression on the fire line.
Corps members gain valuable experience while on fire duty too. "It's completely changed how I'm planning my career trajectory," said Southern Field Specialist and AmeriCorps member, Molly Urban. "I've gotten the chance to participate in all aspects of wildfire response, like initial attack, mop up, and camp logistics. Each have been rewarding in their own ways." Urban wrote a post on the Conservation Corps blog further reflecting on her experience with wildfire this year.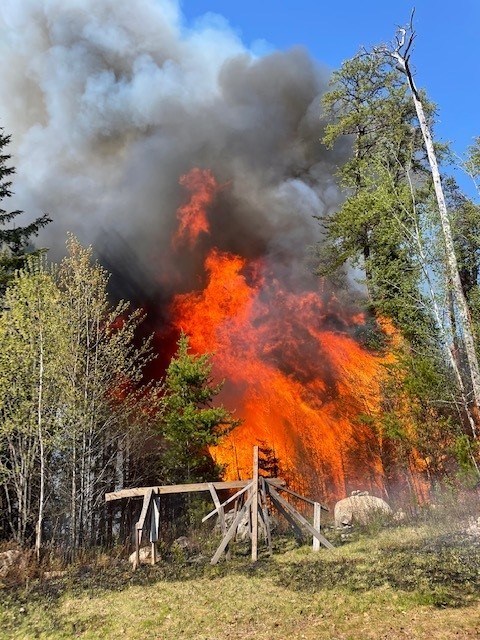 Urban isn't the only Corps member with new aspirations spurred by wildfire experience this year either. Iowa Field Specialist and AmeriCorps member, Calvin Keibler, also wrote about his experience in a Conservation Corps blog post. "My first experience on fire definitely fueled my ambition to become a wildland firefighter and learn everything that I can along the way," he said. "Every day with the Conservation Corps will bring something new, all we can do is use those experiences to our benefit and pave our own paths forward."
The statewide drought made the fire season start earlier than normal, and more aggressive than normal, said William Glesener, wildfire operations supervisor with the Minnesota DNR, "we started the season with a slightly above normal March and April with regard to occurrence and acreage burned; however, as we moved into summer (June – August) exhibited values 4-8 times the normal for that period."
The Minnesota Department of Natural Resources (DNR), Division of Forestry contracts with Conservation Corps Minnesota & Iowa for Corps member time on wildfire response in Minnesota. "The relationship continues to be well received and local DNR units appreciate the effort and quality of individuals that CCMI provides," said Glesener. He said Corps members contribute to the strategy and goals of the Minnesota DNR Wildfire program in several ways, including by preventing wildfires whenever possible, responding to incidents within 20 minutes, helping contain fires to less than 10 acres, and aggressively protecting structures when it can be safely accomplished.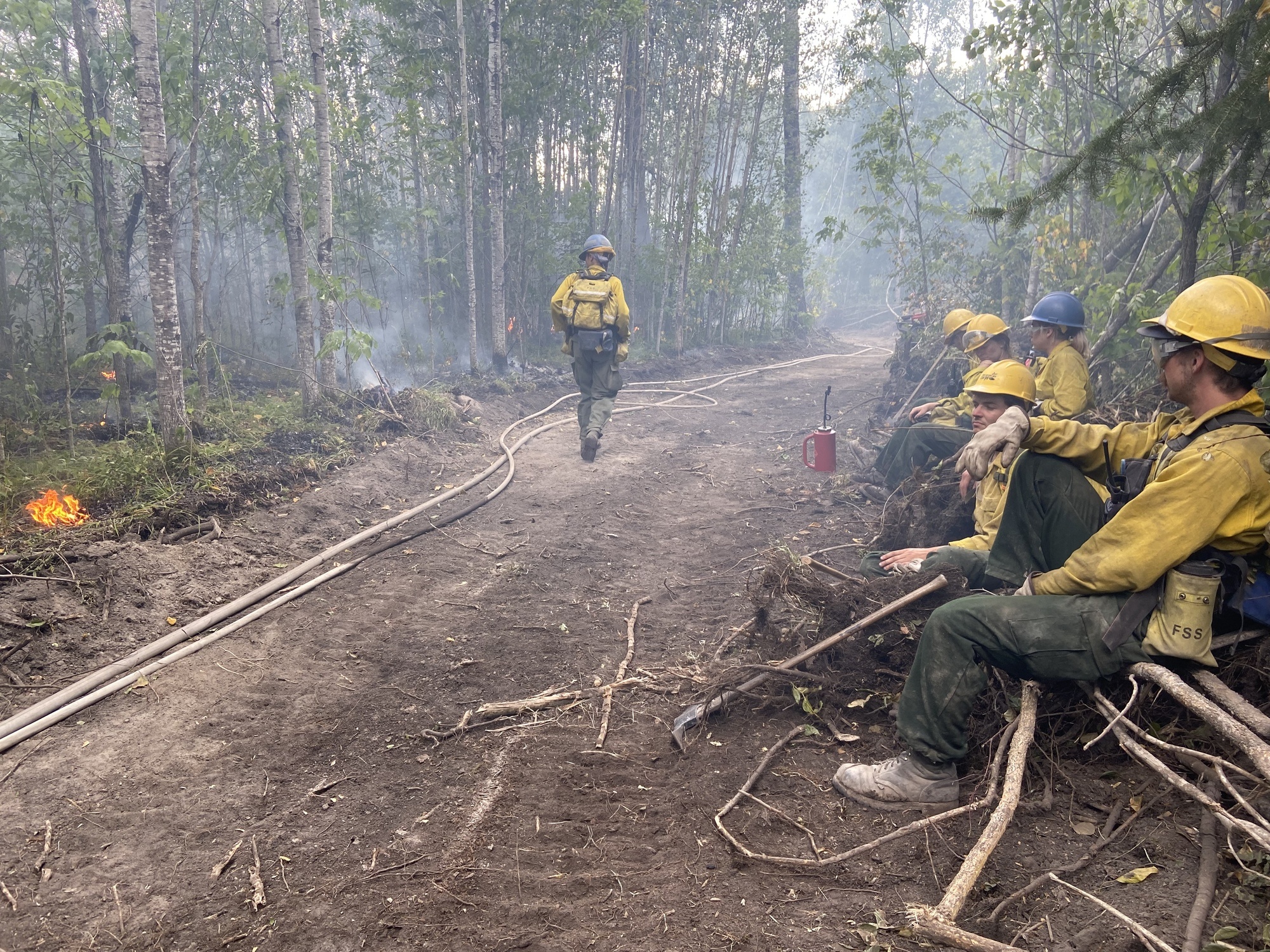 Wildfire fighting is a team effort, with fire fighters traveling in from out of state, all coordinated by an Incident Command System. Corps members work alongside firefighters from over 25 different state and federal agencies from across the country. "Getting to watch from the inside and see people from all over the country work together to fight a Minnesota Wildfire was a great experience that made me appreciate firefighters and people in this line of work even more than I already did," said Southern Field Specialist and AmeriCorps member, Samuel Schmeling-Rykhus, "without them, many homes and lives would be ruined, humans and animals alike."
For questions about Conservation Corps Minnesota & Iowa wildfire response, contact Brian Miller, program director – AmeriCorps field crews, 651-209-9900.
Conservation Corps Minnesota & Iowa, a 501(c)(3) nonprofit organization and AmeriCorps grantee, engages hundreds of youth and young adults each year in programs and initiatives that improve access to outdoor recreation, restore natural habitat, protect waterways, and respond to community needs and natural disasters.