Corpsmembers Aid in Flood Response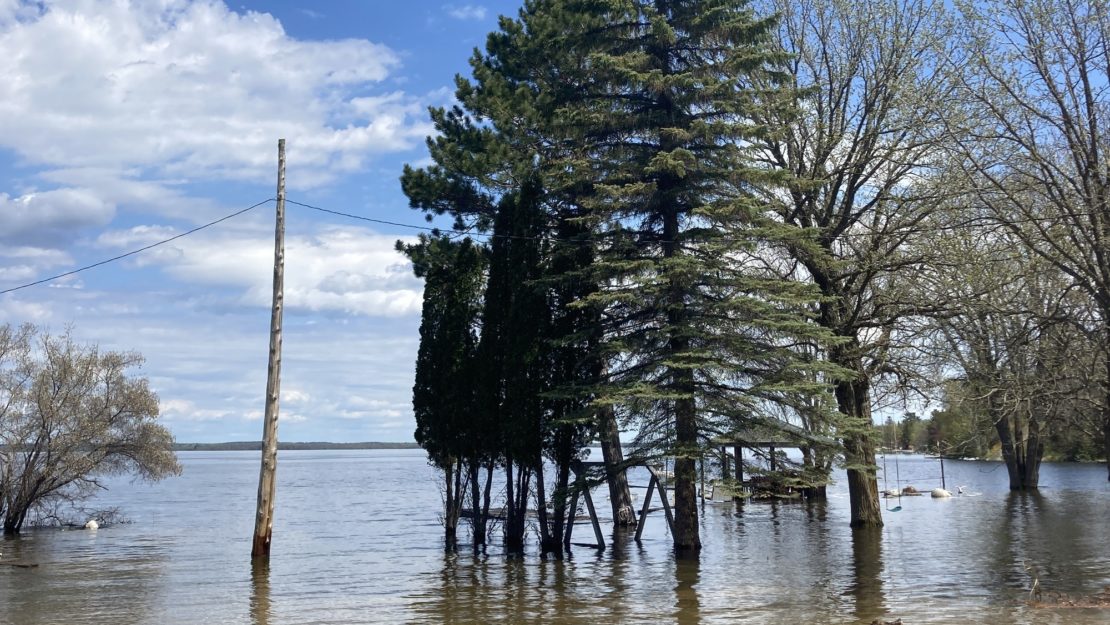 Featured Photo by Noah Voss, Central Field Crew Leader.
---
AmeriCorps Members from Conservation Corps Minnesota & Iowa have spent thousands of hours responding to flooding around International Falls and the Kabetogama Lake area this spring in response to historic flooding in Northern Minnesota.
So far, 61 members from across Minnesota and Iowa have spent more than 3,000 hours on flood response, serving in partnership with the Minnesota Department of Natural Resources and alongside the community.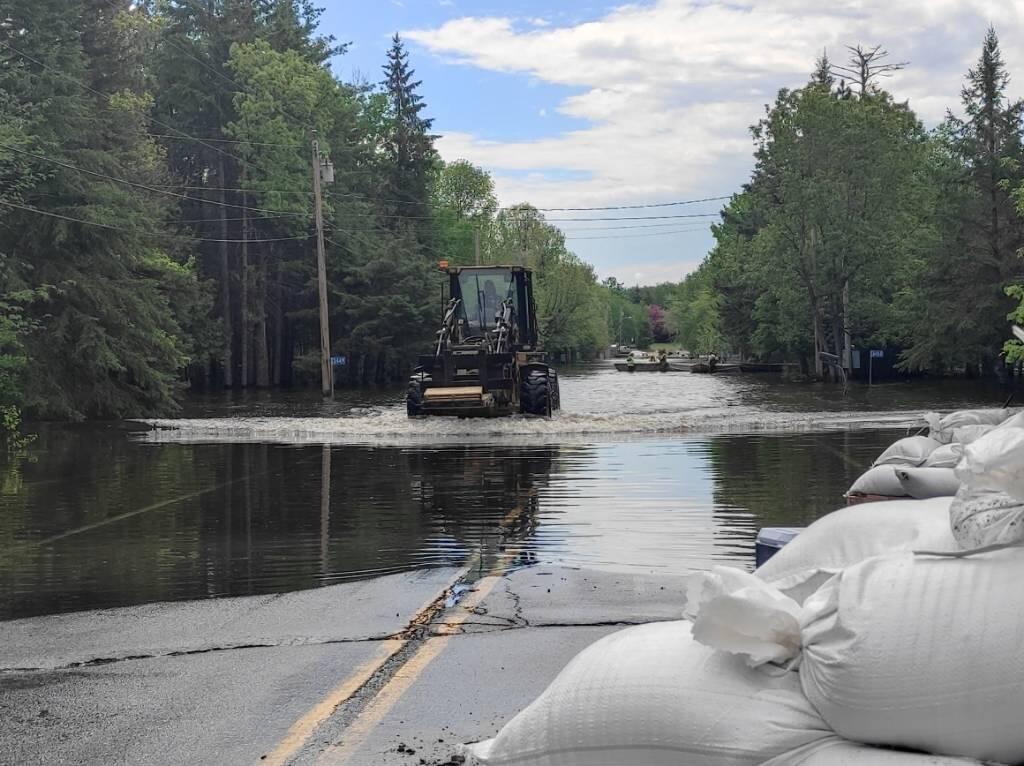 Corpsmembers spent time with volunteers and other responders filling sandbags and reinforcing sandbag walls around homes at risk from flood water. "Many properties, houses and cabins have been affected, but we are doing our best by filling, transporting and stacking sandbags for those people and structures in need," said Jenny Sherren, a Corpsmember on the Rochester Oaks Field Crew when they were on flood duty in May, "We are hoping the water levels start to drop soon!"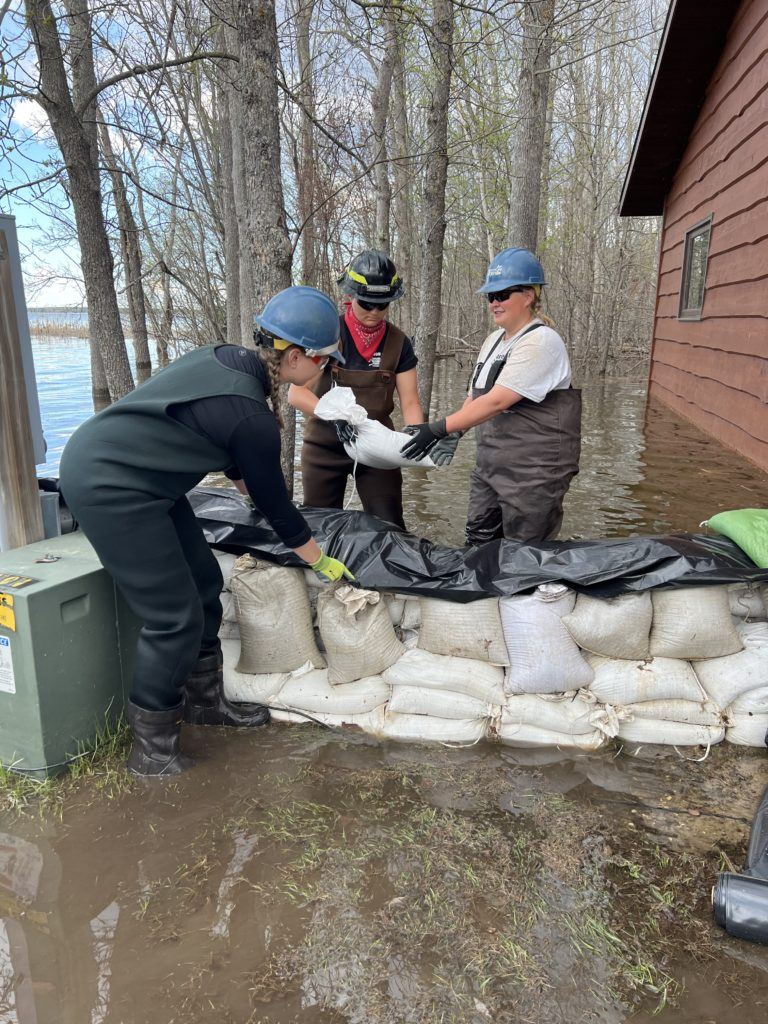 Corpsmembers responded to this flooding because of a partnership that Conservation Corps Minnesota & Iowa has with the Minnesota Department of Natural Resources for wildfire and disaster response. Crewmembers are placed on standby on a rotating basis throughout the year. Some Corpsmembers are usually called in to respond to wildfire duty every year, like last year during the unprecedented wildfire season. But sometimes, Corpsmembers are called in to aid in relief efforts for other disasters, like flooding. When that call comes in, our crews pause their regular projects, like invasive species management or trail building, and head to the areas they are needed the most.
Cyrus Bird-Walker, a Corpsmember serving as the Brainerd Field Crew Leader, described in a recent blog post getting the call to serve in the flood response while they were just getting started on a regular day of pulling garlic mustard, "we got called up before even starting work for the day, despite being prepared for it. Chris and I then made the drive up to Kabetogama on the southern side of Voyageurs National Park. Our 3.5 hour drive was relatively short compared to the crews coming up from the south district and Iowa."
Corpsmembers and crews come from all across Minnesota and Iowa to serve together in this duty. Austin Godwin, an AmeriCorps member on the Iowa Polk County Field Crew, described what it meant to be part of this team effort in a blog post "We organized together and became one big team. Our team building and communication improved over the days and became closer to one another."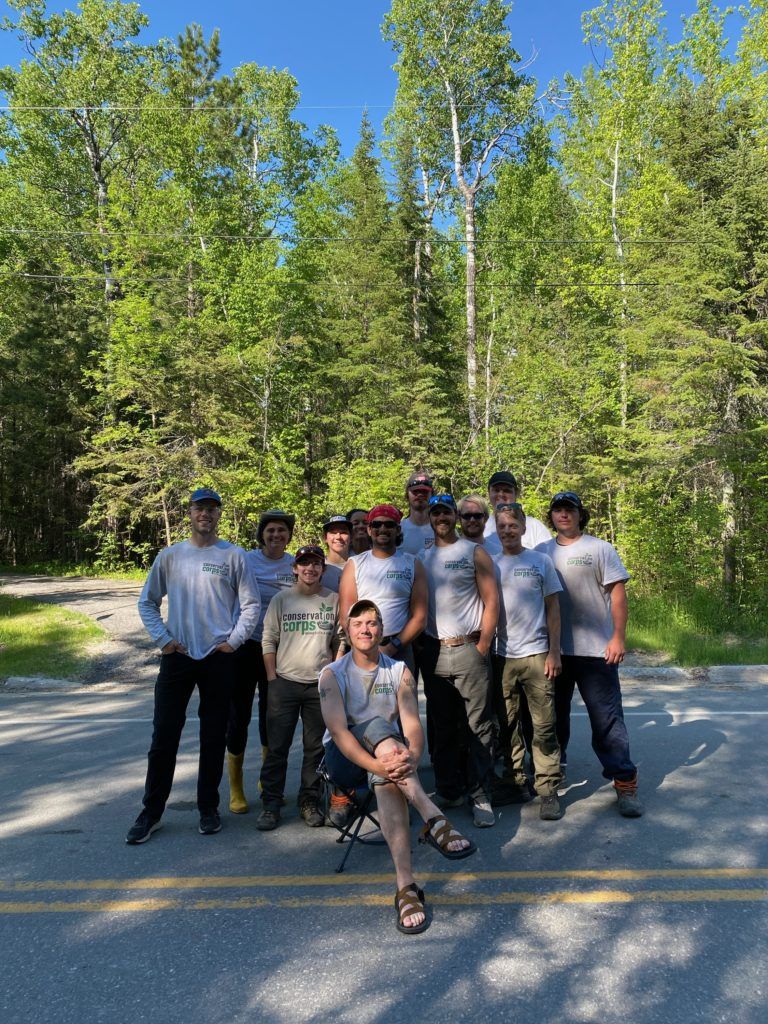 For questions about Conservation Corps Minnesota & Iowa disaster response, contact Brian Miller, program director – AmeriCorps field crews, 651-209-9900.
Conservation Corps Minnesota & Iowa, a 501(c)(3) nonprofit organization and AmeriCorps grantee, engages hundreds of youth and young adults each year in programs and initiatives that improve access to outdoor recreation, restore natural habitat, protect waterways, and respond to community needs and natural disasters.