Crews prepare the way for preserve and park in Illinois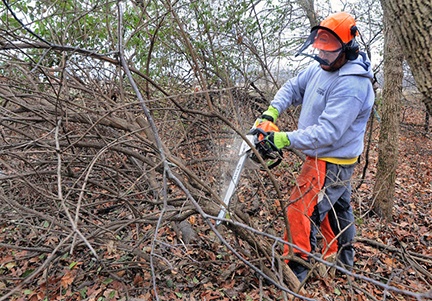 Though it's the time of year when crews are wrapping up their service terms, this week three crews kicked off a three-year project to establish a preserve and public park on 253 acres of land north of Ottawa, Illinois. The Iowa Hills and Timbers crews joined the Mankato crew to clear invasive buckthorn and honeysuckle and create space for native plants to take root. The Dayton Bluffs Preserve land, which was purchased last summer by the The Conservation Foundation, has been identified as ecologically significant, in part because it includes layers of glacial deposits on top of shale and several important archeological sites. About 183 acres of the site also includes forests and ravines that follow the Fox River shoreline. Iowa Hills Crew Leader Josh Meggers enjoyed working in the high-quality area. "I like that there is a well-established plan for the area. It's helpful for our work," said Meggers.
Read more about this project.