They don't call us the Ottertrail crew for nothin'!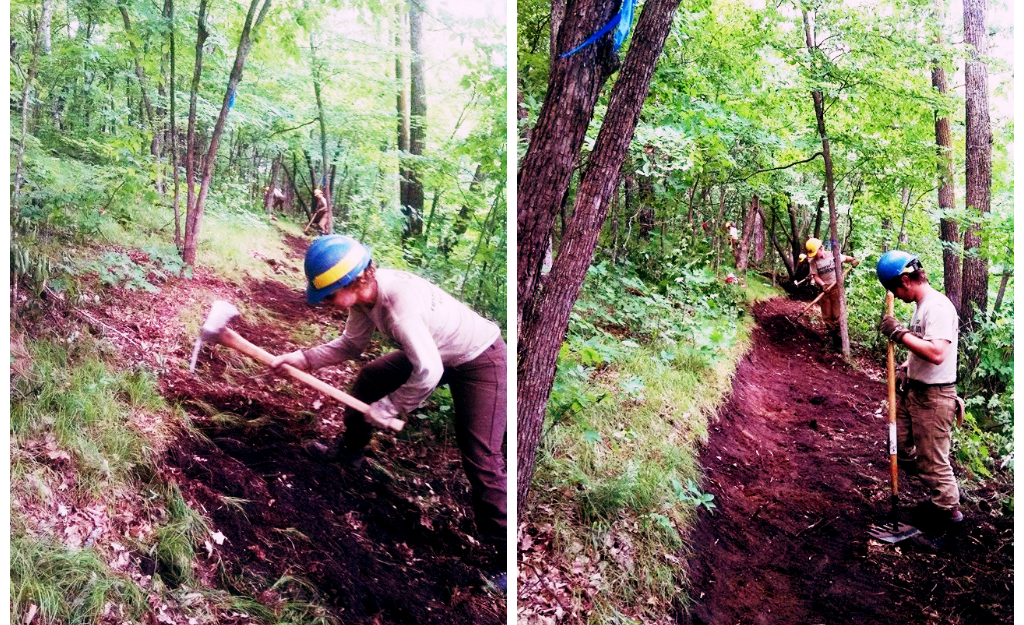 By: Maureen Hanlon
June has meant the return of real warm weather, and with that, some of our favorite work. The Ottertail crew spent two weeks in Becker County this month on the beautiful North Country Trail, a long-distance trail that will eventually stretch from New York to North Dakota. We had the pleasure of working with Ray Vlasek, volunteer coordinator for the Laurentian Lakes chapter of the North Country Trail Association, who graciously put down his pulaski for a few minutes one lunchtime to talk about life, trails and what it's like to work with the Corps.
Maureen: Ray, why did you get involved with the trail in the first place?
Ray: Payback! Payback for all the trails I hiked in my youth. And I've always liked the outdoors, and working hard. It just made sense to come out and work on trails.
M: Me too! When did you get involved?
R: Well, I became a member of the NCTA back in 1987, but I really got active after my retirement in '99. We [members of the Laurentian Lakes Chapter] have been working to complete our section for over seven years, and this summer's work with you all [the Corps] is our big final push.
M: It's been great getting to work with you on this section! Why do you work with the Corps?
R: You guys do the hard work! [Laughs.] No, of course, we do lots of that, too. But you do work very hard and it's clear that you enjoy it too. We enjoy the social aspect of all you young people coming out and it's just that many more hands to get a hard job done. We really appreciate it.
M: Hey, we appreciate you having us, too. Ray, if someone wanted to come out and work on the North Country Trail, who should they get a hold of?
R: I guess that'd be me! We welcome volunteers; there's certainly plenty to do.
Ray can be reached by e-mail at llc@nct.org. And learn more about the trail at www.northcountrytrail.org. We've had a blast this past month and we'd love to see new faces out using the trail this summer.