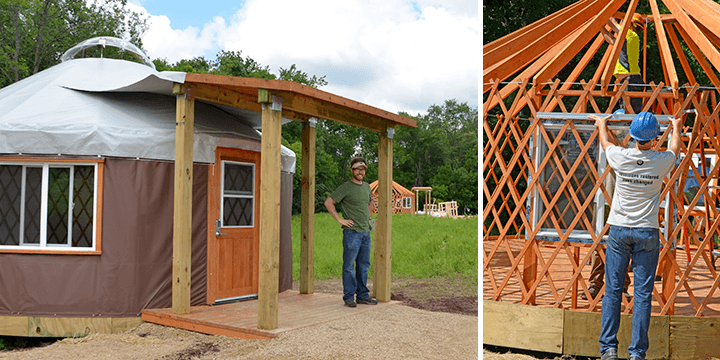 In July, Corps field coordinators installed seven yurts at three state park and recreation areas, offering unique lodging for visitors. The 20-foot shelters, made with Colorado Yurt Co. materials, are equipped with woodstoves for year-round use and are located in remote areas not accessible by car. People visiting the yurts at Afton and Glendalough state parks and Cuyuna Country State Recreation Area will hike, bike or paddle to the sites. The yurts are an innovative pilot project of the Minnesota DNR, which will evaluate their use and popularity to determine whether to build the structures at other locations. Though not yet open, the DNR expects yurt reservations to be online later this month or in early October.
According to Peter Hark, Parks and Trails Division Operations Manager, "Conservation Corps did a great job installing the yurts. I think they look great and have heard from our park managers that there is a lot of interest in them from visitors. We are eager to offer them to the public."
Check out this time-lapse of a yurt installation, filmed by Brook Maier, a Corps single placement working with the DNR. And read more about the project in the Star Tribune and St. Cloud Times.
In other yurt news, the Arrowhead field crew spent a week in mid-August rebuilding a 20-year-old yurt at the Audubon Center of the North Woods, which had collapsed under last winter's heavy snows. After disassembling the destroyed structure, the crew shored up the foundation and built the new yurt in its place.