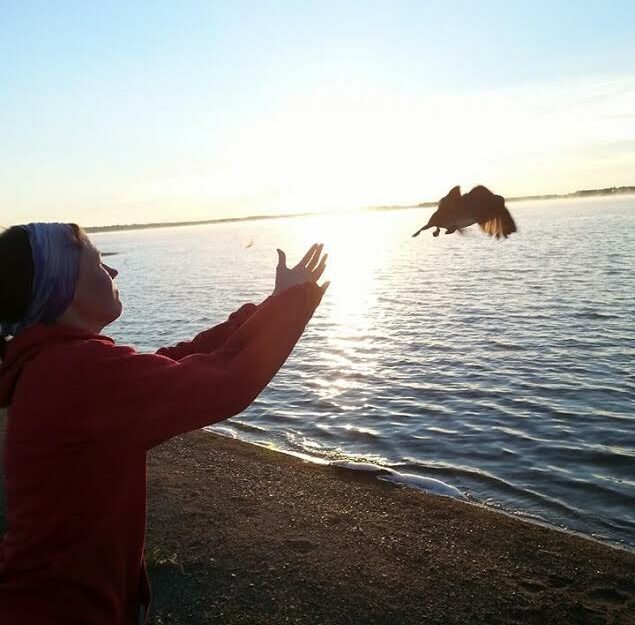 By: Maureen Hanlon
As a whole, the Ottertail crew is not a morning crew. Every morning, without fail, we eat granola and bagels because nobody will ever wake up to make hot breakfast. "Mrrmph" and "aaahm" are our typical morning greetings. You can imagine the crew's reaction when I announced our project hosts' plan for duck banding and meeting up at 6 a.m. the following morning, a full hour earlier than usual, and head for the hills.
The dutiful crew that we are, we got on the road at 5:55…but maybe weren't entirely present. Neither the morning chill nor the beautiful South Dakota sunrise could stifle our yawning as we waited for a sign from our hosts to approach the baiting site. I was just starting to worry that I'd have to check a few corps members for a pulse. But then, BANG! an explosion rang out from the next rise. We all jumped, shocked out of our collective stupor. Wordlessly, we piled into our truck.
Not 200 feet from where we parked, the crew encountered a sight that brought us fully awake: dozens and dozens of ducks trapped under a rocket-launched net. Two pleased men in camouflage appeared from behind a stand of trees, remote rocket-launcher in hand.
They were state wildlife biologists who agreed to have us out on the job for the day, working for the US Fish and Wildlife Service, banding on the Waubay National Wildlife Refuge. Biologist Paul Mammenga explained that their work spans both state and federal lands. As Connie Mueller, our project manager from Waubay, put it, "There's few enough conservation employees in this part of the state. We really have to work together."
We rounded up the ducks, and Paul demonstrated how to tell juvenile from adult, and male from female, before banding them. The two patiently corrected us on misidentified feathers and beaks and checked our bands to be sure they were smooth enough for a lifetime's wear. Hunters, they told us, would one day call in to report many of these birds, thus giving biologists ongoing migration and nesting records.
I was astounded by the sheer variety in ducks. As I said, there were the differences in sex and age, and we'd caught two species, mallards and wood ducks. Some were calm, some nervous and squawking. Some had eaten so much you could feel the bulge of undigested corn in the crop at their throat. Some had been banded already, and one was even missing a foot. All in all, we banded 120 some-odd ducks over the course of a few hours.
When we hopped into the truck again at 8:30 a.m., the crew was jazzed up and ready for a day of fence removal. We'd handled over a hundred ducks before many of our friends and family were even awake. Not bad for a crew that's not a morning crew, anyhow.