Northwest field crews partner on Bureau of Reclamation work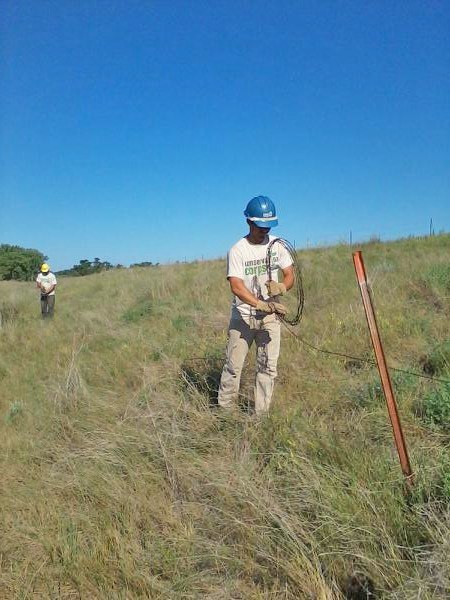 During July and August, Corps crews worked with the Bureau of Reclamation in the Dakotas to restore reservoirs and canals that are vital to the region's water supply, agricultural industry and outdoor recreational opportunities, and to build and repair fencing and gates. Crews worked in partnership with the Bureau of Reclamation Dakota Area Office and the South Dakota Department of Game, Fish and Parks, who provided training and mentorship. Projects funded by the National Fish and Wildlife Foundation were conducted at three locations: 1) Shadehill Dam and Reservoir, located about 12 miles south of Lemmon in northwestern South Dakota; 2) Dickinson Reservoir in southwestern North Dakota; and 3) Buford-Trenton Project, which lies along the north bank of the Missouri River and stretches for 12 miles between Buford and Trenton, North Dakota. Read more.
At Shadehill, July 13-22, Conservation Corps members installed, repaired or removed a total of 7,880 feet of fencing, including a section near the main office that will serve as a public hunting barrier, and a section completing a border fence around a crop field designated for wildlife. They stained a weather-worn Boy Scout cabin, and removed tree fabric from border plantings on the main campground and from a 130,680-square-foot shelter belt.
At Dickinson, August 10-13, crew members installed three gates and repaired a section of fence approximately 200 yards long. This included re-stretching all four strands of wire along the entire length and removing extraneous material buried along the fence line. In addition, they moved a large brush pile to a location where it could be processed into firewood bundles.
At Buford-Trenton, August 13-19, the crew used chainsaws and brushsaws to remove trees and shrubs from both sides of four miles of irrigation canal. Woody debris was piled on the canal ditch bank to be removed by heavy equipment. A chain link fence surrounding a historical pump house that had been bent over by a recent storm was also straightened and placed back into its original position.