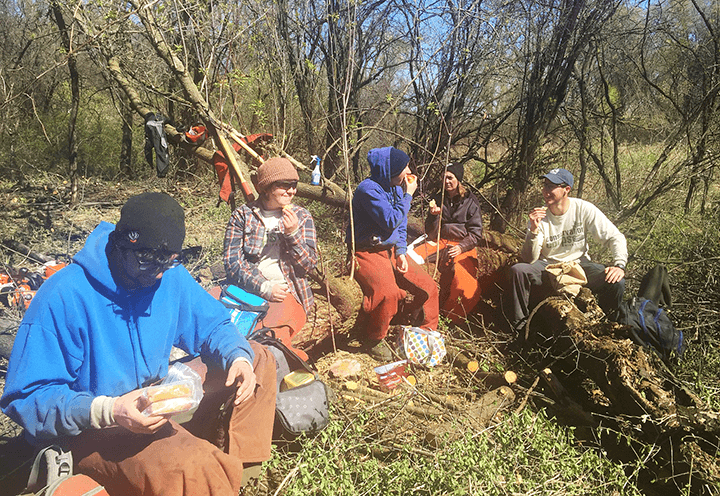 By Anna Machowicz
I've been a fairly active person most of my life; team sports, physically demanding jobs, outdoor recreation and all the typical adventures of a twenty-something. I'd never had an issue finding fuel for all my activities…until I joined Conservation Corps.
In the first world sense of the word, I am HUNGRY. Constantly. My crew takes our first break around 10:30 a.m., by which time I've already been fantasizing about eating the Buckthorn we've been removing. We laugh about this snack break being "second breakfast", but it's not a joke – we're all ready for a full-size meal. This type of hunger can make for some interesting crew dynamics. We're drained, sweaty, sore and hungry just two hours after starting work – needless to say, we can get a little cranky. It's amazing what a protein bar or an apple can do for someone's mood.
Hunger isn't all bad on the job, though. I feel I've been working hard when I start to hear the low grumble in my gut – it's like a pat on the back for burning so many calories. Break times for our crew are centered around our desire for food, but it's not all business. We make time for games, laughter and discussion; much like a family would do around the dinner table.
I've also discovered a new hunger since joining the Conservation Corps – I hunger for more. More skills, more strength, more experiences. I find myself fantasizing about what opportunities this job will create, discussing goals and dreams with my crew, and wondering what comes next. Before joining the Corps I had never held a chainsaw (let alone cut down a tree with one), never dreamed I'd see a wildfire and couldn't identify more than four tree species. Here we are, almost three months into our term and I have learned all this and more. Compare gaining knowledge to eating potato chips – the less you have, the less you want; but once you get started, you can't stop.
Each day of work presents itself as another day of learning and I hunger to see what comes tomorrow, next week, next year.