Restoring prairie with fire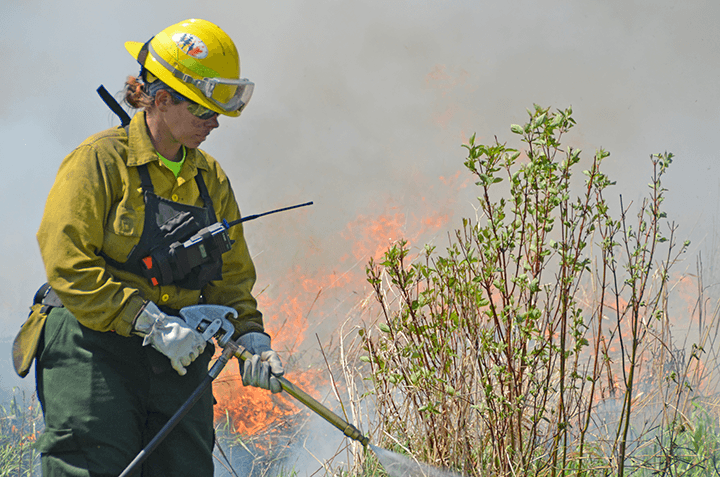 "If the conditions had been any different today, we would not have been able to pull off this burn," said Dustin Looman, Conservation Corps southern district assistant manager. Looman, the lead burn boss at a Dakota County fairgrounds burn in Farmington on May 15, was describing the precision and expertise required to manage prescribed burns, including monitoring wind speed and direction. Conservation Corps field crews conduct high-heat burns on more than 20,000 acres annually to restore native prairies. At the Farmington burn, "we achieved enough heat to top-kill invasive brush, trees and cool season grasses, and stimulate regrowth of the native prairie species," said Zach Dieterman, field coordinator and burn boss.
Taking careful measures to ensure the fire remained controlled, the crew was able to complete burns on ­­60 acres of prairie in five hours. The burn's location was a critical factor, requiring fairly strong and specific winds to minimize smoke impacts on the adjacent highway, Farmington's residential neighborhoods and a nearby pig farm.
This project demonstrated Conservation Corps' capacity to plan and conduct prescribed burns with trained, qualified staff and necessary equipment. Contracted by Dakota County, Central and Southern District crews were able to pull off the burn professionally and without injuries or accidents. One of the Rochester crews participating had just been on a 14-day deployment suppressing wildfires near Warroad, Minn.
After the burn, corps members said how they appreciated the clear direction of the managers, effective communication and teamwork. While prescribed burns can be grueling with long hours surrounded by smoke and scorching flames, several crew members agreed it was the favorite part of their service.