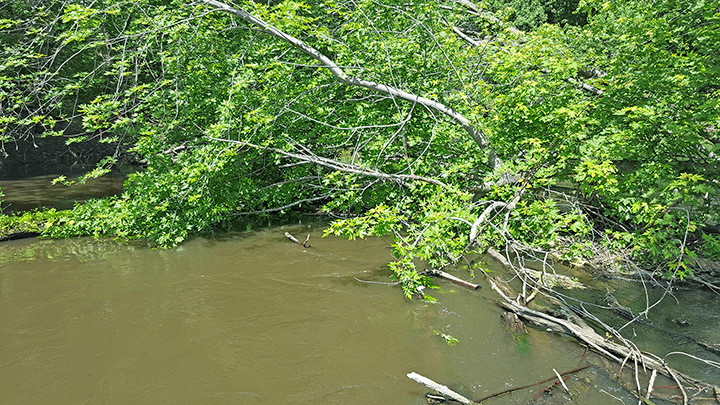 By Melissa Gearman
Snag removal work on the river can be – and usually is – unpredictable. Snags come in all shapes and sizes from an easy single cut to a complex three-hour job. A five-mile stretch may be completely clear and take no more than an hour to paddle. On the other hand there is the possibility of only having a half-mile stretch cleared for an entire day's effort. Many days we don't know which one we're getting until we are on the water, which requires us to be flexible and adapt to ever-changing plans and timelines.
While on the river we either use a jon boat with an outboard motor or canoes, depending on water levels. It is easy to understand the unpredictability associated with using canoes for river work. We paddle from point A to point B downstream, no motor to bring us back upstream, just keep working until we're done. It is not uncommon to work 12-hour days.
Even when using a motorized boat, unpredictability reigns on the river. True, we have the capability of turning around and heading back downstream (we work upstream when using the jon boat) when quitting time comes but many times life likes to throw us a little curve ball. Take this past week on the South Fork of the Crow as an example: A 22-mile stretch of river runs between Watertown and Lester Prairie. In one afternoon we were able to cruise along a total of 18 miles and clear a couple of snags. The next day we had planned to finish the final four miles. Easy right? Not a chance. We finished less than a mile in an 11-hour work day. The next day we discovered the final three miles only had two snags needing to be addressed. The pictures show the before and after of the final snag between us and town.
This job has taught me many things: how to use a chainsaw, operate a boat, identify trees and birds, teamwork and leadership. But just as important it has taught me to be flexible. Plans will change. The end can be so close yet so far away.