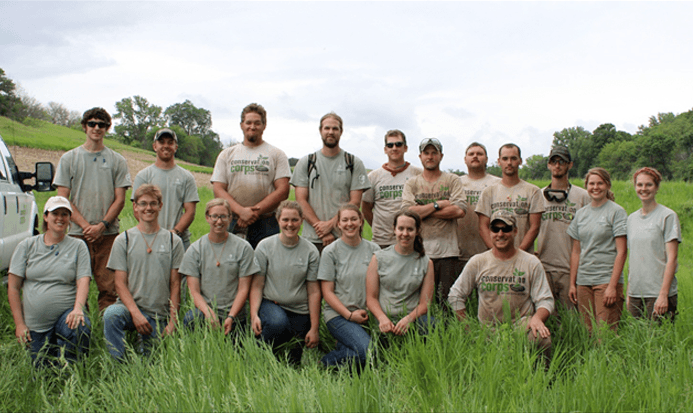 By John Thompson
As difficult as things can get – at home, at work, anywhere you go – it helps to keep up a positive mental attitude (PMA). Whether we're working on a project we absolutely love, or a project that is just defeating our crew, we simply keep going. As we reached the halfway mark in our term, things seemed to be getting harder and harder; just waking up in the morning to get to work can be the hardest part.
When I have two choices – get up and embrace the suck, or lay in bed and let the suck get the best of me – I get up and embrace it right next to every person in my crew. As a Conservation Corps crew member, there are many stressful factors that can bring me down, not all of which I can control. The pouring rain filling my boots with two inches of water, the mosquitoes and ticks, are all really miserable factors, but as long as I keep smiling and have my crew and project hosts to keep me going, I know I'll be alright. Like Dory says in Finding Nemo, "Just keep swimming."
I can attest to how I stress over the simplest of things: "Agh! My saw won't stay running!!!" is what my crew hears me say on a regular basis (maybe a little less pleasantly said). At these times, when I can't think anything positive, I take a step back, drink some water, find a crew mate and briefly talk it out. Sure, it's time spent not working, but a distraught mindset can be dangerous and decreases work productivity more than taking a five-minute breather.
When things change so rapidly in life, it can take a toll on emotions and well-being in ways that can be hard to put it into words, let alone really talk about with anyone. But even a brief conversation can do a person some serious good. You never know who you can help till you already have. I try to keep my friends and crew members close, even though sometimes I just want to get away from them because it's hot and humid and they stink. It's the small things that make you who you are, the people both within and outside this program who will drop what they're doing for you. Don't take that for granted, EVER.
As we learned from day one of training, PMA, PMA, PMA. This couldn't be more important. No matter where I go after this term with the Corps, this concept is going to stick. There are going to be more challenging obstacles in life for all us crew members because we're young and so many things in life are uncertain. As long as we have a support system, and a good positive mental attitude, we can accomplish anything, even what seems impossible.
This month I would like to thank everyone who has supported me and the Loess Hills crew, and I'm sure crews working throughout the Midwest and all over the country feel the same. The connections we have made so far could be some of the best connections in our lives: Mark Wilson, Sarah Bromley, Dewitt Boyd, Derick Schnebiel, Chad Greavy, Erin Van Waus and all project hosts we have worked with and learned from. I appreciate this opportunity to serve in such a program.