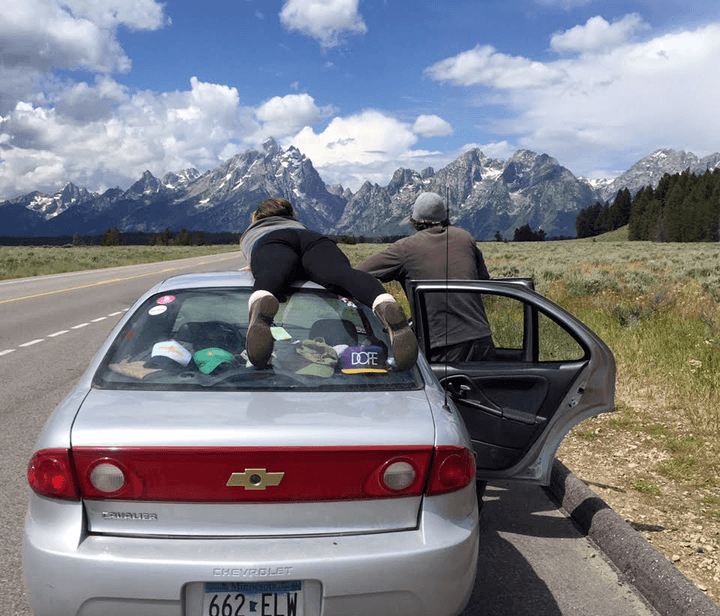 By Anna Machowicz
Ah, vacation. Such a beautiful word. Conservation Corps gave us 10 days off over the Fourth of July holiday this year, and since we just can't get enough of each other, my co-workers and I decided to go on a road trip together.
From Minneapolis to the Badlands, Mt. Rushmore, Flathead Lake, Glacier National Park, WWOOFing at an organic farm, Yellowstone and Grand Teton National Park (where we met up with Andy, another water trails crew member), it was a 10-day whirlwind.
Since I had never been west of Minnesota, there were plenty of amazing surprises in store. One of the most unexpected was in Glacier National Park, where we happened to be camping a few sites down from these hooligans…
…a youth crew from the Montana Conservation Corps! Besides the two crew leaders, all the crew members were teenage boys, ranging from 14-16 years old. Needless to say, they were a rowdy bunch. They had been camping in Glacier for three weeks, completing projects similar to what we do on a daily basis. They were all eager to tell their stories, and to ask us about ours. Turns out one of their crew leaders went to school with our crew leader! We compared the corps, gave some life advice and left for our campsite feeling refreshed and happy.
A few days later in Bozeman, I attended a Crossfit class that happened to be right across the parking lot from the Montana Conservation Corps headquarters. It surprised me and got me thinking — what was it about talking to the crew in Glacier that was so enjoyable? We had driven halfway across the country and these teenagers were the people I had been the most excited to meet. Then I realized — it was because we were connected. Even before getting to know them, we were part of a community that spans across every state.
This realization amazed me — that I could be anywhere, at any time, and instantly share a unique bond with someone simply because of the conservation community we are both a part of. That six degrees of separation could mean more than just having a mutual friend somewhere, but having a nationwide group of like-minded people just waiting to be discovered.