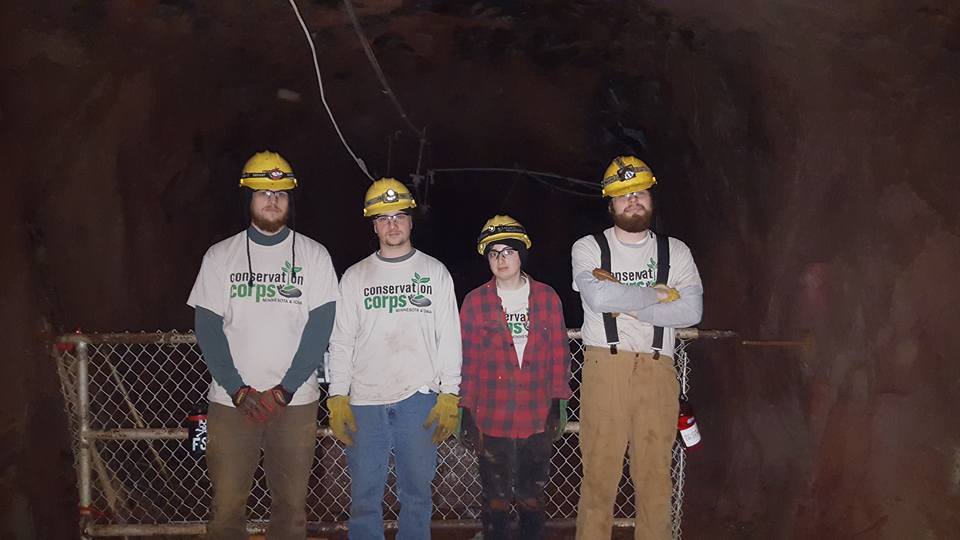 Conservation Corps crews don't just work in open green spaces. Last month, a Northeast District crew worked a mile below ground at Soudan Underground Mine State Park. Over two days, corps members worked four-hour stretches in the mine, equipped with hand tools and headlamps.
The underground park offers historic and science-focused tours of the mine. The crew worked on stabilizing the platform tourists use during the tour, including repairing a wheelchair access ramp. They also cleared about three-quarters of a mile of debris in the tunnel's drainage ditch.
"It was a fun and unique experience," said Erik Rosvall, crew leader. The dark tunnel's temperature is a constant 52 degrees. Playing music while they worked, Erik described the scene as "very atmospheric." They worked on the same level as the dark matter research facility, which added an exciting educational component to their work environment.
Visit the Minnesota DNR website to learn more about the Soudan Underground Mine Tours.