Minnesota's first phragmite mitigation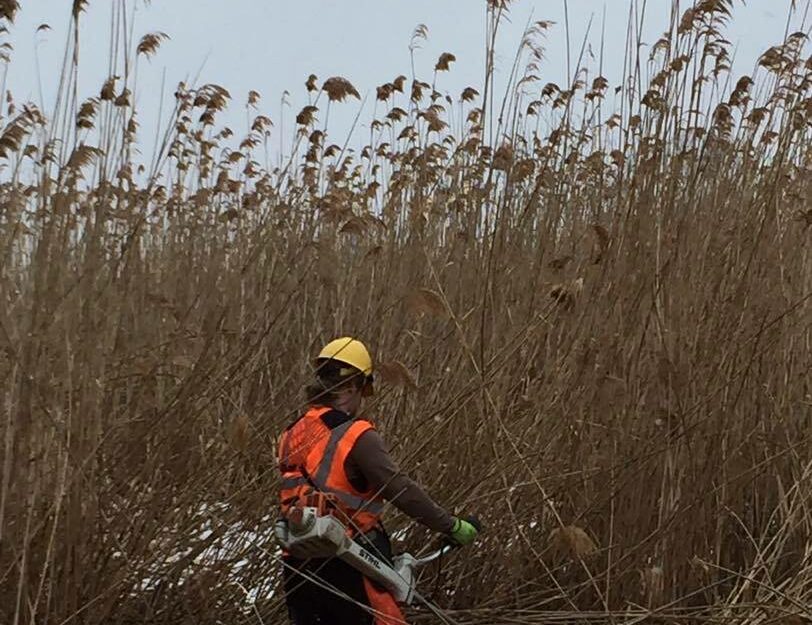 Invasive species removal is a constant task for crew members, who often don't even want to say the word 'buckthorn' by the end of their term. But a Northeast District crew is excited to take on Minnesota's first phragmite mitigation project in partnership with the St. Louis River Alliance.
Non-native phragmites are a huge problem in states such as Wisconsin and Illinois. The plant invades lake shores, wetlands, rivers and road sides, which negatively impacts native plants and wildlife. The St. Louis River Alliance is taking an aggressive approach to the problem before it gets worse in Minnesota.
The Arrowhead crew knocked down the largest phragmite patch in the St. Louis River Estuary, and in the summer they will go back and chemically treat the site. The phragmites were so thick that the crew had to clear a lane just to make it from one end of the patch to the other. The crew spaced their work during knockdown to ensure each crew member was a safe distance from the next. The quick action and management should keep phragmites under control. Other states spend millions of dollars battling the invasive plants that take over waterways and roadsides.
To learn more about the St. Louis River Alliance's efforts to control aquatic invasive species, visit their website.