Disaster Response Updates: Texas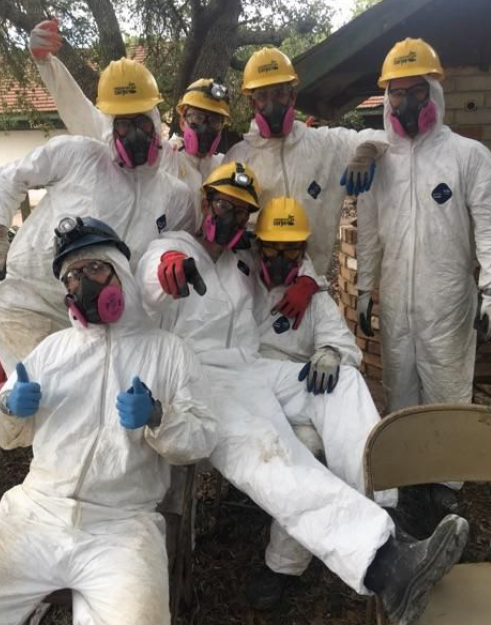 Specifics & Quantifiables (9/21-9/28):
● Teams in field in Brazoria CO, TX
Finished a total of 10 houses all in Brazoria County area
Completed 12 safety/wellness checks
23 damage assessments in Brazoria CO thus far
1 crew was trained in Corpus Christi on how to correctly blue tarp roof a house (9/19)
2 crews were trained on how to suppress mold in deconstructed homes using Shockwave bleach mixtures (9/28)
503 cubic yards of debris have been removed from homes
685 pillows, 1,000 cots, and 2,200 blankets moved to survivor centers
Stories
● NCCC crews, 9 members, joined Conservation Corps crews in Brazoria County
New faces and members have arrived in Brazoria. The NCCC have gotten to work all of the
Conservation Corps crew members that are currently in Brazoria County and will remain for the
next deployment of CCMI folks. They have been trained under CCMI crew leaders in muck and
gutting, roof tarpping, and mold suppression.
● Heartfelt Poem
Crew Members on Strike 3 received a letter of "thanks" after mucking and gutting a house in Brazoria CO. The residents of the house are a couple, Mr. and Mrs. Gibson, both are currently in their 60 and their children have long grown and left the area. Other residents of the house include their 8 lb terrier named Cowboy and approx. 100 'lbs of love' pit bull named Bubbles. Mr. Gibson had undergone open heart surgery only a few months prior to Hurricane Harvey hitting the shore and his home. Due to this, he was strictly told by his doctor to stay out of the home until the mold was gone. Strike Team 3 arrived on the scene and helped remove drywall in two effected rooms and the entire kitchen floor. On their last day at the house, Mrs. Gibson met them at their truck with store bought cupcakes because "the stove is trash now so I could not bake anything". With the delicious and thoughtful treats was a card and a poem that Mrs. Gibson had wrote herself. It reads:
"The Angels That Came"
Devastation as far as our heart and soul could see,
Disrupted lives and dreams left behind by Harvey.
Clinging tight to our faith, waiting patiently for answered prayers,
God sent you to me to prove he cares.
Because of you we have hope for tomorrow.
Because of you, joy and excitement have replaced our sorrow.
Because of you we will never think of our home the same,
Because now we will forever remember…
The angels that came.
Forever Grateful to you all,
Nancy -N- Leon Gibson
● Grapefruit by the bag
While mucking and gutting a house, a friendly face stopped by the work site. Ms. Margo is a immigrant from Holland. She lived right around the corner from the project houses. Her home had not been affected by the floods due to a slight slope. She saw the crews working tirelessly to finish the home and for 4 days invited the crews over for some homemade food. She made them sandwiches, salads, and desserts. Margo was the owner of a beautiful backyard orchard, she sent the crews back with shopping bags full of grapefruit, oranges, and citruses every day. She made them orange juice, lemonade, and tea. Margo told fantastic stories on breaks and the
three crews who worked on the house met her little brown dog, Coacoa. There was
some much gifted grapefruit, that even now days later, you can still find one for breakfast
or a snack.