5 important environmental stewardship tasks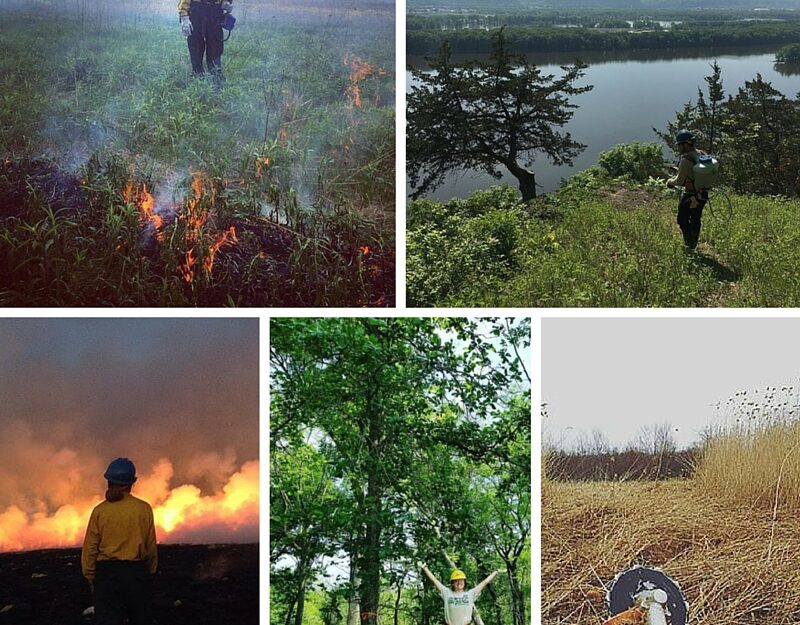 By: Eric Chien
The effective stewardship of Minnesota's rich natural heritage and abundant resources takes a diverse and complex human effort. Conservation Corps Crews are at the heart of the work to leave natural places beautiful, functioning, and more resilient for the next generation. For many projects, the gloves of Corpsmembers are where conservation plans become conservation outcomes; where the rubber meets the road. Join me in exploring the work and significance behind the five most important environmental stewardship tasks that the Conservation Corps is involved in.
Invasive Species Removal
Corpsmembers are the shock troops, clean up crews, and early detectors in the monumental effort to halt the spread of invasive species in our lakes, forests, and prairies. Crews tackle the challenges of managing and restoring habitat characterized by various degrees of invasion from exotic species. Most corpsmembers have a tale from behind the great green wall, those project sites where buckthorn or honeysuckle have become dominant in entire sections of forest. Their spirit and labor has put some of our most degraded natural places back on track to habitat characterized by abundant and diverse native species. Corps crews also spend considerable time in some of the most pristine acres of the state. By keeping a close eye out for the earliest presence of invasive species, corpsmembers do their part in empowering land managers to stop ecological invasion before it gets out of hand.
In water and on land, invasive species have had profound effects on our native ecosystems, altering or suppressing the ability of those systems to provide the services we enjoy and depend on: clean water, pollination, abundant wildlife, and outdoor recreational opportunities. Conservation Corps crews' dedication to addressing the pervasive challenge of invasive species has and continues to be an important tool in Minnesota's conservation toolbox.
Prescribed Burning
Nearly every major terrestrial landscape depends on periodic fire for the maintenance of ecological integrity. Whether it is tallgrass prairie or pine woodlands, the safe and effective application of controlled fire is desperately needed. CCMI crews provide an important boost to the conservation community's capacity to bring the regenerative effects of prescribed fire back to natural areas suffering from decades of fire absence. Working alongside highly trained fire ecologists and wildland firefighters, CCMI crews use fire to suppress invasive species, reduce woody plant encroachment, improve wildlife habitat, and mitigate the threat of uncontrolled, damaging wildfire.
Habitat Restoration
Tallgrass prairie only covers 1% of its historical expanse in Minnesota. The remaining prairies are islands in a sea of agriculture. Fragmented and small, the future for the remaining prairies looks bleak without intensive efforts to reconnect and enlarge them through restoration efforts. CCMI crews spend several weeks every year hand harvesting native plant seed, providing the essential building blocks for new prairies. CCMU restoration projects are not limited to grasslands. Whether it is cultivating shoreline buffers with native vegetation or planting trees, CCMI crews have a hand in restoring thousands of acres of land every year.
Science-monitoring
Good resource management depends on being able to determine if the conservation actions you are implementing are working. Corps projects often include or are centered around gathering the data that helps land managers determine success or the need for adaptation in their plans. Monitoring can be as enjoyable as snorkeling in a lake counting zebra mussels or as tedious as wading through a bog looking for purple loosestrife, but either way the information produced is a vital link in conservation success.
See more here:
http://www.conservationcorps.org/newsroom2/2017/1/31/tech-savvy-field-work
Outreach and Education
There has always been a need for a greater number of active stewards and broader community support in conservation. CCMI members work to address that need by bringing environmental stewardship education and outreach into the communities in which they live and work. The majority of corpsmembers come to find that they end up caring deeply about the integrity and health of nature by the end of their service term. Sharing that informed belief, and the knowledge and experiences associated with it, helps build the human resources and interest from which conservation action springs.