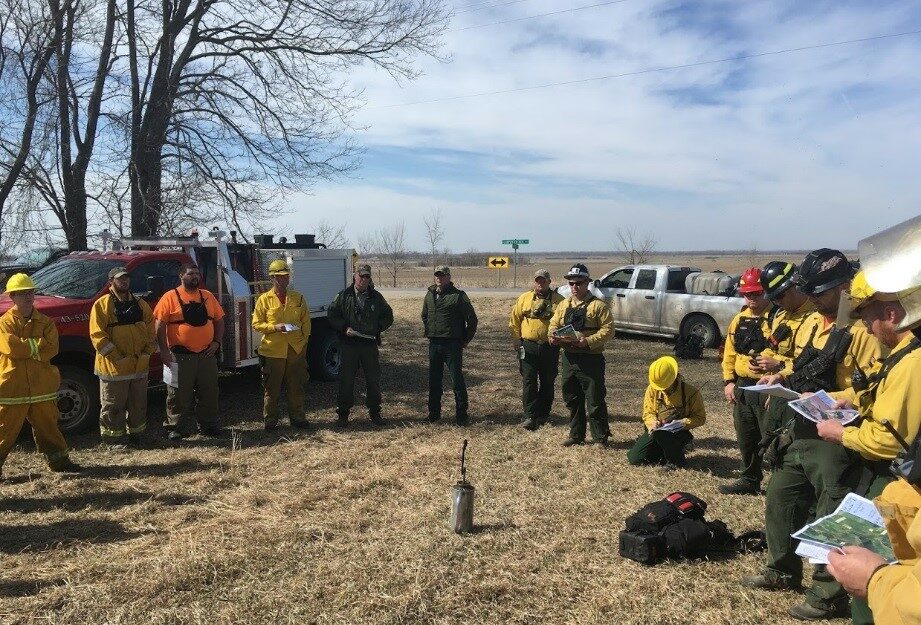 Before Corps crews can really get to work on conservation projects, members are given thorough training, both in the classroom and in the field. This is especially true with wildland and prescribed fire operations. The Loess Hills crew spent an intense week gaining knowledge and competency in using pumps, hand tools, firing devices, and radio communications. They were also given training scenarios to gain RX fire experience, complete S-219, and complete task books.
"Overall, I think the week was a huge success, and the Loess Hills fire partners were impressed with CCMI's investment and enthusiasm for RX fire. Some of our partners were approaching me at the end of the week to ask about using the crew for future operations," said Field Coordinator, Tyler Knight.
The training they received will also increase communication and partnerships between agencies across Western Iowa, primarily in the Loess Hills landscape, and will lead to better responsiveness when being assigned to AmeriCorps disaster responses.
In the end, crews received comprehensive training to prepare for a busy fire season while providing additional resources to large and complex burn units that will improve forest and prairie ecosystems, work that agencies would have difficulty completing on their own. A win-win-win!
---
Read crew member, Caleb Bell's first-hand account of the week.
Ten different agencies/organizations were involved in the co-op. Emily Hohman, from The Nature Conservancy out of Broken Kettle, was our Incident Commander for the week. Overall there were 43 participants, 8 volunteer fire department participants and 5 volunteer fire departments involved. Throughout the week we burned a total of 1,530 acres. We started the week in the Loess Hills State Forest, moved south to the Nishnabotna Wildlife Unit, and ended our burn week with two units in Pottowatamie County.
We started the week with training. We were given the option to take s219 (ignitions) and four members from our crew and Tyler, our field coordinator, completed the course. There was an online portion, classroom work, and field ignitions training. This training was really helpful because there were a lot of experienced people involved. It was great to see how different personal experiences added to the overall learning atmosphere. We were also able to learn and practice a lot of ignitions techniques.
The first day of the burn week we had three units in the Loess Hills State Forest (LHSF). The second day of the burn week we were snowed out, but this gave us a chance to play with some ignitions techniques and have workshops on equipment and tools. We all learned how to winterize different types of pumps and engines, and we talked about pros and cons of different fire line hand tools.
The third day of burn week we traveled an hour and a half to the Nishanabotna Wildlife Unit, run by the Iowa Department of Natural Resources. There were two small wetland units and one large unit. All of Conservation Corps Iowa (CCI) was stationed on the large unit, 945 acres. This unit had a series of dikes, ditches, levees, and wetlands. The large unit was near Riverton, Iowa in Fremont County. Last year, they had done a lot of aerial spraying to kill bull rush and other undesirable semi-aquatic plants on this unit. It needed a burn to release sunlight to the water smartweed and plants more desirable as food for water fowl.
The fourth day was in Pottawatamie County. CCI worked on burning a 100-acre Conservation Reserve Program (CRP) on private land. The CRP went very smoothly. Tyler and John from CCI were able to get tasks in their tasks book checked off, and I was able to run the CCI truck engine all day (this was a great experience, and now I am comfortable with the engine which frees Tyler up to worry about other things).